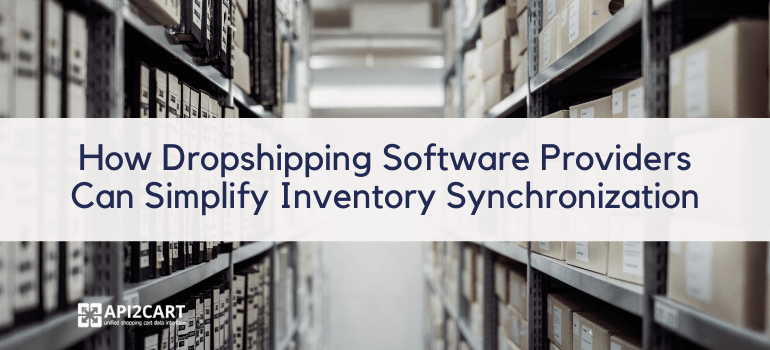 API2CART makes inventory synchronization faster and easier
Setting accurate inventory synchronization across different stores is probably the biggest challenge dropshipping automation software vendors face when developing their systems.
Merchants build stores on different shopping carts and use few additional sales channels, like Amazon or eBay. Moreover, they collaborate with different suppliers. That means that dropshipping automation systems have to support integrations with all of these platforms.
With a unified integration solution like API2Cart, dropshipping automation systems can significantly simplify inventory synchronization across different eCommerce platforms. Let's see how it can help you with integration difficulties.
Updating inventory stock levels and uploading new products manually, copying and pasting order details, and tediously entering order status updates and tracking numbers is a technically complex process for any dropship eCommerce business. Fortunately, there are some types of automation they can implement.
One of them is dropshipping automation software which solves a lot of issues associated with dropshipping, including inventory synchronization. Such type of software automatically keeps inventory levels in sync with suppliers and e-commerce stores or platforms. Automation also removes the possibility of any human errors.
In order to be able to synchronize inventory across multiple channels, dropshipping software must be integrated with shopping carts and marketplaces that stores are built on.
Difficulties associated with shopping cart integrations
Some dropshipping software providers choose to integrate shopping carts individually. This proves to be a hard and technically complex process which involves a lot of issues to be done:
it takes time to find the way of getting into each system's core and learning how to get the data from there;
it entails high costs of hiring developers specializing in particular platforms;
once added, each platform integration should be updated regularly.
As a result, this will cause loss of time and money. Finding a pre-integrated solution to perform connection to various shopping carts will surely help.
How API2CART can help to simplify inventory synchronization
API2Cart allows your dropshipping automation software to significantly simplify inventory synchronization process. There are a couple of methods you can implement:
This method can be used by dropship software providers to accurately access inventory data levels in order to avoid overselling or errors. Product.info method makes it easy to double-check product availability in real-time, returning item's quantity in stock.
Whenever an order is placed, dropship software providers can easily update stock levels of products across all platforms using the product.update method.
Conclusion
API2Cart is a unified API solution that helps to make shopping platform integrations simple and easy. By performing only one integration with API2Cart, you get access to the database of 40+ leading shopping platforms such as Amazon, WooCommerce, PrestaShop, Magento, BigСommerce, OpenCart and Shopify, and many others.
For more details on how our unified API solution can help to boost your business, get in touch with us. Just leave us a message or schedule a call with one of our experts and we'll be more than happy to help you out!