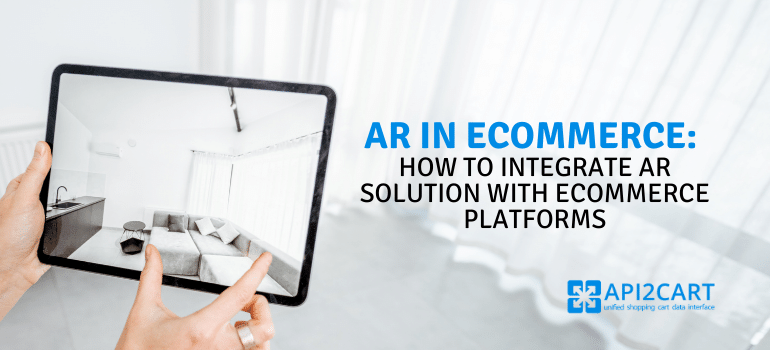 Online shoppers often frown at not being able to try anything before buying. Be it clothes, accessories, or furniture, online shopping restricts buyers from experiencing these assets in the real world before they purchase them. But the advent of augmented reality (AR) in eCommerce has changed this scenario.
If you deal in the AR industry, you know how important it is for your AR solutions to provide customers with real-time imagery of their surroundings changed by the products they wish to buy. However, for the successful working of AR in eCommerce, your software needs data from the online stores of your clients. Without this data, it won't be able to perform its core functionality.
This article will give you more information about how you can access web store data with the help of AR integration with eCommerce platforms.
Augmented Reality in eCommerce
Before we focus on the importance of AR eCommerce integration, let's take an in-depth look at the role of AR in eCommerce. Here's what the stats say:
You've seen how the inception of AR in eCommerce has changed the way online businesses operate. Here are some more benefits of the technology in the eCommerce industry.
AR gives a personalized shopping experience to customers across the globe.

It helps online retailers to reach more customers and increase conversion rates.

AR allows engaging with your customers while ensuring they stay loyal to your brand.

Shopping with AR reduces the chances of buying an unknown product and therefore decreases the return rates.

It gives shoppers an in-person buying experience and even better if they are buying something which cannot be experienced before actually buying in case of in-store shopping.

AR opens new streams for profit as customers who enjoy buying from you will recommend you to their peers.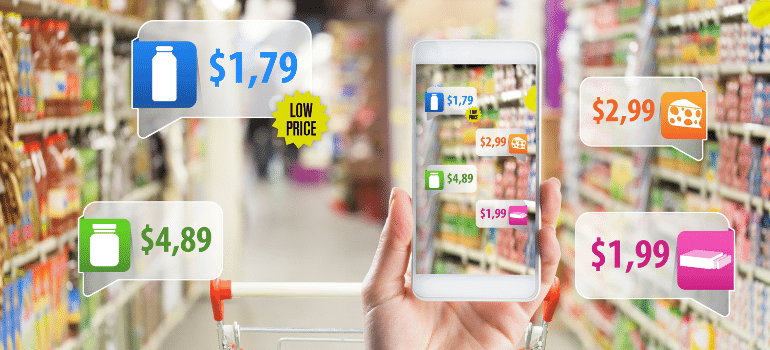 AR eCommerce Solutions Examples
To know how different AR in eCommerce is booming, check out a few AR solutions below.
Threekit
Threekit uses AR, 3D, and virtual photography to give online shoppers a beautiful tour of the surroundings with their product before buying it.
With the help of a design file, online retailers can create and manage 3D product visuals for all the products in their e-store. That means they just have to share the design of their product for once, and Threekit allows them to use it anywhere as per their needs. Such is the power of this AR in eCommerce.
Besides, the AR solution integrates with top eCommerce platforms like Magento, Shopify, WooCommmerce, BigCommerce, and other leading platforms.
Nextech AR
Nextech AR is a boon for online retailers and businesses across other industries. Its wide range of AR products serves customers across different sectors.
The company has showcased a simple, three-step process to create amazing 3D models for all types of products an online retailer could possibly sell. It also provides features like model animation, hot spots, color configuration, custom CTAs on websites based on the product, 3D carousels, virtual staging, and 360-degree view videos of the product.
As add-ons to its AR products, Nextech AR offers 3D swirl ads, virtual showrooms, and smart packaging to its premium customers.
CanvasLogic
CanvasLogic capitalizes on its smart 3D configuration engine to give online shoppers complete control over their product experience while allowing the retailers to govern the way they want to showcase their products.
CanvasLogic allows them to try their 3D configuration engine right on the website to convert visitors. The retailers can try out the product by configuring and rending their images right there. The AR solution is platform-independent, allows seamless integrations, requires no plugins for operation, and is user-friendly.
CanvasLogic is already transforming the way online retailers do business, and integrations are a big part of their success.
Capita
In partnership with London Dynamics, Capita is presenting a powerful way for online retailers to improve their selling experience. With the help of plug-and-play AR in eCommerce, it can provide a fascinating shopping delight to the customers of these retailers.
It ensures that the customers get the same shopping experience as in offline stores without having to leave their homes. Moreover, the customers can interact with the solution in their natural language, so there's no barrier in their experience.
Capita also magnifies the product in its 360-degree view so the customers can see minute details before buying anything.
Virtooal
Virtooal is a plugin for retailers in industries including Cosmetics, Eyewear, Jewellery, and Accessories. Meaning, that online retailers in these industries can integrate Virtooal plugin in their e-stores and provide an exceptional online shopping experience to their customers.
Virtooal integrates with platforms like Magento, Shopify, and WooCommerce. Its Virtual Try-On allows customers to get a 3D view of the products created from 2D pictures provided by the retailers. It also enables precise facial point detection and automatic measurement for product sizes.
Brands like Avon, Loreal, Dermacol, Rossmann, Wolf, etc., are actively leveraging the power of Virtooal.
AR Integration with eCommerce Platforms
AR in eCommerce has become indispensable for online retailers and as an AR solution provider, it's your responsibility to provide full-fledged software to your clients. But the biggest challenge here is to get data from web stores for your AR software. Unless the software has data related to customer orders, products, images, etc. it won't be able to show virtual experiences to the retailers' customers. Therefore, AR eCommerce integration is an important aspect.
Besides, your AR solution has to connect with more than one platform as your clients can have their e-stores on multiple eCommerce platforms like Shopify, Magento, WooCommerce, BigCommerce, Amazon, Etsy, eBay, etc. Therefore, you need a unified solution like API2Cart.
API2Cart is a unified API that allows AR solution vendors to connect their software with more than 40 eCommerce platforms and marketplaces at once. It eliminates the hassle of individually connecting your AR software with each of the eCommerce platforms. Moreover, API2Cart also looks after the maintenance and upgrades of these integrations.
API2Cart has more than 100 API methods to facilitate data access from eCommerce platforms. Each of these methods contributes to different functionality and type of data retrieval. They include:
If you have any questions about how API2Cart works, contact us. We also provide a 30-day free trial for you to see if our service fits your needs.