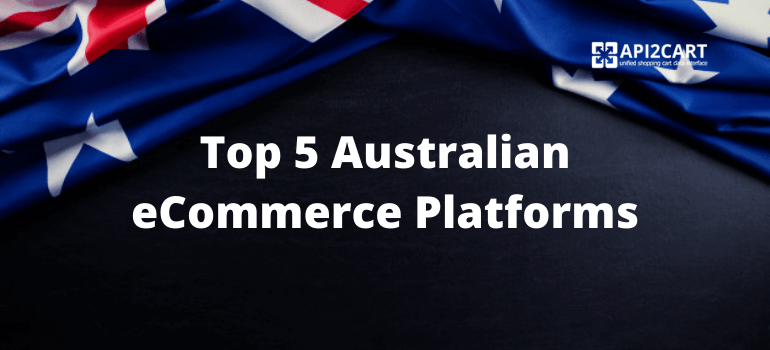 Whether you are order and inventory management, marketing automation, WMS, shipping software, chatbot software provider, or any other type of SaaS app provider, you need to be able to integrate your service with the top Australian eCommerce platforms . The reason for that is to ensure that you can gain access to a vast market of potential clients who own eCommerce stores on these platforms.
Before looking at the main reasons to integrate your SaaS solution with shopping platforms, let's see what the leading Australian eCommerce platforms are. It would be best if you focused on integrating your business with these five eCommerce solutions, as more than 40% of all e-stores in Australia are based on them.
Top 5 Most Popular Australian eCommerce Platforms
Shopify

There is no doubt that Australians love Shopify. Since its inception back in 2004, this platform has enabled over 1 million merchants to make well over 100 billion dollars. Shopify easily integrates with the Australian post-app and makes it easy for Australian-based customers to purchase from online stores.

More than 40.000 Australian online store owners use Shopify for the promotion of their products. The market share of this shopping platform in Australia is approximately 18%.

WooCommerce

Many eCommerce shop owners use WooCommerce, labeling it as the best option for WordPress sites. This free WordPress plugin allows shop owners in Australia to transform their WordPress-hosted site into a fantastic store. Because WordPress is already SEO-optimized and contains a whole lot of useful plugins, WooCommerce suits WordPress users perfectly. Whether they are selling an online course, digital products, services, or even physical products, WooCommerce is the ideal option for Australian-based e-shop owners.

The number of online stores that were created with the help of WooCommerce in Australia is more than 28.000. The market share of this eCommerce platform is 13%.

Squarespace

This shopping platform is not as famous as the rest but has a strong say in the eCommerce marketplace industry. Squarespace offers beautiful, minimalist templates that load super-fast, complemented by numerous tools and automation that streamline e-shop owners' operations. This platform can seamlessly integrate with PayPal, Apple Pay, Google Maps, Xero, AfterPay, and many others.

15.000 Australian online sellers use Squarespace platform for running their eCommerce business. The market share of this shopping cart software is more than 7%.

Magento

eCommerce shop owners with coding experience under their belts or those who want the freedom to experience with an open-source platform are keen on using Magento. On this platform, users gain absolute control. Even if they need a developer to build their custom site, which can go up to $10.000, this platform comes with no fees or transaction charges. So, it is ideal for high volume merchants. You'll definitely want to gain access to the rich shop owners on Magento.

More than 5.400 e-store owners who live in Australia use Magento platform for selling their products. The market share of this shopping cart software is approximately 3%.

BigCommerce

Lastly, Australians who own large companies choose to build their e-shops on the BigCommerce platform. This eCommerce platform is perfect for big brands, offering them a ton of functionalities and complex features to enable them to manage millions of potential customers.

BigCommerce has more than 3.200 e-stores in Australia, and its market share in this country is 2%.
Why is it Important for SaaS App Providers to Integrate with These eCommerce Platforms?
As a SaaS app provider, you want to connect to all of these large shopping platforms to gain access to a vast market of potential customers. In Australia alone, you have access to tens of thousands, if not more e-shop owners who are using these shopping cart software to sell their goods.
By integrating your solution with these platforms, you are enabling eCommerce store owners to automate their processes, extract customer information, and stay in full control of their operations.
Another reason to integrate your app with these platforms is to enjoy happier clientele. While you can offer your services without offering API integration with eCommerce platforms, your clients will not be able to gain full control over their products, stocks, and inventory. By integration with multiple shopping platforms at once, you can retrieve, update, add, delete, and sync data from all of these platforms.
Lastly, by integrating your SaaS app with these top Australian eCommerce platforms, you'll enable your clients to outsmart their direct competitors by offering superior services to their buyers. By helping your clients, you are helping yourself, because they will be eager to continue working with you and will also recommend you to their peers.
How can you Implement Integration with these Australian eCommerce Platforms Easily?
There are two ways to integrate your SaaS solution with these five eCommerce platforms: you can do it manually, or you can use a unified API provided by API2Cart. The first option involves enormous costs, months of developing integrations and continuous updates, fixes, and maintenance. The second option is much more affordable, includes no maintenance, and can be achieved instantly.
At API2Cart, we offer you the benefit of getting your SaaS business integrated with all of these Australian eCommerce platforms at once. We offer you a streamlined connection with all of these platforms, plus other 40+ eCommerce platforms and marketplaces .

If you want to learn more about how we can help your business to succeed, do not hesitate to contact us. We can help you become that must-have partner for tens of thousands of eCommerce shop owners in Australia, and we can help you grow your business and increase your profits dramatically. Take advantage of our offer and get a free trial of 30 days for any plan you choose.