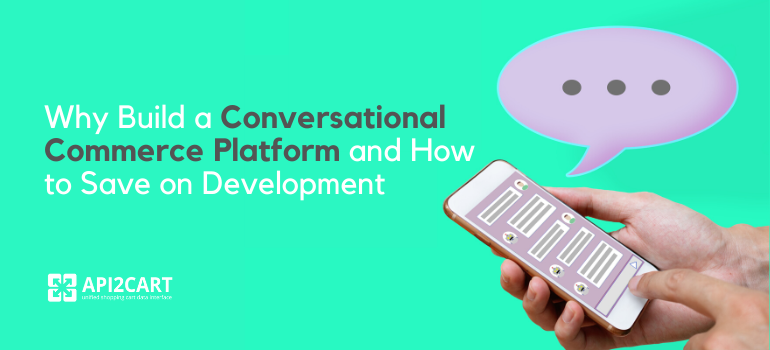 When Facebook launched Messenger platform with chatbots and after the conversational commerce and the Great Bot Rush had been lively discussed on the Internet, bot and conversational platform startups started to flourish. All in all, the broad media coverage spread the word well, so today you can find the "messaging as a platform" approach successfully implemented by not only Facebook, but also other messengers, and used by businesses of yet not all but still many kinds.
Out of all possible directions a conversational bot platform can choose to begin with, e-commerce and customer service strike entrepreneurs' fancy most. It is easier to standardize to fit the needs of nearly any merchant having started off well anywhere on this planet, and will probably always be in demand. Let's take a closer look at what drives the demand and how to meet the needs of the interested faster.
Why conversational commerce platforms are marketable today
Bigger sellers trace trends. They know their competitors start becoming closer to prospective clientele and get valuable marketing data too. When they decide to rock the trend and be there for customers where they like to hang out, retailers will expect to get a number of benefits, like higher conversion rates, analysis data at their disposal, and no need to distract people with pushy updates. The good news is, a bot platform for messengers can provide these.
1. Convenient availability 24/7 increases customer conversion.
It is great to have someone answering customers anytime, even when working hours are long behind you. Buyers will not need to download any apps and will be able to chat, buy, and track their orders right from the messaging app they like to use. The only thing is, the bot might not be prepared to answer unusual questions right away, but it could learn by either asking or delivering the issue to a competent human being.
2. Chatting in the right surrounding saves great data and helps on sales.
Apart from collecting evident data like likes, preferences, and maybe demographics, a chatbot can provide information on where they left and never returned. Unless the seller starts to remarket, which is possible through chatbots too since they know what the abandoner once bought or wanted to buy.
Established "personal" connections are also good to send promo code offers and get customer feedback. A buyer could also subscribe to tips and tricks or related content.
3. Chat threads are no apps that need to be updated.
The best thing about interaction via messengers is that there is no need to download, install, and update apps. It is safe and easy, 100% malware-free.
The key element to making your platform fit most sellers...
...is integrations with messengers, shopping carts, and maybe CRM platforms if you plan to offer contact collecting as a feature. You will find your rivals integrate with Facebook M, Telegram, Kik, WhatsApp, Slack, Line, Skype, and WeChat.
When demonstrating products and creating orders, a chatbot will need to access and manipulate various customer data stored in the store's database. Since most sellers use e-commerce platforms to build their stores, the only way to access the data needed for the operations is to integrate with those platforms.
Data will need to move and be used in different directions, so it is tons of development work to do. With its data logics and architecture, each connection will first be a unique headache, and then it will become a separate thorn in the side since upgrades and enhancements are inevitable.
Build your e-commerce bot platform faster with a unified integration approach
API2Cart offers a way out of painful and costly integrations, the number of which will eventually be hard to count. We crafted a unified API that lets you integrate with many shopping carts at once. We also maintain all the connections, so you will not need to worry about further upgrades when new versions of e-commerce platforms come out.
If you would be interested to hear more about what we do and how our API can power your application, drop us a line or schedule a quick call with our representative.