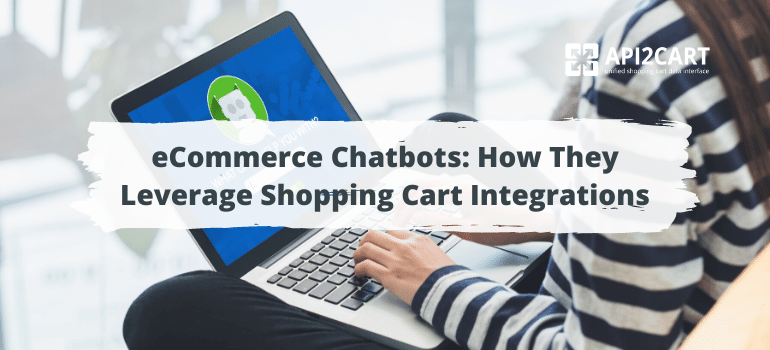 The Purpose of eCommerce Chatbots
eCommerce chatbots are interactive applications designed to automate simple routine communication tasks. However, due to the rapid growth of artificial intelligence, chatbots are expected to be getting more and more sophisticated over time. In particular, they can successfully replace live chat operators or offload a significant amount of work from them.
eCommerce chatbots turned out to perfectly fit in eCommerce as a customer support option. There are many good alternatives to chatbots, like contact forms and phone calls. However, online chats remain the fastest and the most convenient means for visitors to get answers. Live web chat is another akin to chatbot support option, but it is linked to the browser and requires a user to remain online during the conversation. Compared to live web chats, chatbots are typically based on messaging apps. Their unique advantage is that they are personal and mobile.
What Can Chatbots Do For Your eCommerce Website
improve the shopping experience by reducing wait time (chatbots can provide instant answers to many of the common questions customers may have when examining products);
retain and re-engage customers by sending messages;
provide 24/7 support;
avert shopping carts from abandonment by reminding visitors about the unfinished orders and providing answers to common questions;
reduce expenses by reducing the number of chat operators or even eliminating the need for them.
Though, to be able to run the functions outlined above, сhatbots need to be integrated with shopping carts.
Shopping Cart Integration for Chatbots
Brands build their stores on shopping carts, and that is where all the information from the online shops is stored. Once a chatbot system is integrated with one of the shopping carts, it can work with all of the stores based on that platform. The more shopping carts the chatbot application supports, the more potential clients it has.
Also, such systems need shopping cart integration. It helps them to retrieve product details, quantities, shipping terms and other information that chatbots may use to provide visitors with accurate answers.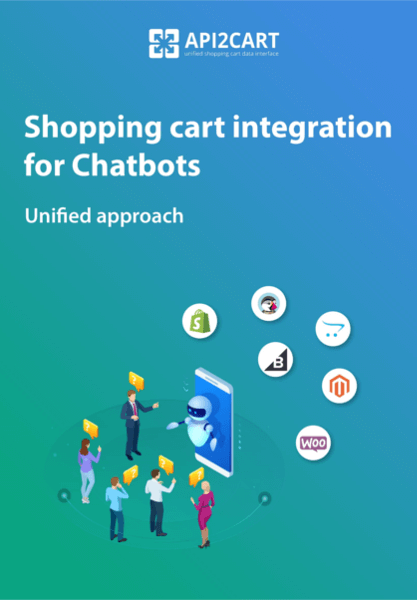 Shopping Platform Integration for Chatbot Software
Explore how to develop the integration between your chatbot and multiple shopping cart solutions easily.
DOWNLOAD
Shopping Cart Integration as It Is
Integration with shopping carts is necessary for chatbot systems to get its market share in the eCommerce industry. However, along with the profits, the integrations process brings many challenges to overcome. Shopping cart integration is among the biggest pain points for enterprises, due to the high technological complexity. Setting up a real-time data exchange and synchronization between two different systems involves tons of tech work, and so does their maintenance. That is why many companies choose to entrust shopping cart integration to professionals. Thus, they save time, money, efforts and get more qualitative and secure connection with shopping carts.
API2Cart is a proven solution for an easy, fast and secure shopping cart integration. It provides a unified API to connect with over 40 shopping carts at once. The API2Cart API helps chatbots and other B2B eCommerce software vendors to avoid practically all integrational difficulties. API2Cart has a detailed documentation that makes API utilizing easy. The company provides a tech-savvy 24/7 support team, which is always ready to help with any matters.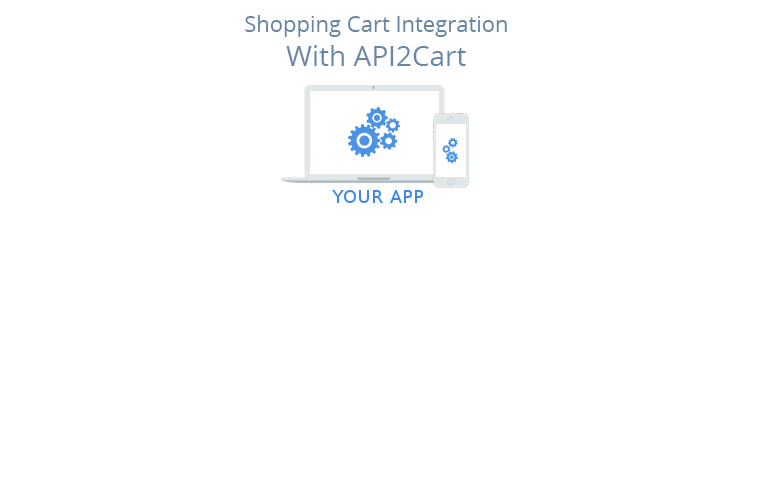 If you are interested in integrating your chatbot solution with multiple shopping carts, schedule a consultation with our representative. Also, you can register a trial account to see how API2Cart would work for your business.