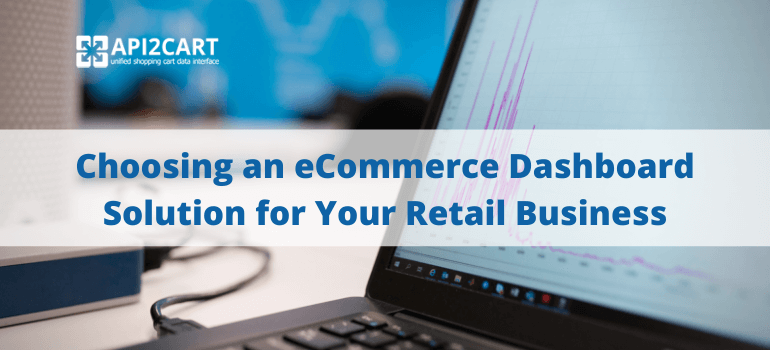 Doing and managing a business is in most cases a pleasure for those having grown it from the ground up. As the "baby" grows bigger and older, it becomes harder to keep an eye on every aspect of its "life" personally, so some extra help is often needed. Even better it is when the helper can be fully relied on so that you, as a business person, would be able to save hours of tracking and organizing data and get informed of key performance indicators (KPIs), metrics, and other key data points relevant to your business at a glance. To help you save even more time, API2Cart found a couple of eCommerce dashboard systems that businesses of different sizes appreciate in their reviews.
The Best eCommerce Dashboard Solutions
BOARD

BOARD is recommended by 95% of its clients as a powerful tool that provides everything to satisfy your needs, no matter what industry you are in. It requires no programming skills, is easy to set up and implement, delivers automated reporting, aggregates data from different sources, requires no add-on products, and works super fast! In short, this service does a great deal of work you would not expect to enjoy when using other solutions. See some of the things the system can always do for you apart from actual data boarding and reporting: budgeting and financial planning; forecasting; predictive analysis (starting from version 9); KPI and scorecarding.

Among the few minor downsides of BOARD are rare printing issues and criteria-defined data evaluation only. As to pricing, you will have to request a demo.

Dundas

Dundas is a particularly flexible and feature-rich solution that will let you customize every possible aspect needed. Its being powerful presupposes that you will very probably not become an expert user overnight. Fortunately, the service team made its best to make the learning easy. You will find great documentation, videos and dedicated support team at your disposal. With only basics mastered, creating informative dashboards is surprisingly easy.

As funny as a client of the company said, Dundas is so customizable that you can find yourself calling support because you have "customized yourself" into an error. But no fear! The support team will no doubt manage to untangle your mess. 🙂 Joking aside, a bit of a steep learning curve is the only thing you might regard as a minus.

You will not find any information on pricing plans on the website; however you can always request a quote. To end this section on a positive note, check out these dashboard samples provided by Dundas.

Sisense

Sisense makes centralizing data from multiple sources into a single repository and dashboard customizing as effortless as simply drag & drop. It provides a rich functionality within one dashboard to manage business data with visuals, reporting, and analytics. With the service, you can make your store and other business data into dashboards, scorecards, gauges, and line or pie charts.

The only thing about Sisense is that its pricing -- according to what the company's clients say - is a bit high, so this product might be too expensive for a small organization. To find out how much it costs to implement this software, you will have to request a quote.

E-Commerce Dashboard

E-Commerce Dashboard is a newcomer in the industry that specializes in retail and thus has much to offer to online merchants. It is integrated with 25+ shopping carts and can connect to any other service or platform you use. This solution is probably the most user-friendly you will find in the market as it takes only 2 minutes to start using. You simply connect your online store and get all the data reflected into dashboards.

Unlike all the solutions reviewed above, e-Commerce Dashboard does not leave its pricing behind the curtain. It starts with $24.50 for one store connected and has its top in $49.50 for 5 e-shops added to the directory. Also, there is a free trial available.
If you provide eCommerce dashboard services for retail businesses and would like to connect your system with multiple shopping platforms at once, you can use API2Cart.
API2Cart provides a unified e-Commerce API integration with 40+ shopping carts such as Magento, Shopify, BigCommerce, WooCommerce, OpenCart, CS-Cart, and many others. Do not hesitate to schedule a call with our expert and ask any questions concerning API2Cart. Try the service for 30-days for free!