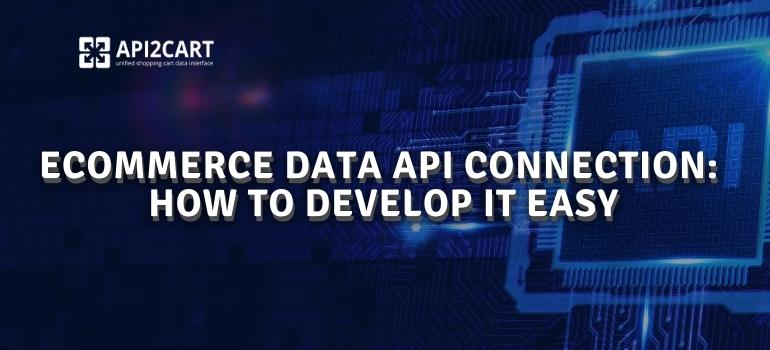 eCommerce Data API plays a crucial role. API integration in eCommerce involves connecting different software solutions or applications to various shopping platforms to enable smooth data sharing. Such a connection allows you to manage data from online stores based on the eCommerce platform, such as orders, products, customers, and more.
Data is the cornerstone of various business practices, such as trading methods, inventory control, ordering, and warehousing. To stay competitive, software vendors must integrate with shopping platforms and constantly acquire data for successful eCommerce operations.
Today we will explore what eCommerce data API is and how it works. 
How Application Programming Interfaces Work? 
An eCommerce API is a set of rules that lets other apps get information from an eCommerce site's database. This includes things like product lists, customer info, and order histories.
eCommerce APIs help developers create software using eCommerce platform data and features. Therefore, they are essential for software development.
eCommerce developers use APIs to transfer data between software applications. B2B software providers often require accessing data from specific shopping platforms, which requires API integrations. APIs are messengers between digital products and applications, conveying requests and returning responses in XML or JSON format.
API integration in eCommerce connects software applications to share data and manage it effectively. APIs are essential for eCommerce because they help different systems communicate and work together. As a result, developers can use APIs to improve their software and applications.
What Is Data API? 
eCommerce data API used to get connections that allow each B2B SaaS software provider to manage and control operations efficiently. With a unified API solution, handling information about products, shipments, orders, and more of your customers' online shops is easy. With such integration, quick access to client stores is possible.
Integrating eCommerce data API in software or applications eliminates unnecessary operations and saves substantial time for B2B SaaS solution vendors who can now concentrate on other essential tasks. The solution system ensures that all online platforms have up-to-date product information so that items are available. eCommerce data integration is necessary if B2B SaaS solution providers want to increase their client base.
An eCommerce Data API typically provides a standardized way to interact with an eCommerce system, regardless of the programming language or technology the client application uses. 
It usually employs HTTP (Hypertext Transfer Protocol) as the underlying protocol and utilizes various methods, such as GET, POST, PUT, and DELETE, to perform different actions on the data.
Using an eCommerce Data API, developers can build applications, integrations, or services that interact with an eCommerce platform. This API enables them to perform various operations. Some standard functionalities of integration eCommerce data API with shopping platforms provided functions like this:
Product management: Retrieve, create, update, and delete product information, including details such as title, description, price, images, and variations.

Order management: Retrieve, create, update, and delete orders, including details such as customer information, shipping address, payment details, and order status.

Customer management: Retrieve, create, update, and delete customer information, including details such as name, email, address, and order history.

Inventory management: Retrieve and update inventory information, including stock levels, product availability, and SKU (Stock Keeping Unit) details.

Cart management: Add, update, and remove items from a customer's shopping cart.

Payment processing: Initiate and handle payment transactions securely.
What are the main benefits of integration? 
The benefits of using an eCommerce Data API include:
Integration with external applications: An eCommerce Data API helps connect an eCommerce platform to other software like inventory management, CRM, accounting, and shipping services. This makes exchanging data and automating processes easier, saving time and effort.

Customization and extensibility: An eCommerce Data API lets developers customize an eCommerce platform, creating personalized experiences and tools that enhance the user experience and support the business's needs.

Real-time data access: An eCommerce Data API gives access to current data, like product info, inventory levels, and order details. Developers can use this to provide correct information to clients and help businesses make decisions based on market trends.

Scalability and performance: An eCommerce Data API helps companies to grow without worrying about the technical stuff. The API manages data exchange and processing so businesses can focus on expanding. 
How to Easily Develop eCommerce Data API Integration?
It's recommended to consider a third-party option such as API2Cart to handle integration issues effectively. This service manages all implementations, freeing up B2B SaaS solution vendors to concentrate on other business priorities.
API2Cart offers B2B SaaS providers the advantage of accessing multiple shopping platforms through a single API. This makes it an ideal solution for software vendors requiring shipping, order, inventory management systems, etc. In addition, it allows SaaS software to synchronize online merchants' data based on popular shopping platforms, including WooCommerce, Magento, Shopify, OpenCart, and 40+ other platforms.
With API2Cart's completely integrated API, you, as a software developer, can eliminate almost all of the issues concerning shopping platform integration and save considerable money on building integration modules and other expenses. 
As API2Cart makes connecting to common shopping platforms much more accessible, your company doesn't need to set up separate integrations, and you don't have to stress about any improvements and maintenance.
Start your 30-day trial today and witness the simplicity of connecting to the leading eCommerce platforms across the globe.