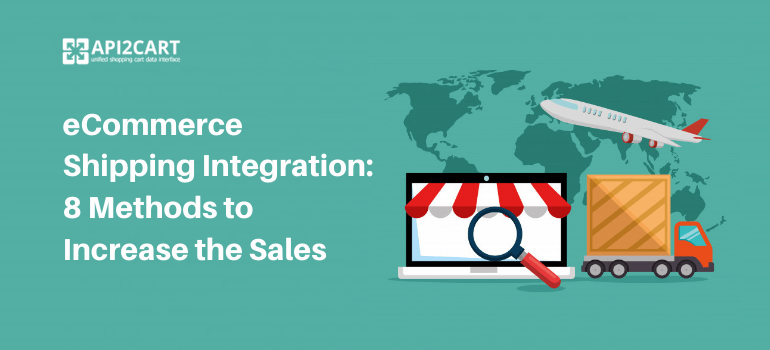 Nowadays customers prefer to buy different goods through eCommerce stores. For example, in the USA the clients of online shops spent more than $517 billion in 2018. That is the reason why the number of eCommerce businesses is rising enormously every day.
The journey from placing an order to receiving the product is fascinating for customers and very essential for retailers. Among the crucial tasks managed by retailers, the shipment of products holds great significance.
Shipment involves the transportation of products from retailers to their customers. But this process isn't so easy to provide smoothly for retailers without shipping software.
Shipping management software is the system that helps sellers of online stores to manage effectively their inventory, shipping, orders, and other operations automatically.
For shipping solution provider is highly important to make constant improvements to earn more money and increase sales. But what options are more useful and effective? Let's find out together.
How eCommerce Shipping Integration can Increase Your Software Sales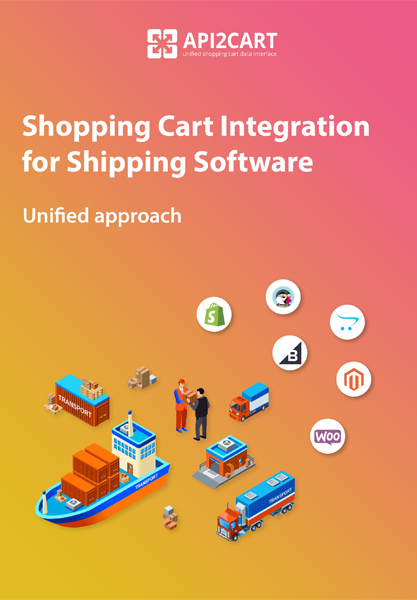 Shipping Software API Integration
Explore how to develop the integration between your shipping software and eCommerce platforms easily.
DOWNLOAD
If you want a good ROI for your software business, increasing your sales is a must-have action. eCommerce shipping integration allows raising the number of your clients several times. There is a simple logic behind it. eCommerce integration is the process of connecting the B2B software with various shopping carts and marketplaces. So, the integration with a great number of eCommerce platforms means the possibility to boost the number of prospective clients dramatically.
More and more shipping companies choose third-party services for providing eCommerce integration. The main reason why they do it because of the technological complexity and huge budgets connected with providing eCommerce shipping integration in-house.
API2Cart is one of the most popular API integration solutions that can connect any eCommerce shipping software with 40+ shopping platforms. It provides 100+ methods for managing the data and allows increasing the clientele of shipping solution up to more than 1 million e-store owners.
Other Methods to Boost the Sales
Use Advertising

Today, businesses are spending considerably on advertising platforms like Google Adwords - Pay Per Click (PPC) ads, Facebook/Instagram ads, Banner ads on blogs and websites, etc. Advertising your shipping software improves brand awareness and allows you to raise your website traffic.

Get Listed in Online Directories

Online directory listing is a cost-effective method of getting potential clients for your business. Online business directories like G2 Crowd, CrowdReviews, TechnologyAdvice, Clutch, etc. gives exposure to your website for shipping software and increase the traffic around it. Moreover, business directories add professionalism to your website and make your business look more authentic to the clients. It increases brand recognition and boosts up the sales.

Write Guest Posts

Guest blogging is an emerging growth booster. When you go for a guest post on someone's blog, you are approaching an entirely different audience for your brand and company. By guest blogging, you are expanding your market reach. You are exposing your brand to people who were under your client list but were not aware of your business.

Propose Demo Version of Your Software

It is beneficial to be creative while selling your shipping software. To win your clients' trust in your company and most importantly, to your software, offer them its demo version. Let them explore your service and get comfortable with it. Allowing free trials increases conversion rates, thereby raising the overall revenue of your company. When the customers already know how useful the software is, they are more likely to make a purchase.

Sell Through Resellers

Resellers work as agents between the manufacturers (like shipping software companies) and the customers. They simplify the process of placing orders and further processing functions for customers. Resellers make it easy for the clients to spot a single vendor for their business needs. They use a simple formula - competitive pricing, to increase their sales and ultimately yours.

Make Continuous Upgrades

Customers value your product if it can satisfy their needs in the long run. Take their reviews seriously. Upgrade your shipping software with new functionality that they demand. It not only increases the chances of repurchase but also persuades other sections of the audience to have a trial of your product.

Offer Purchase Discounts

To stay ahead in the competition, and make your clients identify your product uniquely, grab their attention. That is, divert their minds to your shipping software by offering discounts on purchases. You can implement this under different schemes. When your customers hear of low prices, they will just be pulled towards your website.
Conclusion
eCommerce shipping integration is indeed a powerful way to increase your sales. Though integration is a painful and time-consuming process, especially when you try to do it by yourself, it streamlines business operations. Also, there is a one-stop solution to all the problems that arise during eCommerce integration - API2Cart.
You can connect your software with dozens of shopping carts and marketplaces like Magento, WooCommerce, Shopify, eBay, Amazon easily using API2Cart.
Want to know more? Schedule a free call with the API2Cart manager and see how it can help your shipping software to increase the sales.