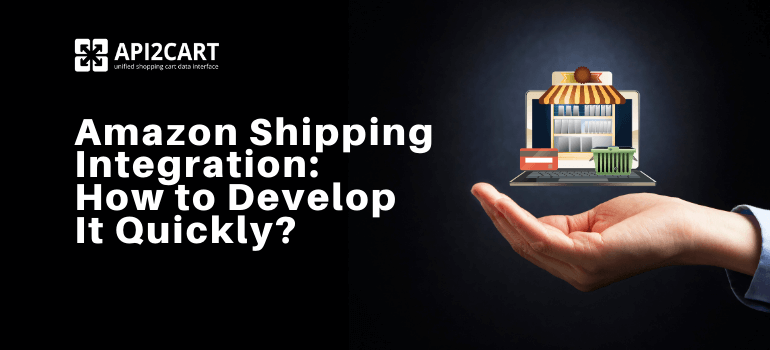 Shipping management software providers have found their businesses explode back in 2020 due to the COVID-19 lockdown, which triggered an exponential growth of their new customers who started to sell products online through various marketplaces. As the number of consumers who will continue to make purchases from the comfort of their homes will grow in 2021 and beyond, SaaS app providers in the shipping management industry should focus on improving their services and providing advanced automation tasks.
Because your business's efficiency as a shipping management provider depends entirely on your capability to automate retail operations, it becomes imperative to ensure that you benefit from reliable integrations with eCommerce platforms and marketplaces. This includes Amazon shipping integration development.
Full integration with marketplaces and eCommerce platforms allows you to provide superior services to your target niche, enabling e-shop owners to create shipping labels with ease, provide tracking numbers to their customers, and stay in control of the delivery process. However, you need to focus on integrating your SaaS business with Amazon and other shopping platforms and marketplaces to get there.
The Importance of Marketplace Integration for Shipping Software Providers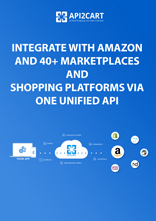 Amazon API Integration
Explore how to develop the connection with Amazon marketplace easily and fast.
DOWNLOAD THE GUIDE
So why is it so important to integrate your business with all the major marketplaces available today? Being connected to a wide variety of eCommerce platforms and marketplaces used by your target niche is vital for any B2B solution, especially shipping management software providers, due to several reasons. We'll explore all of them below.
First, you need to integrate your solution with the platforms and marketplaces used by your customers because you want to help them automate their tasks. Proper integration allows eCommerce shop owners to automate and better organize order management, shipping and the other repetitive tasks with help of solutions like yours.
Second, you need to get your business integrated with the platforms used by your customers to gain access to their data. Thanks to the integration, you'll be able to access their precious data and work with it to offer better services. This includes data about orders, customers, products, inventory and the list goes on.
Third, you want to integrate your business with the main marketplaces out there, such as Etsy, eBay and of course, Amazon, in order to grow your customer database and expand your market reach. The more integrations you put into place, the higher your chance to dive into new markets and expand your market share.
Aspects of Amazon Integration for Shipping Solutions
We've all heard of Amazon and its wild popularity today. According to Statista, Amazon grew exponentially in 2019, reaching a whopping new income of $11 billion and selling tens of billions of products to hundreds of millions of customers all across the globe. As the world's biggest retailer, Amazon is continually growing and will continue to influence the retail market in the years to come.
With over 2 million eCommerce shops at the moment on this platform, integrating your shipping management app with this marketplace will enable you to tap into a huge network, growing your customer database, expanding your range of services, and boosting your profits.
Nevertheless, the integration process with this huge marketplace is far from easy. In addition to being quite a time consuming, the integration involves hiring a dedicated team of developers who can set up the integration & update it continuously. Because Amazon's API is quite outdated, it requires specific knowledge and skills from an experienced developer who has performed similar integrations before.
To top it all, the costs involved with integration are out of this world. The average monthly salary of a developer can exceed $10k, while the minimum contract required for a good integration can exceed 6 months. That's over $60k right there.
The development of the integration with Amazon is a long-term process that requires constant improvement and bug fixing. Fortunately, you don't need to invest $60k just to get it done. The alternative to hiring a developer or a team of developers is a very simple one and involves using API2Cart.
Thanks to API2Cart unified API, you'll be able to integrate your SaaS business with 40+ platforms and marketplaces in a very short span of time. Additionally, you won't need to worry about maintenance or constant updates of the integration, because the team from API2Cart will deal with these.
Integrating your shipping management software with multiple eCommerce platforms and marketplaces like Amazon gives you access to a huge database of over 1 million potential customers, saves you an unbelievable amount of time and money, and allows you to enjoy a wider and happy clientele.
How to Start with Amazon Shipping Integration?
No matter how terrifying shipping software integration with Amazon may sound like, the great news is that you don't need to lift a finger in order to get connected with tens of thousands of potential customers. Thanks to API2Cart's integration solution, you can get a stable integration within days and start offering your shipping management services to your target clients who list their stores on Amazon.
To start using API2Cart functionality, you have to register your free account. After that, you will need to add your customers' stores that are listed on Amazon. Then you will be able to see all the available data from there. It includes the info about the orders, products, etc.
To add an Amazon store, you will need to fill in the fields related to the access token, seller id, marketplace id, secret key, access key id.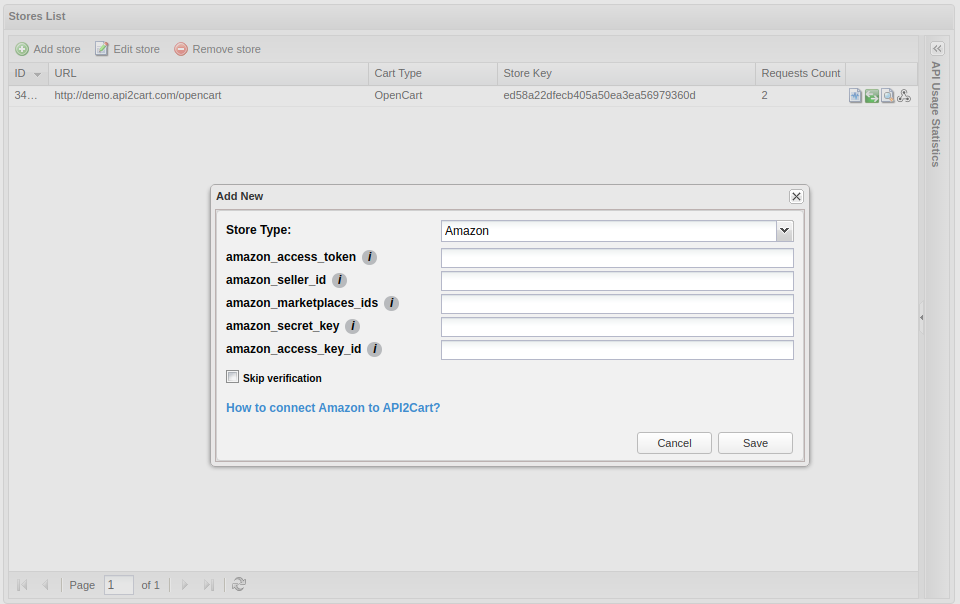 If you have to get customers' personal data (e.g., customer name, address, etc.) from Amazon marketplace, you will need to register your developer first. You will have to go to the User Permissions page in Seller Central and log into your seller account on Amazon as the primary user. After that, you will need to click on the "Register as a developer" and fill out the form that appears. It enables you to see your Developer ID. Then you will be able to receive AWS Access Key ID and Secret Key by clicking on developer credentials. This info you will need to use during the filling in the fields amazon_access_key_id and amazon_secret_key.
The detailed info on how to connect Amazon to API2Cart you can find here.
Once your business is integrated with Amazon, you'll be able to seamlessly import orders, update tracking info & order statuses, automate e-retailers' tasks, create shipping labels, customize shipping tasks, and create detailed reports for your clients.
You can discover the methods API2Cart supports for Amazon integration at this link. You can also check out our API Documentation for further details.
API2Cart comes with flexible pricing and a 30-day trial period. You can try API2Cart for free during this time and see how it works for your business. If you want to learn more about how API2Cart can help you get an edge over your competitors in the shipping management software industry, do not hesitate to contact us now.