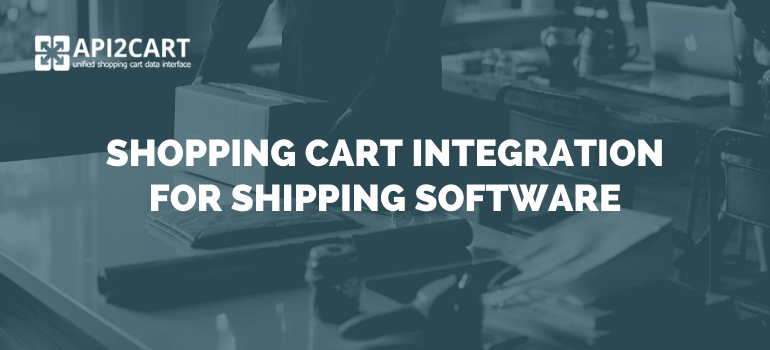 Shipping is an essential part of eCommerce so that many online sellers put a lot of effort into it. It's a simple concept on the surface-online sellers put the sold product in a box and ship it to their clients. But, there is more to it than that because it requires, apart from picking, packaging, and transport, many other operations such as order fulfillment, shipment monitoring, stock control, updating of order status and much more. That is why many online shop owners utilize shipping software and want some kind of integration with shopping carts. In this way, they can easily perform functions that allow their online stores to access and process orders, clients and other info.
The efficiency of each shipping software depends on its capability to automate retail operations, which depends on the level and quality of the integration with shopping carts. Most of the features and processes that every shipping management system covers are data from the stores. Full integration will also give shop owners access to other functions, such as printing shipping labels straight from the dashboard of their online store and providing tracking numbers to remind their customers of the shipping status of their orders.
Because of that, you as a shipping software provider need to provide your online merchants the best way of integration of your shipping software with various shopping carts, which they will use in their online stores. No matter how scary these sounds, integration is sure to happen. The best thing you can do is to choose a ready-made integration solution like API2Cart that makes integration with multiple shopping carts and platforms much simpler, quicker and cheaper.
What are the main shopping cart integration difficulties?
When we talk about the integration of shopping carts we can say this is probably one of the most difficult tasks for every developer team. This kind of integration means that you will have to deal with the following problems as a shipping software vendor trying to integrate your software solution with shopping carts and other related systems:
Integration takes a minimum of 4–12 weeks to produce. In this time, the responsible programmer must study the philosophy and design of the platform, make an effort to will the tension between the product and the system, and will most likely be off the spot a few times.
Be prepared to pay a fixed amount of a few thousand dollars plus maybe more if the need for additional implementation occurs. After the integration is complete and successfully iterated, developer effort and attention will be required as updated versions will emerge, which will mean more upgrades. Besides, your customers can request upgrades and some enhancements.
Every integration is both a lot of work to be done and a constant thorn in the side that never disappears after the work is completed. You would want someone to be knowledgeable and professional for better and more accurate performance, and this is not easy to find and difficult to delegate if they are members of your development team.
Also, every shopping platform is special and has a particular way to store information. You will also need substantial investment in money because of the need to pay skilled developers who will work independently on each integration. A unified integration with API2Cart is the easiest and quickest way to get connected to the data from 40 + shopping cart platforms. The integration with different shopping carts via API2Cart also offers even more benefits for your shipping software and your customers, which we will see in the next section.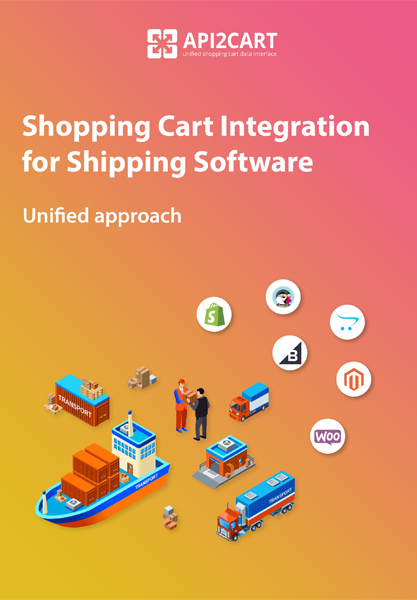 Shipping Software API Integration
Explore how to develop the integration between your shipping software and eCommerce platforms easily.
DOWNLOAD
How can API2Cart help shipping software to integrate with shopping platforms?
As described above, interacting with multiple shopping sites requires a great deal of time, money and effort to invest. With API2Cart you can overcome all the challenges associated with the integration of a shopping platform and marketplaces. Having managed several hundred integrations, we have developed a unified API that will integrate your shipping product with customer stores based on any shopping cart or marketplace out there.
It is a special online interface platform that offers a single API that can integrate with more than 40 shopping carts, including platforms such as PrestaShop, Shopify, Magento, WooCommerce, OpenCart, BigCommerce, and many others. API2Cart provides API method to perform your shipping management software features. It enables you to get, add, update and sync all the information needed on products, orders, shipping, customers, inventory levels, etc.
The main advantage of this kind of integration for your shipping system is the fact that you will not need to develop separate integrations or take care to develop support for new shopping cart versions when they appear. This will save you money, time, and developer resources, and you will attract a lot of new clients for yourself. What is even better is that API2Cart has flexible pricing and allows you to test the service for 30-days absolutely for free. For more information concerning our API2Cart services, feel free to contact us.