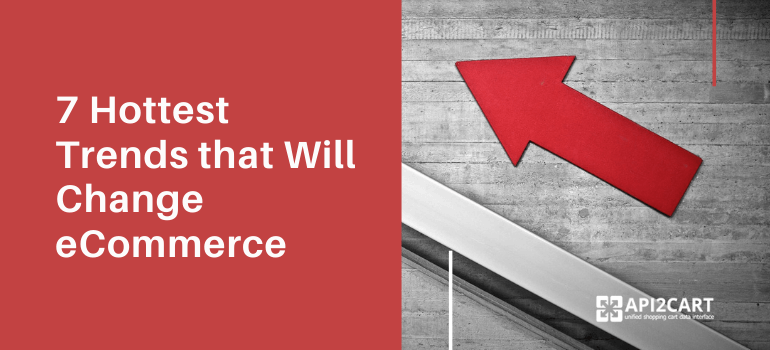 2018 was a very successful year for eCommerce because global sales revenues evaluated to have reached $2.8 trillion. This figure is expected to rise to $4.88 trillion in 2021.
With such amazing figures, for you as a B2B software provider that deals with multiple shopping platforms must be very interesting and important to know what eCommerce trends will be popular in the future and what kind of valuable data you will be able to receive from your clients' stores. This information will give you the possibility to earn more money, raise the number of your clients, and satisfy all the needs of your existing customers.
The Most Popular eCommerce Trends That Would be Impossible To Ignore in the Near Future
Facial-Recognition Technology

Facial recognition technology is one of the most controversial eCommerce trends that can bring personalization to a new higher level. A few years ago, this kind of technology was limited to opening smartphones with the face. Now, there is a possibility to purchase some items using them.

For example, the Chinese giant Alibaba invested more than half a billion dollars in a company that develops facial recognition software. There are different options for using such kind of technology. It can help during the process of payment verification and for those companies that want to track customer movement and define what the goods they like the most depending on their facial expressions.

Social Media Shopping

Social media and eCommerce are tightly connected. 53% of people on twitter recommend products in their tweets, 93% of customers of online stores make purchases after finding the information about the goods that they are interested in on social media.

While the users of social media are posting photos and sharing their status updates, they are also using sites like Facebook, Instagram, and Pinterest for planning their future purchases. Approximately 20% of people who are registered in social media made at least one purchase through those sites.

So, it means that a lot of the owners of eCommerce stores will try to promote their products not only through their websites but also with the usage of social media.

Cryptocurrency for Payment

There are predictions, that credit/debit cards and other payment options would be replaced by bitcoins shortly. Cryptocurrency is one of the eCommerce trends that is also expected to be one of the most popular payment methods soon. The increased security options and decreased administrative costs had made cryptocurrency more preferable among the customers. Currently, the companies as Microsoft, electronic sellers Purse.io and Newegg.com, KFC Canada and many others are accepting bitcoin payment.

Cryptocurrency is an excellent payment method for those who are away from eCommerce due to lack of bank accounts. Elimination of intermediaries and international exchange rates are unique benefits of cryptocurrency that eCommerce will be worshipping soon.

The ColorIQ Technology

Fashion and skincare retailers are becoming more tech-savvy, and so are the customers. Female buyers are now leveraging the perfect skincare cosmetics for their skin tone. Credit goes to the ColorIQ technology initiated by Sephora. The company allows the customers to shop the cosmetics matching their complexion.

A handheld device is provided to the shoppers to scan their skin and then to generate a Color IQ which they can use on online stores to find the foundation, concealer, and lipstick that goes with their skin colour.

Chatbot-Powered Conversations

Traditional conversations via email and phone have started decreasing with the advent of chatbot technology. Facebook survey says that 75% of customers who connect with brands via chat are more likely to make a decision to buy a product. By 2020, 85% of customer interaction with companies will be provided without human agents.

Chatbots are a highly effective tool as they are able to respond to the customers' questions in real-time, collect the information about their preferences for the store owners and personalize the shopping experience.

Subscription Services

The arrival of subscription and membership had given a boost to the sales of goods presented in the online shops. Subscription eCommerce is the market where customers are automatically reminded when they have to repurchase the products or use the services again. The shift from traditionally selling the products and services to the customer to offering preferred subscriptions had greatly streamlined the delivery of goods.

15% of online customers have subscribed for one or more services to get their monthly benefits. During the 5-year period, subscription eCommerce has grown by more than 100% from $57.0 million in 2011 to $2.6 billion in 2016. Nearly 35% of customers have 3 or more subscriptions.

Mobile eCommerce

Mobile eCommerce is an emerging trend in the world owing to the developing countries where young people dominate middle-income groups. The 2017 stats reported 34.5% of total sales were made with the usage of mobile phones. The figure is expected to reach 54% by 2021.

For eCommerce sites, it is important to be more mobile-friendly and to simplify the procedure of making purchases
Conclusion
If you are a B2B software provider that deals with eCommerce platforms, you must understand the importance of integrations with your clients' shopping carts and marketplaces. However, establishing a connection with multiple stores are not so easy to develop. Usually, it requires a lot of your valuable time, a great sum of money and efforts.
With API2Cart you can integrate with 40+ eCommerce platforms like Magento, OpenCart, WooCommerce, Prestashop, eBay, etc. via a unified API. API2Cart provides more than 100+ methods to manage data from stores such as products, orders, customers, shipments, and categories. If there is a need, our company can add more methods that can be very useful for you in the future.
API2Cart allows you to use the service for 30-days absolutely for free. If you want to know more, contact our managers. Don't miss your possibility to earn more money and expand the number of your customers by connecting with various shopping platforms at once!