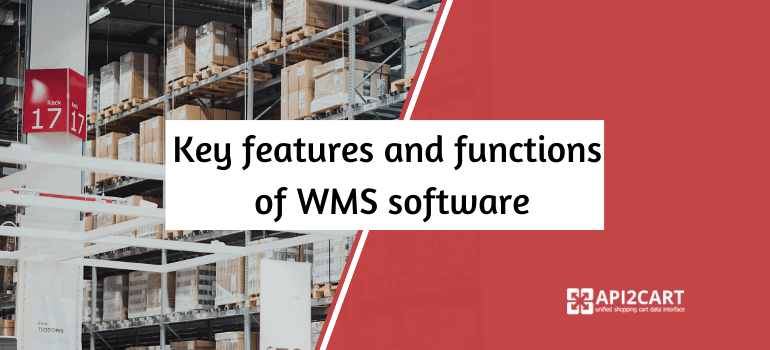 eCommerce has made consumer shopping an all-you-can-eat buffet thanks to robust platforms and software. Warehouse management software, or WMS, can keep your eCommerce business running smoothly so that meal never stops.
It's a piece of software that many eCommerce companies put off because they view CRM, sales platforms, and many others as more important. Unfortunately, that can have significant negative impacts on your business. We want to take a second and demonstrate why a WMS is vital to a healthy eCommerce business and how it can ensure that your customers are satisfied when their orders arrive.
Control Costs on Many Levels
Most eCommerce businesses are running on thin margins, and every bit of additional overhead keeps the owner up an extra hour at night. A robust WMS can help you have a better handle on those costs, and the excellent news is that it'll track multiple cost sources.
A WMS will typically have you scan your inventory in multiple phases. You'll scan products as you receive or create them and put them away on warehouse shelves. Then, you'll scan them as you fill orders and pack boxes. In many cases, you'll also scan the materials you use like boxes or parts that are required to fill orders. These automatic check-ins will help you control inventory and reduce waste or misplaced items, so you're only spending on stock and components as you need.
Advanced systems can also help you determine where to put each item on your shelves. This reduces the amount of walking your warehouse staff has to do, allowing you to fill more orders more quickly. You'll save on human labor either by running fewer shifts or needing fewer people even as you scale. You'll have a better handle on your inventory levels, packing materials, and people, so you can optimize as needed and avoid having idle hands or too much work (and late orders).
Know What You Have and Where It Is
Another critical aspect of all that inventory scanning is improved visibility into what's in your warehouse. Your WMS will deliver real-time visibility on your inventory through the scans we mentioned, and some companies back it up with RFID and other technologies too.
Your team will document the count of your stock at every point of interaction. If you receive goods on a pallet and break it down into smaller units, you'll scan each of those individual items to have an accurate count.
As products move through your warehouse, the system will update with the number of units available and how many are already designated for current orders. It's the perfect way to ensure you don't hit the dreaded out-of-stock status that can delay orders or lead customers elsewhere.
eCommerce shops who sell across multiple platforms also get a single dashboard they can use to see inventory levels, instead of trying to count across your Amazon, eBay, own website, Instagram, and other channels.
Responding to and Predicting Spikes
There's something even better lurking in those inventory capabilities we just mentioned: demand forecasting.
By combining all your orders into a single system, you can look at what's on your plate right now and project demand for next month. If you have a year or more of data, then you can also compare to the year-earlier to know if forecasts should adjust up or down based on factors like seasonality. These predictions make it easier for you to order the right amount of inventory early, scaling up in the warehouse before the spike in orders hits.
Think about summer BBQ. You, as the customer, might buy the burgers and hot dogs in July, but the grill and charcoal are more likely to be picked up in June or earlier. Last-minute shoppers may buy a grill in July, but they'll probably need it rushed to them. So, the warehouse needs to stock up on these items in May or earlier. Getting a steady supply starting in April that scales up in May and June, then starts to even off in July and August, will help you match the demand you face.
The prediction element can get even better if you have a massive operation with many warehouses or are shipping to customers in multiple states. You might see that southern shoppers buy grills earlier in the year but continue to purchase supplies like charcoal or lighter fluid into the late fall. On the other hand, northern shoppers buy their grills closer to the start of summer and also finish using them earlier.
You can adjust how much you stock based on the typical locations of our customers, or you could change what's stored in your northern-most warehouses so that they have room ahead of the uptick in demand for any of the cold-weather equipment or holiday sales items you plan on selling.
Integration with Other Platforms and Tech
<>Understanding what you have and adequately forecasting across all your channels will require integration with the tools you use to manage those channels. Thankfully, most WMS options you have will come with a long laundry list of technology, systems, and data that they support. Integration is not the scary feat it used to be.
There are now many WMS that specialize in eCommerce support, and you can use vendor-neutral software comparison tools to look at these options.
By connecting with your eCommerce ERP, CRM, inventory tools, and partners, you can ensure that you always know the order and inventory demands on your business at any given moment. If you're growing and might expand to third-party eCommerce fulfilment, look for a WMS that these vendors integrate with as well. That way, when they process sales or returns, your entire system can be updated and informed, so all your inventory is tracked correctly.
Finding Your Best WMS Fit
eCommerce businesses are booming across the planet. That means many tools are now working to put your business first. It's a perfect time to shop for a WMS that's eсommerce focused. The only downside to all of these options is that you'll have a lot of comparison shopping to do.
Your best bet is to start by creating a WMS features and requirements list that walks through your entire operation. Guides are available to help you understand what's available and which problems a WMS can solve. Follow them to build out your list based on functionality including picking and receiving as well as your overall inventory management, cycle counts, tracking, support for equipment, and the ability to allocate orders as you prefer.
Once you've got your list of must-have items together, ask vendors about the things you want to do next. Discuss where you plan to take your business, and any special features you might want, like support for specific sensors or legacy software. WMS vendors are advancing quickly, and you might be surprised at all the things they already support or can build just for you — and the costs for this development has been on a steady decline for years!
The final note is that the WMS conversation is much more than just cost. If you're able to use a more expensive WMS to reduce error rates and speed up your pick times, you'll likely reach a positive ROI much faster. Or, if the WMS picked only supports one warehouse but you plan on growing to three warehouses in the next five years, spending a little more now can prevent a major headache down the road.
Pick a WMS based on your most needed support and function list, especially if you have special considerations like meeting federal safety guidelines, transmitting hazardous materials, or tracking temperatures to avoid spoilage.
If you are a WMS provider you must understand that your clients' e-shops are valuable assets where the information about orders, products, clients, shipments, and other important data is stored.
That is why the quality of warehouse management software greatly depends on its level and quality of integration with shopping carts.
The best way to integrate safely with multiple eCommerce stores and marketplaces is to use unified API by API2Cart. The company allows integrating with more than 40 eCommerce platforms like Magento, Shopify, OpenCart, eBay, BigCommerce, etc. at once. If you are interested in the cooperation with API2Cart contact the sales representative of the company and get more details.
---
This is a guest post by Jake Rheude. Jake is the Director of Marketing for Red Stag Fulfillment. He has years of experience in eCommerce and business development.