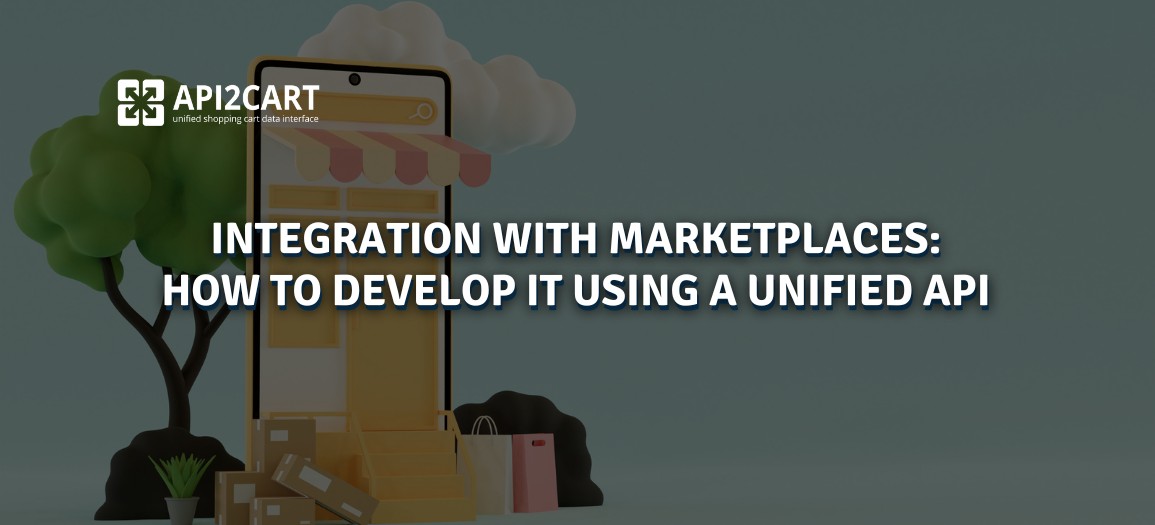 In the world over the last ten years, the eCommerce businesses have grown by leaps and bounds. Given the industry's rapid growth, there is an increasing need for SaaS software. At the same time, the number of software vendors for eCommerce is growing too. Successful eCommerce software must connect their systems to different marketplaces and shopping carts to win the competition.
Integrating with eСommerce is important as more and more sellers create online shops, and stores are becoming increasingly less important.
Let's take a closer look at the important aspects of the integration with marketplaces to make a well-founded decision and benefit from this process.
What is eCommerce Marketplace Integration?
First, it is necessary to understand what integration with marketplaces means. Integration with marketplaces is the connection process between the eCommerce B2B software and any marketplace. Integration involves connecting your software to marketplace APIs such as Amazon, Etsy, or eBay.
eСommerce connection allows to access store data and sync it from several channels to a single operating platform in real-time mode. In addition, it enables to implement various features like, product uploads, stock management, order tracking and management, and so on. Without such a connection, such systems as order and inventory management, shipping management, marketing automation, and many others will be unable to work with online shops and perform their basic functions.
The best integration with marketplaces involves the development of a reliable connection between the system and several marketplaces. Below, we explored important aspects of integration with marketplaces and identified the main advantages.
Main Benefits of Connecting with Marketplaces
Understanding the importance of marketplace integration is essential if you want to make your SaaS solution extremely competitive. Generally, connecting with more marketplaces and shopping platforms means a larger variety of different customers and higher revenues since it allows you to enter new competitive business markets.
In the ever-growing modern eCommerce market, winning competition is not easy. A good deal of software providers worldwide are beginning to integrate with marketplaces and use all of their capabilities to beat competitors. As soon as you integrate the software with any shopping platform or marketplace, you will benefit from a real-time connection to the connected system. It allows you to offer accurate services to your clients and never miss an order.
All of your client's order, product, category, inventory, customer, tax, and shipping status information can be accessed from a single location. You can use this data to run your business and provide online retailers with needed functionality.
Marketplace integration allows you to move to international markets and help you maximize sales. You can use integration with marketplaces not only to attract customers in your country, but also to millions of online merchants around the world. With each added channel become available new clients. In addition, the integration allows your business to go to more online markets without losing productivity.
Expand your market share. By offering stable services, you can reach a wider audience, reach new markets, and enhance your presence in your niche.
Enjoy a significant increase in your profit. More integrations and more clients mean increase in profits.
Process of Integration with Marketplaces
Connecting software to different shopping platforms involves many points. Integration with marketplaces is certainly not a simple procedure, which requires some skills, time, and financial investments.
Step 1: In the first stage, it is necessary to study the market and set priorities among marketplaces. After that, you should take into account the specifics of each marketplace and understand that each has its unique API and documentation. Well, API is the most important component of the work of eCommerce integration. It means that integration is a unique process that requires the necessary skills, understanding the specificity and documentation of the API of each marketplace.
Step 2: This is when you're ready to integrate your software with multiple marketplaces. You have two options: hire a team of developers or use an iPaaS that automatically sets up the connection for you.
Step 3: Once the connection is established, the data transfer process occurs, for example, products with their details, including price, description, images, and quantity. The whole process is automated, saving time and effort. However, the simple transfer of products is not enough until there are real-time updates of numbers and statistics. Therefore, integration should provide two directions of data flow between platforms, with all updates occurring in real-time mode.
Step 4: Now, when everything is set up, only one last part is left - the stage of ongoing support and maintenance of the integration.
The Main Difficulties
Developing integration with marketplaces requires a lot of development effort and time. Moreover, it is a costly process. The point is that, together with the benefits of integration, there are also difficulties, such as:
Technological complexity. In order to develop the integration module, it is necessary to have a wide range of technical knowledge and be aware of the latest API trends. Therefore, it is difficult to find a qualified team of developers in a short time.
System's diversity. Each marketplace has a different API with its own architecture and specific features. For instance, the eBay marketplace offers various types of resources, such as orders and products, but they have different data formats.
High time consumption. High-quality development requires careful work and therefore takes a lot of time. For example, setting up only one connection will take at least 4-12 weeks.
Maintenance. You will need an IT team or at least one developer to take care of the support and updates of integration. Otherwise, any functional changes made to the marketplace may spoil the entire data access and manipulation process. In addition, eCommerce development may require modification and improvement.
How to overcome numerous challenges of integration?
The easiest way is to work with an integration service such as API2Cart. By using it, you can avoid all the complexities associated with manual integration and connect the software to multiple marketplaces.
API2Cart provides flexible pricing, so you can choose the best plan according to your business needs. The service offers static and interactive documentation, and useful connection guides to make integration a simple process. In addition, we have more than 100 methods for managing store data and 24/7 customer support.
With API2Cart, you can easily take advantage of the integration of the eСommerce marketplaces and improve your business with minimal effort and financial investment.
Using API2Cart you can integrate with 40+ eCommerce platforms and marketplaces to attract clients, no matter which platform they have not chosen.
We offer you to test our full features for free within 30 days. So don't miss your chance to easily integrate the software with Amazon, eBay, Walmart, Etsy and other platforms at the same time.