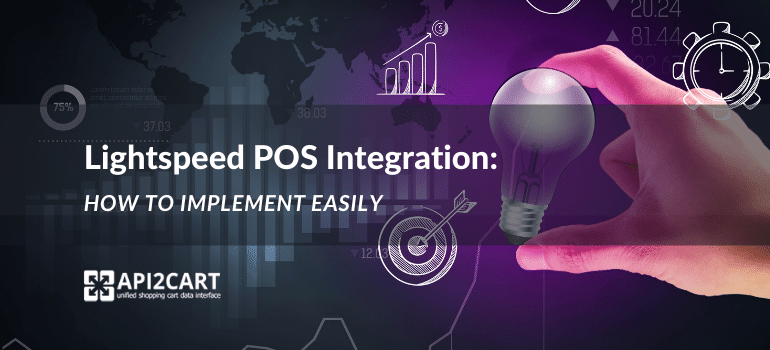 Today, especially in times of coronavirus pandemic, it is not enough to sell offline. Customers usually buy online as it is more convenient and in some cases safer. Therefore, retailers are trying to provide a seamless buying experience across different sales channels.
Point-of-sale systems (POS) have become an indispensable part for store owners who sell brick-and-mortar and online. This software helps to connect these two types of businesses and provide an enhanced customer experience.
In this article, you'll get to know about the basic features of POS software that are important for merchants and why Lightspeed POS integration is worth considering if you want to succeed on the market.
Let's get started.
POS Software - Key Features
POS software is essentially a digital solution that brick and mortar businesses use for conducting sales. POS systems have now evolved to cloud-based software that can be accessed over the Internet. These systems allow merchants to access customer data and process their orders and transactions from anywhere using an internet connection.
Before we discuss Lightspeed POS integration, let's understand some essential features of POS systems for online store owners.
Collect payments and track sales
It has been the primary feature of POS systems, but as the technology evolved, it has become the most basic functionality. A POS software allows merchants to process orders and transactions of their customers over an Internet connection and also provides various other features.
Support for multiple operating systems
E-retailers are not limited to a single software or operating system to run their business. They are always on the lookout for cost-effective and efficient solutions. Therefore, a POS software must be independent of a particular operating system and provide support for all the OSs, including Android, Windows, Linux, MAC, iOS for desktops, laptops, and tablets.
Real-time inventory synchronization on different channels
An efficient POS system must be able to update and synchronize inventory across all eCommerce channels in real-time. Manual synchronization of inventory across the eCommerce ecosystem is nearly impossible when working with multichannel inventory. Therefore, a POS system can automate inventory synchronization while enabling real-time updates across all channels.
Support multiple payment methods
A POS system must support all common payment methods that can be used by online shoppers to make payments online. Each eCommerce platform has its own buyer-specific payment system that streamlines the buyer's checkout experience. For example, if you connect your POS software to Lightspeed, the software must support the platform's payment methods. This can be anything from gifts to reward points to chip cards.
Customer database analytics and reporting
Managing a customer database and drawing insights from it not only leaves a good impression on shoppers but also helps retailers improve the customer experience. A POS system that can create and manage a single customer database for all channels with all the available details of the customers is in high demand. Also, an ideal POS system must be able to generate comprehensive sales reports, tax reports, and other important information from the available customer data.
POS Software Integration Challenges
For POS software to perform its essential functions, it is important to connect it with eCommerce platforms like Lightspeed. However, Lightspeed POS integration comes with some challenges. If you decide to go with an in-house integration development process, be ready for the following pain points:
High time spent in searching, hiring, and training developers, and finally, developing the integration.
Heavy costs associated with integration development, infrastructure setup, and developer salaries.
Difficulty in managing the constant updates in the Lightspeed API, leading to inevitable Lightspeed POS integration maintenance.
Lightspeed POS Integration
Regardless of the challenges, Lightspeed POS integration is a win-win for eCommerce businesses and POS software providers.
Originally, Lightspeed was limited to a point-of-sale system for brick-and-mortar businesses, restaurants, and retailers. With them, the platform grew into a well-developed and sophisticated eCommerce platform that also serves as a blogging tool and provides upselling prompts, multi-currency, and multi-language support to its clients.
As a super-fast loading and navigation optimized tool, Lightspeed enables online buyers to seamlessly look for their favorite products. It already supports more than 29,000 online stores. This platform is especially popular in the Netherlands, the USA, Belgium, Canada, and many other countries. With such a large customer base, you can expect the following benefits from Lightspeed POS integration:
You will get the opportunity to connect with such a large customer base of Lightspeed. These can be your future customers!

An increase in customers means an increase in profits.

The more stores you look at, the more you will be exposed to new data.

It also allows you to dive into some new markets to look for potential business opportunities.
How to Easily Develop Integration with Lightspeed?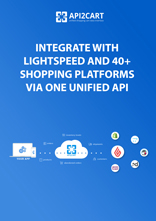 Lightspeed Integration Development
Explore how Lightspeed integration can help your eCommerce software become more competitive.
DOWNLOAD
Since Lightspeed POS integration is inevitable for store owners and POS software providers, there has to be another way than in-house development to establish integration.
API2Cart is one such cost-effective and efficient solution to integrate POS software with Lightspeed. It is a unified API that enables POS integration with Lightspeed and more than 40 other shopping platforms and marketplaces like Magento, Shopify, OpenCart, Amazon, and others at once.
You don't have to set up costly infrastructure, hire advanced developers, or invest resources in updates and maintenance. API2Cart takes care of everything with your API2Cart account. All you have to do is integrate your POS software with API2Cart and add your customers' stores. API2Cart has excellent API Documentation, 100+ methods for working with data, 24/7 customer support.
Everything else is on API2Cart! Moreover, API2Cart itself takes care of all maintenance tasks according to the individual subscription packages offered.
As a POS software vendor, you will be able to:
Receive a list of orders from multiple sales channels

Synchronize inventory across different platforms

Get, add and update product lists

Import customer lists

Organize data into detailed reports
If you are looking for such an irresistible Lightspeed POS integration solution, try API2Cart for free for 30 days and see the results. Book a consultation with our experts to learn more about how API2Cart works for POS software.