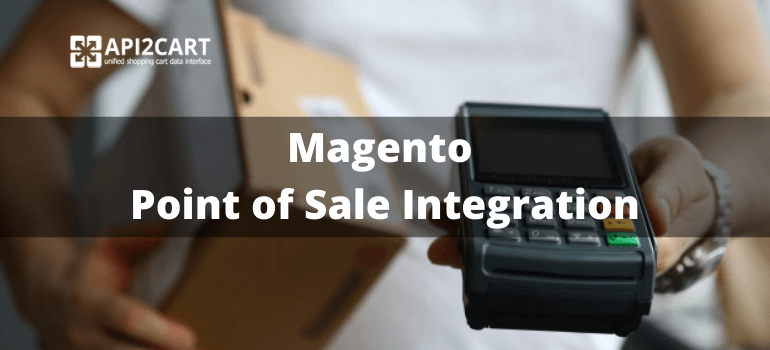 In the modern digital world, it's all about the cloud. The clear understanding of the convenience of 24/7 access to information and offsite data protection leads to the tendency towards migrating from traditional hardwired point-of-sale (POS) systems to cloud-based ones, which also offer multiple benefits. Both online and offline retailers are interested in saving with POS solutions that work on smartphones and tablet devices and won't cost them a fortune.
The Connection of Offline and Online Stores
More and more sellers lean toward selling their products both online and offline. With POS systems, it is possible to connect these two types of retail. To put it another way, when a purchase is made at either offline or web store, the transaction gets updated in the database and then synced for both shops, since they retail share one synchronized inventory.
Another opportunity that the combination of online and offline sales with the POS system brings is the web-based back office. It's absolute control over the business, inventory, and staff gained by the ability to access the whole management system from anywhere on any device.
One more advantage of the combo is a steady business enhancement. Customers are the essence of one's business, which makes it vital to generate repeat sales and build customer loyalty. With cloud-based POS systems, it easier to collect marketing data like e-mail addresses and phone numbers, provide the consumers with the branded loyalty cards, ask the customers for feedback, etc.
Integration with Magento: Challenges
Considering how big the eCommerce world is, retailers use every possible channel to reach potential customers like web stores, online marketplaces, or comparison shopping sites.
That is why, for you, as a POS provider is essential to integrate your system with a significant number of eCommerce platforms and marketplaces. Why is it so important? It's because without the smoothly developed connection with multiple shopping platforms, you won't be able to get access to the data connected with products, orders, and shipments from your clients' e-stores and import it in your system. Also, you won't have the possibility to propose your service for online store owners.
So, what eCommerce platform to choose for the integration with? We advise you to pay attention to Magento. It is one of the most popular shopping cart software in the world that has more than 250 000 users.
However, the development of Magento point of sale integration is not an easy task. Magento's API has a unique structure that requires previous investigations. Also, the development of connection with this eCommerce platform needs months of your developers' time, thousands of dollars, further maintenance, and ongoing updates.
Magento Point of Sale Integration: Main Advantages
Because a growing number of businesses chooses this Magento, integration with this eCommerce platform is a clear need for POS systems that seek to grow a people of clients.
The pros of Magento POS integration include the following:
Possibility to avoid double data entry;
Synced inventory between Magento and point of sale system;
Unique inventory stock for e-store and in-store retail;
Enhanced customer experience - "buy online - pickup in-store".
Best Solution for POS Integration with Magento
If the procedure of integration was simple and painless, POS systems would connect to all possible marketplaces and shopping platforms. Especially to Magento, considering its popularity. But the truth is, it is difficult to integrate with only one shopping platform, not to mention numerous ones. Getting all ready for your application to retrieve the required data like products, prices, orders, or customers is a time-consuming and complicated process.
Fortunately, all the integration pains and challenges can be beaten off with. API2Cart offers integration with 40+ most widely used shopping platforms, including Magento. Basically, you will only need to integrate with API2Cart, to interact with multiple eCommerce platforms. Thus, your business will be provided with decreased management costs and larger profit margins.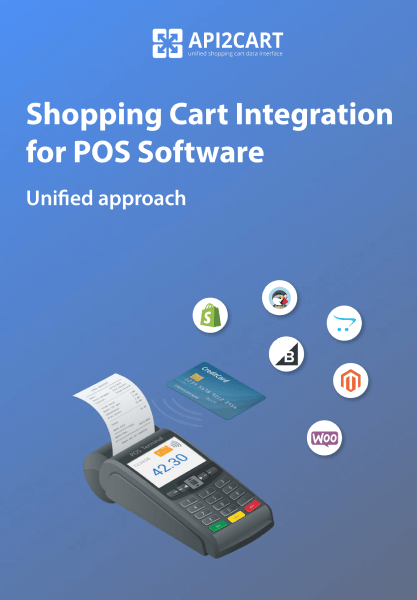 Shopping Platform Integration for POS Software
Explore how to develop the integration between your point-of-sale system and multiple shopping cart solutions easily.
DOWNLOAD
With API methods provided by API2Cart your POS system will be able to:
Import orders from multiple sales channels;
Get, add and update product lists;
Sync inventory across different platforms;
Organize the data in detailed reports
Want to get more information on how API2Cart cam help you with Magento POS integration? Just contact our manager right now and the API2Cart for 30-days for free!