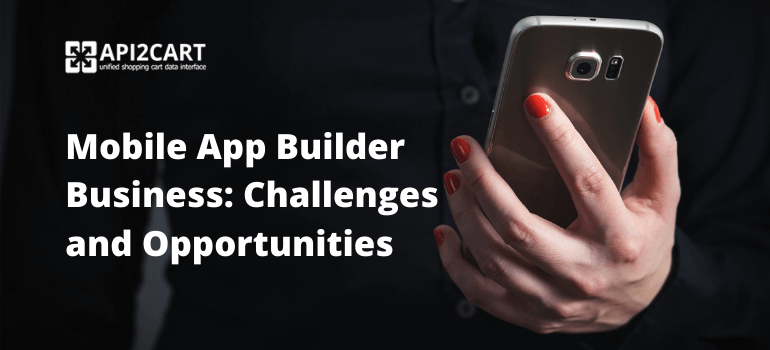 Mobile app builder solutions are not seldom to come across today. Search engines overflow with online platforms ready to give a hand and help you create your very unique and out-of-the-ordinary app of business, restaurant, music, social, church-related and any other kind.
MobiCart, Appy Pie, AppsBuilder, Como, and Shoutem are just a few common options that people love to create applications with. If you would like to appear as one of them, spare two minutes to find out how to become a top solution in the niche.
Tips Start Here
To be hypercompetitive, one should ponder about what features or circumstances would work beneficially. Looking at eCommerce as we know it today may become your inspiration because it gives clues to how to develop a special service and attract a growing number of clients.
More and more people get involved and grow their small online businesses. Not so long time passes before they start thinking about m-commerce expansion. Voila, this is where they become your potential clients. So, how do you convince them to choose your service?
A better offer is the one giving more in terms of both quality and quantity. As your potential clients inevitably have their online stores based on various shopping carts, your number-one task is to integrate with the more eCommerce platforms, the better. This would allow to automatically multiply the number of people willing to use your service simply because your offers meet the needs of almost any of them. No matter what shopping cart an e-merchant uses, you are able to satisfy them.
Apart from new clients, you get extended functionality, as you can retrieve and synchronize the data on products, customers, categories, orders, etc. within your mobile app builder system. Sounds like an ability to make use of it for new business purposes or extending the number of features.
There Is Always a "But"
As any other possibility, integration with eCommerce platforms also has its pitfalls. One of the major issues that disturb e-retailers is how to establish a connection with multiple shopping carts. The answer is to develop a separate integration module for each one. Doing it for one e-retail platform does not make a big problem, elaborating a dozen or, even more, can become the most long-term and expensive ordeal of your business lifetime. With some hyperbole intended, we mean that it is far not as easy as pie.
First of all, finding a developer willing to work with integration modules takes time and eventually costs a fortune. The matter is that the elaborated connectors need to be constantly updated and maintained. And this means you will have to keep paying the hired programmer forever.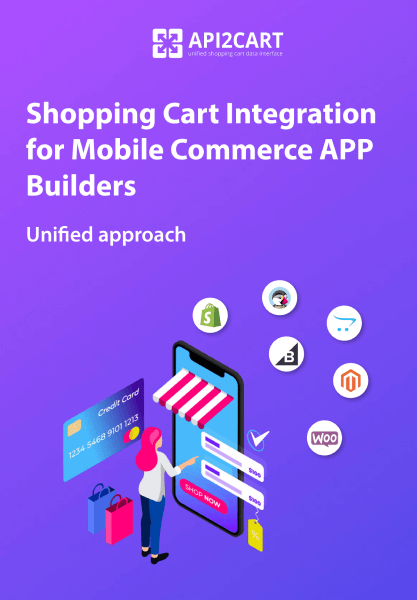 Shopping Platform Integration for Mobile Commerce App Builders
Explore how to develop the integration with multiple shopping solutions easily.
DOWNLOAD
How MobiCart Solved the Problem of Multiple Integrations
MobiCart is a mobile app builder solution that had to deal with the same challenge. They needed to find a way to access the database of a large number of shopping carts to get the information on orders and products. This was needed to be able to synchronize the data between online stores and m-applications built by their clients.
To avoid the perspective of the pain related with integration challenges, MobiCart started looking for a single way out that would kill all the problems at once. They found their solution in one API opening up the databases of 40+ popular shopping carts including Hybris, WooCommerce, Magento, PrestaShop, Shopify and a great deal of other ones. And it was provided by API2Cart.
By performing one integration instead of multiple ones, they obtained the ability to retrieve the data on products, categories, clients, etc., and synchronize it within their system. This resulted in them being able to serve any client wanting to build a m-Commerce app. Simply because the applications would sync data with any of the supported platforms.
If you would like to see your mobile app builder service prosper, consider integrating with API2Cart. Do not pause before asking our specialist a question if you have one. Schedule a call with our expert or contact us with a message.