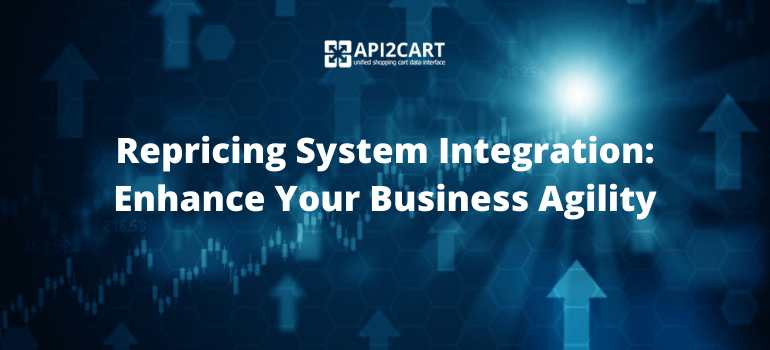 Every new year conducting an online retail business becomes more challenging because of the increasing number of vendors and intense price competition between them. Hence, more e-merchants realize the advantages of using repricing systems. In their turn, B2B providers see the market demand and start running services in this field. But just as in any other market, there is an intense rivalry to deal with. So the solutions of the same niche seek for opportunities to stand out.
In this article, we are going to explore how integration with multiple shopping platforms can help repricing systems' providers to gain success in the eCommerce market. You will also get the info on how to develop a connection with dozens of shopping platforms easily and fast.
The Meaning of Shopping Platform Integration for Repricing Software Providers
Constant price monitoring and optimization is quite a complicated and tedious procedure if performed manually. But the progress does not stand still, and there emerged special price optimization software systems. They are designed to automate price optimization processes and make it far more efficient for e-retailers.
There is a number of reasons that drive online sellers to use such kind of software. The ability to adjust their prices to market demands is, undoubtedly, the crucial one. Repricing solutions make it possible for merchants to gather competitors' prices, automatically update their own's, perform A/B testing, make reports, etc.
To carry out the functions depicted above, repricing systems need to access web stores and get price details from them. To get access to web stores, they need to establish a connection with the shopping platform on which that store is built. The best way to set up an ongoing connection with the online store is to integrate with the required shopping platform.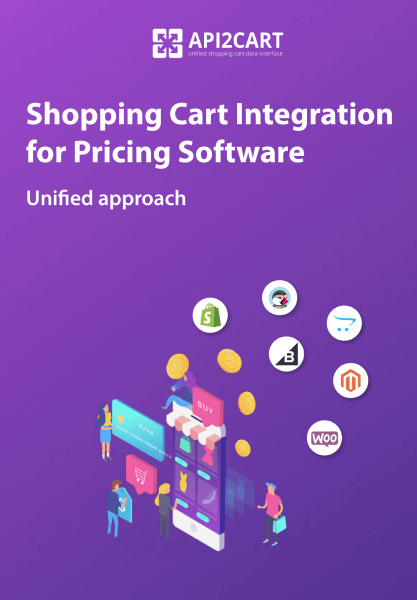 Shopping Platform Integration for Repricing Software
Explore how to develop the integration between your repricing software and multiple shopping cart solutions easily.
DOWNLOAD
The Difficulties of Repricing Software Integration with Shopping Platforms
The thing is that shopping platform API integration is a difficult and expensive process, which implies considerable time & money spendings and dealing with many challenges. Due to the various data structure and architecture of every platform, integration with each of them is a unique pain.
First, finding qualified and experienced developers is hard. Moreover, their work may cost you thousands of dollars per month. The average salary of one developer ranges from 2000 to 5000$ per month.
Second, elaborating on just one integration with a shopping platform takes up to four weeks. This time is needed for the previous platform investigations and specific and the actual connection development.
Third, every platform is unique, so every next connection will take no less time and resources than previous ones. What is more, after the integration module is ready, it needs ongoing maintenance and upgrading. It also requires qualified specialist skills and additional expenses.
All in all, integration with multiple platforms is a lengthy and intricate process, as well as it is pretty expensive. However, there is an alternate route that makes it possible to bypass the tedious work that developing integrations involves.
API2Cart can help you avoid integration issues and perform integration with numerous shopping platforms at once. It provides a unified API that works for 40+ top eCommerce platforms, including Magento, Shopify, BigCommerce, WooCommerce, PrestaShop, Etsy, eBay, Amazon, and others.
More detailed info on repricing system integration aspects, challenges that are waiting for you, and API2Cart service as an unfailing helper to overcome them you can find in the infographic below.

How API2Cart Can Help You with Shopping Platform Connection
With the help of API2Cart, your repricing system can be easily integrated with the various shopping platforms and marketplaces at once. It means that you won't need to develop a connection with each shopping cart software separately. Once you integrate with API2Cart, you get access to all supported platforms automatically.
API2Cart provides 100+ API methods for managing the data form e-stores easily. You will have access to online stores' products, orders, customers, taxes, etc.
In particular, integration with customer stores via API2Cart enables the software to do the following:
update and synchronize prices across various sales channels
retrieve product lists with all the needed info that includes product prices, images, descriptions, etc.
access order history
create coupons based on specific conditions
import contacts from online stores and build segmented lists
generate smart and detailed reports related to the e-store prices' changes
API2Cart provides you with scalable and flexible infrastructure, due to which you are able to add an unlimited number of clients' stores. Reliable and secure integration is the number one point, so you are offered a unique 32-symbol API key to access the system. Also, the SSL certificate is used to ensure data interaction security.
Highly qualified support engineers and managers are ready to solve all your repricing system integration issues and answer the questions. Furthermore, it is feasible to broaden the functionality of your request. API2Cart's API is well-documented in order to save programmers' time and efforts.
Conclusion
For you, as a repricing software owner, the merchant's e-shop is a valuable asset because that is where the info on prices, currencies, products, customers, etc. is stored. Your software greatly depends on integration with shopping platforms. To be capable of price recalculating, comparing, and optimizing, you need access to the seller's e-store database and retrieves product listings and details like pricing, attributes, and categories.
The easiest way to develop your repricing system integration with multiple shopping platforms and marketplaces is to use API2Cart.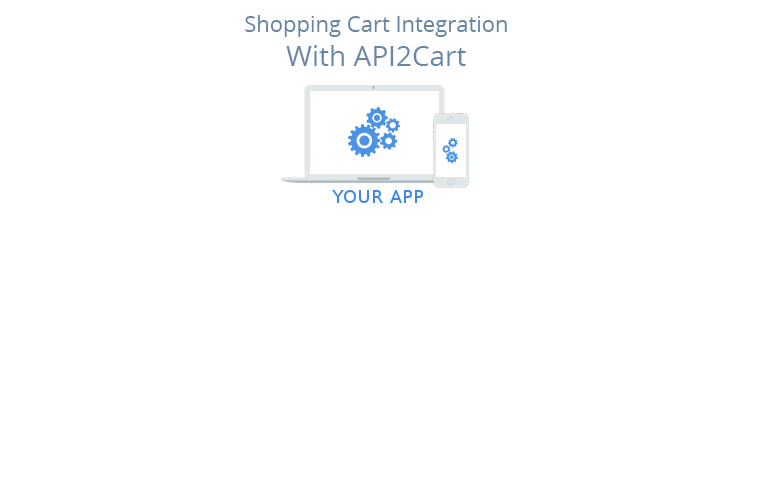 API2Cart provides you with a single API to perform a connection to multiple solutions simultaneously. Integration itself appears to be a hard and complex process. And, what is more, each platform has its own quirks of data storage, so the connection to a number of platforms requires strong knowledge in a specific logic. Using API2Cart, you don't have to develop separate integration with every platform. Our unified API allows you to perform data interaction at one stroke.
If you have some questions about how API2Cart can strengthen your repricing system, don't hesitate to schedule a FREE call with our expert. Our qualified team of managers and developers are always ready to provide qualified advice.