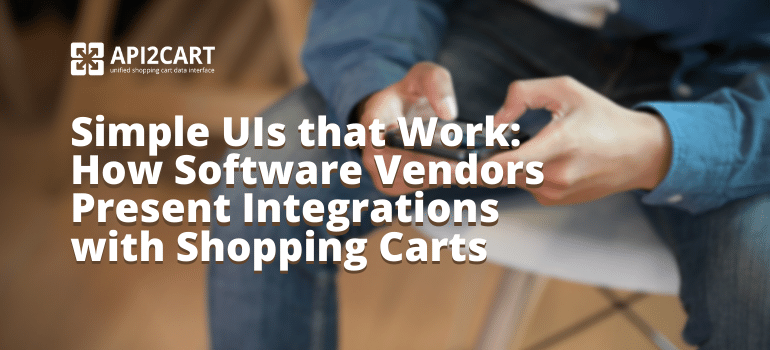 Making a simple user interface for software with complicated tech functionality is not easy, but possible. It requires bringing to bear resourcefulness and imagination to minimize the number of actions needed to be made by users to get a certain result - to have the store added or shopping cart connected. The whole point is to make an interaction with your software maximally short and pleasant.
We have gathered 5 examples of genuinely intuitive user interfaces of some of the B2B eCommerce systems, which provide their clients with a comprehensive and easy-to-set-up connection to shopping carts:
#1 HappyFox Chat
Live chat apps help to set up the communication waypoints with the customers and, therefore, boost the sales quotas and increase the service quality. Having a bunch of useful features, HappyFox Chat supports multiple platforms, including shopping carts.
The UI of the service offers the tab "Apps" where all integrations are sorted by categories. To reduce friction in the experience, the solution allows connecting one of the supported systems, as well as checking out the planned apps in the integration roadmap. Also, you can see the clients preferences to upcoming supported services and see the voting results.
Take a look at the tab "Apps" and here you will see the page of supported shopping carts:
The integration page of Shopify offers you a number of valuable options:
a video-guide "how to setup" your store integration from A to Z,
proven authorization methods, i.e. Shopify uses oAuth,
integration customization to turn on or off the additional features.
Stop by and check the voting for a new app support page out. This helps HappyFox Chat to get first hand information and innovate their service along with clients needs and expectations.
#2 AfterShip
The choice of supported platforms is driven by specific business goals, and AfterShip comes as scalable and efficient shipping solution. The app supports required toolkit and comprehensive UI. The admin board is well-thought and convenient. Within the tab "Apps" you can find "Installed Apps" for managing connected services, and "View All Apps" to integrate new software.
Spare a minute and check Shopify integration page out. Maintaining a vision for your convenience, AfterShip offers a few features:
a tutorial for easy store connection,
secured authorization methods (OAuth for Shopify),
a short description of what the given integration with a shopping cart does for customers, for example, "auto import tracking numbers and order info from Shopify store every 4 hours".
#3 SKULabs
Hop over detours with SKULabs, this elegant solution to multiple problems and facilitates further iterations in inventory management, shipping, warehouse management, etc. The UI isn't overloaded with unnecessary features, yet enables integration with numerous services.
To connect a new service, go to Setting and select Add store, then SKULabs suggests naming the integration and choosing a sales channel, and click on import settings. Once you've selected your sales channel (i.e. WooCommerce), the solution provides you with a short step-by-step guide.
With SKULabs, you will apply the proven authorization methods. The service offers apps on Shopify and BigCommerce marketplaces. The solution warns their clients about possible complications during the connection of some shopping carts, and advises to connect with the support team.
#4 Packlink Pro
Every business strives to eliminate the waste and create valuable product or offer. Packlink Pro is one of the shipping solutions that helps to build a shared understanding of the importance of speedy delivery with compelling UI. The service provides integrations with PrestaShop, WooCommerce, Zen Cart with the available plugins.
To set up integration, go to Parameter and choose Integrations. Once you have selected a shopping cart, you'll be redirected to separate page of the corresponding cart.
On the tech side, the Packlink Pro integration works via plugins and delivers detailed tutorials on setting up store and service connection. Besides, the shipping software generates API keys and excludes sharing your credentials to their app.
#5 Shipwire
Shipwire is another solution with a goal-oriented approach to enable your business with undisrupted workflow. Generally speaking, the app comes with intuitive UI and a whole bunch of integration capabilities. You can tune up connections with other services right away after registering an account, as well as after setting up you Shipwire profile.
Among the advantages of this service you will find the following:
multiple integration options,
customization via features enablement,
a separate page with options and tutorials for each available service (i.e.

Magento 2 Order Fulfillment

).
Do you have any other examples of great user interfaces, that have a compelling out-of-the-box admin panel and neatly present their integrations?
In case you run any of the B2B eCommerce solutions and would like to widen the range of your supported shopping carts, consider doing it via API2Cart. It is an integration solution that offers a single API to interact with over 40 shopping carts. If you are interested in integrating your solution with multiple shopping carts, schedule a consultation with our representative or make a trial account to see how API2Cart would work for your business.