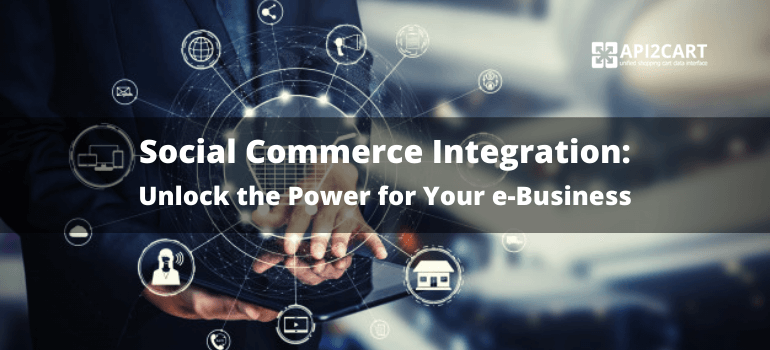 In the epoch of total sincerity and oversharing, running you e-business without social media management turns to be just wrongdoing. You should admit that the passing-by of your target customers' behavior and preferences, significantly reduces your chances to get more customers and followers. So, in this way, social commerce integration is an inevitable process in your business prosperity.
Social commerce software providers offer the possibility to manage stores within social platforms and sync online store with social media page. So, the target audience of such solution providers is eCommerce merchants.
In order to provide clients with powerful tools, social commerce soft providers have to connect to the customers' stores on various platforms and gather all needed information. It is considered to be a huge obstacle as performing a connection to different solutions requires strong technical expertise. Developing many integration modules could solve the problem, as well as, it's not a time and cost-effective way at all.
Moreover, you might face even more troubles while maintaining connections, for instance, when a new version of a product or new feature is added. Thus, rather than waste time on maintenance routine, it's better to invest in core functionality.
API2Cart is a solution that performs integration with 40+ shopping platforms simultaneously by offering single API. You have to integrate with API2Cart only and receive access to major industry leaders with no extra payments and investments.
API2Cart offers opportunities to:
Integrate social commerce software with multiple shopping platforms easily;
Get products with related data from online stores and place them on social page at once;
Sync new products on an e-store and reflect changes into social page;
Sync orders placed from the social page and online store to notify your customers.
Due to flexible and scalable infrastructure API2Cart allows integrating an unlimited number of clients' stores via API2Cart. Security is crucial that is why you are offered a unique 32-symbol API Key to access the system. Moreover, the SSL certificate is used to ensure integration reliability.
Highly-qualified support engineers and managers are always ready to answer all questions and provide you with any advice. And what is more, it's feasible to broaden functionality on your request according to the unique business needs and demands. A real hand of help for developers is interactive and static documentations that outline the main fundamental of work with API2Cart.
Save your time, money and efforts on developing different integration methods. API2Cart gives you single API to connect with such industry leaders like Magento, WooCommerce, Bigcommerce, Shopify, Volusion, PrestaShop and many others.
If you provide social commerce solution, and there is a problem of interacting with your clients' data on various shopping platforms, API2Cart is a robust way to solve it. Receive a unified way to perform integration with different shopping carts at once.
Dispel the doubts and Schedule a FREE Consultation with our representative to discuss all details. Find out more about how to enhance your soft's possibilities with API2Cart.