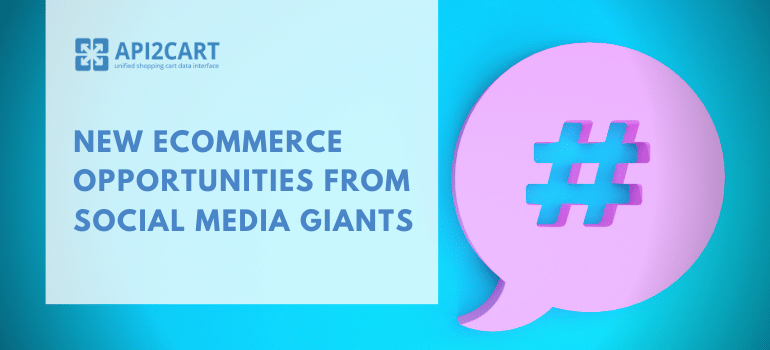 Social commerce has long become an integral part of the Sales & Marketing Strategy of many brands. However, retailers are still looking for new means to build brand awareness and drive revenue from social media. And social platforms are also working on transforming viewers into shoppers and making their platforms more eCommerce friendly. For instance, Instagram expanded its advertising program; Facebook added the ability to create online shops; Pinterest, Twitter, and some other platforms added "buy" buttons, that enable users to make purchases right within the social network website.
Just recently and almost simultaneously, two social media giants Facebook and Instagram have doubled down again on social commerce. They introduced new functionality aimed to build up the shopping experience. Let's see what these changes are and what selling opportunities they bring for brands.
Facebook Marketplace
Facebook has been taking serious measures to bring eCommerce to the platform. It has already successfully implemented carousel and dynamic products ads, which make it easier for people to discover relevant products on mobile devices while also driving benefits for brands. Also, there are pages on Facebook, that are optimized for business and mobile commerce. Companies can literally create entire "Shop Now" stores. Merchants can create shop's product catalog, manage orders, run ads, sell directly from the page, get reports, and all these right within the Facebook platform. What is more, Facebook let eCommerce companies use Messenger as a customer service tool, which allows companies to interact individually with customers through Facebook's messenger app. Pretty impressive, huh? But Facebook went even further and launched its own marketplace for peer-to-peer shopping, which is similar to Craiglist.
In the FB marketplace, users can browse a relevancy-sorted feed of items to buy from people located nearby, and put their own things for sale. However, FB marketplace has some significant advantages over Craiglist. For example, buying from the social network is safer, because you can learn from the profile who you're dealing with. On Craigslist and similar sites, users buy from anonymous.
Instagram's Shoppable Phototags
Instagram also steadily moves toward embracing eCommerce. According to TrackMaven research, the engagement ratio on Instagram is 8 times greater, on average, than on any other social media platform. Understanding that the company has decided to make the most out of its potential. Instagram keeps expanding its advertising program to make it available to businesses of all sizes.
Istagram has just recently launched shoppable phototags that allow tagging products in photos. When users tap such posts, tags will appear on various products in the post displaying up to five items and their prices. After selecting the tag, a user will be able to see a detailed view of the product. Users will also be able to buy the product by tapping on the "Shop Now" link from the product details view. The user then will be directed to that product on the business's website, making it easier for them to buy the product they want.
The significant advantage here is that such advertisement is unobtrusive for users. Product tags are hidden by default to all users, but they will see a button that allows them to show the tagged products. Moreover, there will be no need for users to open a separate browser to complete the purchase as the product pages will be opened within Instagram itself.
To Sum Up
While social commerce may now drive bigger fraction of retail sales, it definitely doesn't mean that merchants will be able to use exclusively social networks to sell products. eCommerce still dwells on eCommerce websites and marketplaces. Initially, social media isn't a platform for selling, even though it is effectively used to expand the reach and build relationships.
If you run a social commerce software, you may need integration with shopping carts. In that case, consider integrating your solution with eCommerce platforms via a unified API, provided by API2Cart. It offers an API that lets you integrate with many shopping carts at once. We also maintain all the connections, so you will not need to worry about further upgrades when new versions of eCommerce platforms come out.
If you have any questions to ask, schedule a call with our representative or try out how API2Cart will work for your social commerce business.