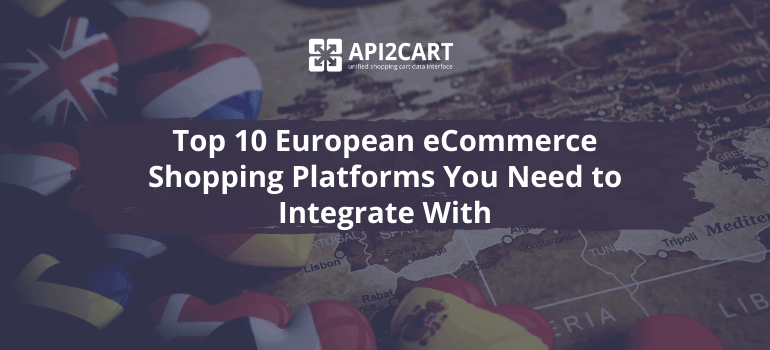 Shopping platforms have become the common ground for both B2C and B2B eCommerce. For e-retailers, they serve as the basis for building their online stores. As business scales, the need for various B2B services appears. They get help from order, inventory and shipping management solutions, accounting, e-mail marketing, and other systems. All of them help to automate e-retailers' process and enhance their activity.
The thing is that those services need customer data to proceed with operations. For example, shipping management tools need order data, such as customer's address, name, ordered product quantity, etc. And the optimal way to get access to those data is to integrate such software with the shopping cart solutions in question.
Thus, if you are planning on start providing your eCommerce B2B software for a great number of e-retailers, your first decision will be choosing which shopping platforms you want to work with. Some of them are widely used worldwide, and some are popular in a particular area. We have already listed the most popular shopping cart solutions in the USA, and now we have made a list of the most widely used shopping platforms in Europe.
The State of The European E-Market and the Most Popular European Shopping Platforms
The eCommerce market in Europe is increasing rapidly. eCommerce sales in this part of the world grew to 621 billion euros in 2019, and it is expected that this indicator will increase to 717 billion euros by the end of 2020. There are more than 800,000 online stores in Europe. They are widely spread across the continent. However, a significant number of them are in Germany, the United Kingdom, and the Netherlands.
More than 175,000 online stores are in Germany, over 108,000 stores are in the United Kingdom, and approximately 82,000 e-stores are in the Netherlands.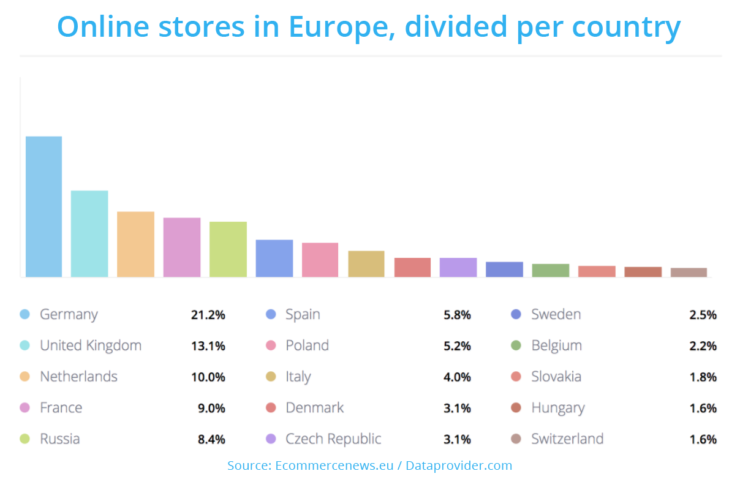 The number of European online stores and e-retailers are growing from day to day. Online sellers choose various shopping platforms for building their stores. There is the top of eCommerce platforms that are more popular among the European sellers than the others.
So, here is the list of the best 10 European eCommerce shopping platforms:
Magento. This shopping platform dominated the European eCommerce market. 24.6% of all online stores in Europe are based on it.
WooCommerce. This shopping cart solution has a second position in the market of Europe. 19.8% of eCommerce websites are using it.
OpenCart. It is highly popular among the e-retailers from the United Kingdom (14,580 online stores) and Germany (9,900+ online stores). 7.4% of all e-stores in Europe are built on this eCommerce platform.
PrestaShop. This shopping cart solution has a massive success in France (33,500+ online stores), Poland (17,500 + stores), and Italy (15,800+ stores). In general, more than 6.4% of e-retailers in Europe use it for promoting their products.
OsCommerce. This eCommerce solution for retailers is not so popular in the world. However, it has a great position in the European market. The number of stores based on it are 7,900 in Germany, 4,370 in France, 2,800 in Italy.
Shopify. It is trendy in the United Kingdom. The number of its users in this country is more than 62,300. Also, it has a good position in the German eCommerce market with 24,000 online stores.
Zen Cart. This shopping platform refers to the local ones. The most incredible popularity it has in Germany (19,870 online stores).
Gambio. It powers a significant number of online stores in Germany, Switzerland, and Austria.
Shopware. This shopping cart solution is the most preferable for the German e-retailers.
Squarespace Commerce. It is hugely popular in the United Kingdom (124,000 online stores), Germany (17,890 online stores), and the Netherlands (10,877 stores).
As you can see, there is a great number of shopping platforms that are used by retailers located in European countries. So, if you want to expand your software market share and increase your clients' number, you have to develop the integration with all of them.
Integration with many shopping platforms multiplies your chances of success. You'll be able to provide your service around the world and reach almost any e-retailer that would be interested in your software. A ready connection with the platforms enables you to retrieve, add, update, and delete various e-store data and provide new features that would help e-retailers.
How to Get Connected?
When you have decided to connect with shopping platforms that are popular in Europe, it is time to think of the optimal way to perform it. Integration is a very complicated process that requires much effort, and both time and money expenditures. Integrating separately with each platform is probably the most challenging and long way to connect multiple platforms.
Of course, you can develop the integration on your own. However, you will need to spend from three weeks to two months building the connection with only one platform. So, just imagine how much time you will need to implement the integration with multiple platforms. Moreover, don't forget that the integration also requires further maintenance and support as a shopping platform updates their versions.
You can try a third-party solution that allows you to save your time and money needed to develop the integration with Magento, WooCommerce, OpenCart, PrestaShop, etc. One of the possible options is API2Cart.
Shortcut for Multiple Integrations
API2Cart is a service that allows getting connected with 40+ shopping platforms. It provides a unified API that allows you to integrate your software with all platforms popular in Europe at once. Among them are Magento, PrestaShop, WooCommerce, OpenCart, OsCommerce, Shopify, and others. Thus, you can perform one integration instead of numerous ones and get access to the data of stores located on any of these platforms.
API2Cart provides 100+ API methods. Their usages enable you to add, update, delete, and sync the e-stores' data connected with orders, customers, products, shipments, etc.
To find out more information about API2Cart, schedule a consultation with our representative by clicking on the button below, or see how API2Cart would work for your business by registering an account. We are ready to answer all your questions and help you 24/7.