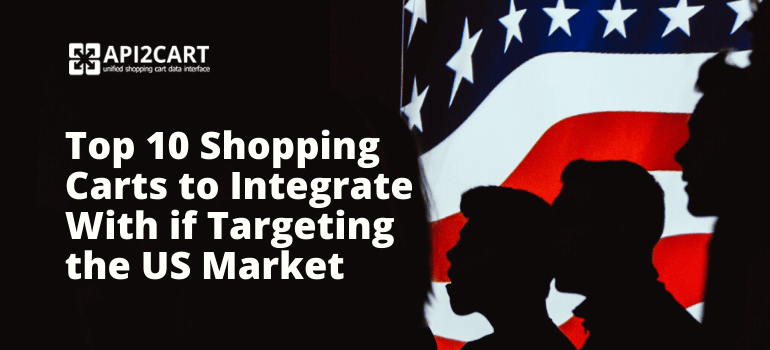 There are many good reasons for why you might want or need to integrate your software with other systems:
cross-system data synchronization
isolation from trading partners
business process automation
Whichever is yours, one of the integration choices that you make as an eCommerce B2B solution is what shopping carts to connect to. If you target the US market, the selection will differ from that you would make if wanted to focus on that of the EU.
We have conducted a little research to provide the lists of shopping platforms that retailers love to use at a particular location. We are beginning with the US so that you know what integrations focused on the American audience will pay off for sure.
The US E-Market Facts and Numbers
The US e-market experiences a rapid growth during the past decade. According to the Statista, it remains the leader by revenue, followed closely by China. B2C sales in the North American region are accounting for 34.9 percent of global B2C eCommerce sales. Looks like conquering the US e-retail market is a worthwhile decision.
Here is a list of most widely used shopping platforms among the US e-retailers, according to BuiltWith:
WooCommerce - 272,939 users
Magento - 72,865 users 
Shopify - 1m users
Squarespace - 1,7m users
Weebly - 753,240 users
BigCommerce - 36,132 users
OpenCart - 114,599 users
Zen Cart - 62,055 users
PrestaShop - 85,987 users/ 11.16%
Once you have defined your target integrations, it is time to think of a means to an end.
Integration Pitfalls
Integration means getting different systems connected to each other. It is a long and expensive process because each application has a unique architecture that requires knowledge and time to figure it out. To make them work in unity, you will need at least a month and a good developer to elaborate integration module for each shopping platform, which is naturally expensive and will cost you a few thousands of dollars. Apart from those challenges, each integration needs further upgrades and maintenance that take time and resources.
Optimal Solution for Multiple Integrations
Thus, it is not reasonable to do integrations separately one by one if you want to integrate with multiple platforms. By integrating via a unified shopping cart API, you can kill many birds with one stone. API2Cart is an online service that provides one-to-many API that allows to get access to 40+ platforms, including the top 10 USA eCommerce solutions mentioned above.
Experience the benefits of multiple integrations for your B2B solution with API2Cart. Schedule a consultation with our expert or leave us a message, and we will provide you with all details.