Top 8 Shopping Carts to Integrate With if Targeting the Asian Market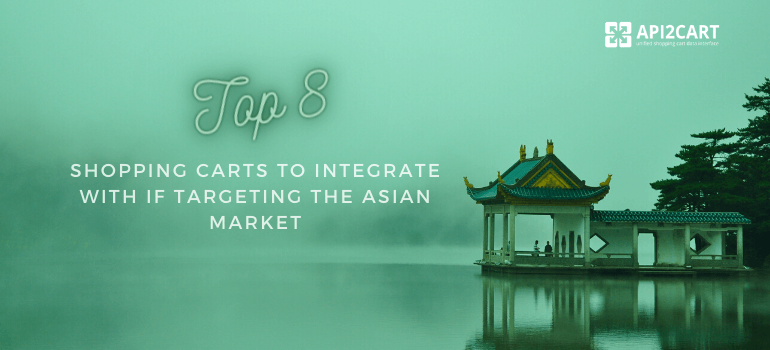 It is no secret that one of the main necessities for e-Commerce related B2B services is integration with shopping carts, that their customers build their stores on. Without these connections they won't be able to access customer, order and other actionable data. So one of the first integration decisions to make for such B2B vendors is which shopping carts to integrate with. The target market you have chosen for your product will influence your decision a lot.
In two previous posts from the series, we covered top 10 shopping carts to integrate with if targeting the USA and Europe, and now we are going to investigate what shopping carts Asian e-retailers like to work with.
Asian e-Commerce market experiences a rapid growth over the last decades, which is mostly driven by new technological opportunities for cross-border e-commerce. Asian B2C e-Commerce market has a strong infrastructure and is highly competitive. This makes it tough for e-retailers to break into this market, but for B2B service providers it opens a plethora of business opportunities.
If you consider targeting The Asian e-Commerce market, check out the list of the most popular shopping carts among local e-retailers, according to BuiltWith:
ECSHOP

                        16 395

OpenCart

                      10106

ShopEx                          3775

Zen Cart

                         7 575

Magento

                       2 537

CS Cart

                           2 309

PrestaShop

                   1 662

OsCommerce

               1 623
Integration Pitfalls
Choosing shopping carts to connect with can be a difficult task, but the main challenge here is the integration itself. Setting up a connection with each platform is an arduous and long process. Every shopping cart has its own unique architecture and logic that require time and expertise to learn. Integration also entails significant money investments due to the need to pay qualified developers for performing and maintaining each connection.
Shortcut to Multiple Integration 
Many shipping providers can afford to work with only a few shopping carts and thus impair their business opportunities and reduce their market share. Luckily, there is a way to integrate with multiple e-Commerce platforms faster, easier and cheaper than you could expect. Through only one integration with API2Cart, you can get connected with over 40 shopping carts simultaneously. Among them are all industry leaders such as Magento, Opencart, Zen Cart, CS-Cart, PrestaShop and other platforms, popular throughout the world, including Asia.
If you are interested in integrating your B2B solution with many shopping carts and would like to talk about the technical details, feel free to schedule a consultation with our representative or try how API2Cart would work for your business.