How to connect Walmart store to API2Cart?
1) First, make cart.create request:
https://api.api2cart.local/v1.0/cart.create.json
with the following parameters:
api_key
cart_id
walmart_private_key
walmart_channel_type
walmart_consumer_id
where Api_key is your API key, cart_id is Walmart.

To find walmart_private_key, walmart_channel_type, and walmart_consumer_id go to your
store admin panel → Settings → Consumer IDs & Private Keys.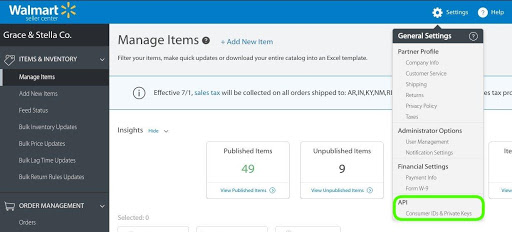 1. walmart_consumer_id
2. walmart_private_key
3. walmart_channel_type
Copy parameters values and make request:

https://api.api2cart.com/v1.0/cart.create.json?api_key=***&cart_id=Walmart&walmart_private_key=***&walmart_channel_type=***&walmart_consumer_id=***

Posted in: Getting Started