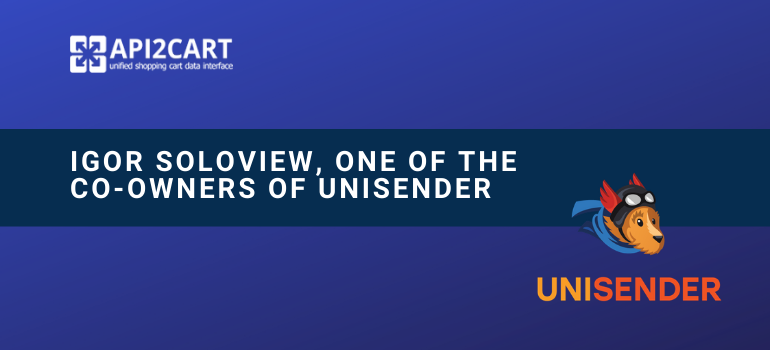 Editor's Note: Today, we are going to interview Igor Soloviev, one of the co-owners of UniSender - the major e-mail and SMS marketing software in Eastern Europe.
In this interview Igor shares his e-mail marketing and UniSender experience, where the idea of API integration for online store owners came from and how it was brought into life with API2Cart.
Igor, would you mind telling us about your career evolution: where and when did you start your e-mail marketing? How did you join UniSender Team? What are your position and responsibilities now?
Before 2009 my brother and me were engaged in manufacturing and only the corporate web site put us on with the online projects. As it happens, at the beginning of 2009 we have made rather complicated decision to close down our business and move into some Internet projects. The first one was e-learning for companies. Very soon I have realized that the core skill for business development is the ability to sell distantly. Thus, I have seriously gotten into the online projects, especially, direct response copywriting and e-mail marketing.
UniSender has become the second service we have started to use. It was the project I have had a great pleasure to work with. After that, I have been pledged to contemplation what if we could create our own service. But, when we had estimated all the necessary resources, we decided to become the partners of UniSender. Besides, I was offered to become an exclusive reseller in Ukraine. It was at the beginning of 2011.
UniSender Ukraine has been developing and growing rapidly and in the summer of 2012, we have received a merger offer. So, in autumn the Ukrainian reseller has become the part of UniSender. I have become a business partner. So, starting from July 2013 I'm on UniSender's CEO position.
What is the key difference and/or advantage of your system over your competitors?
If we compare UniSender with Western services (American and Western European - editor's note) UniSender is a lot closer to our customer. It is more accessible and convenient in legal and accounting terms. Moreover, we provide full support in the Russian language. For small and medium-sized companies it is really important as well as for 50-60% of all our clients. Another vital factor is a high percentage of letters delivery. Currently this index is 99,4%.
UniSender is a well-known and popular service in Eastern Europe, so we aim to implement solutions that will help our customers to get maximum results from e-mail marketing. For instance, we are actively developing our CSM department that is involved in training, consultancy and offers extra services in the e-mail marketing field.
As a result our clients can partly or even fully delegate the design and execution of a powerful and profitable e-mail marketing to us. Our CSM department has also developed several turn-key solutions for specific industries that can be quickly and easily implemented.
Referring to the platform itself I can say that this autumn we are going to implement serious and, I hope, useful innovations for our clients. Those considerable changes motivated us to roll out a new UniSender 5.0 version.
UniSender has a huge client base that includes online store owners as well. How did you come up with an idea of using API integration with shopping carts within your service?
As for me time is one of the most important resources. I'm quite confident that the same is true for most online merchants. That is why we do our best to simplify and speed up the process of starting using UniSender. And if you take into consideration that e-commerce is now developing with the lightning speed it becomes quite obvious that creating a shopping cart integration module is a necessary step for us and our customers.
What is the importance of the recent integration of UniSender with API2Cart and how do you estimate its usefulness for you and your customers?
Cooperation with API2Cart is a great opportunity for UniSender to become more accessible for e-commerce platforms users.
For us it's fast and profitable since API2Cart supports integration with dozens of shopping carts thus providing secure and reliable integration. For our users, it's even more opportunities to quickly and securely transfer their client's contact information from the most popular platforms into UniSender and start an e-mail marketing campaign immediately.
In the end of our interview, try to take a look into the future and estimate the prospects of API technology for e-Commerce and e-mail marketing.
I'm quite sure that integrations between different platforms and services with help of API technology will be increasingly demanded in the nearest future. I would even presume that there will appear some kind of clusters between services and platforms that will be closely integrated in each other. It's convenient for clients and after all it's them who create the demand for such solutions.
Note: API2Cart offers vast opportunities for API integration of your software with various shopping carts and their versions. Contact us to find out how API2Cart can make your business more profitable.