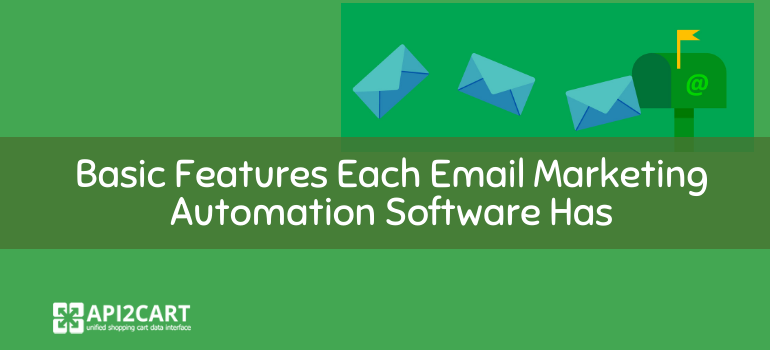 Email marketing automation system has already become a vital part of both small and large eCommerce enterprises, as it eliminates the tedious and mundane tasks allowing businesses to focus on other important tasks. The software itself is quite extensive comprising the range of processes and components.
Due to the great variety of email marketing automation services, their functionality may differ significantly, but still, there are some standard elements that are common to them.
Basic Features of Each Email Marketing Automation Software:
# Visual styling and ease of use
First of all, when choosing email marketing automation platform users pay attention to whether the interface is pleasing to eyes and easy to navigate. It is not surprising, as a simple and user-friendly interface makes the job easy. It is important that non-tech users without the HTML knowledge could build emails.
# Automation
One of the core elements of email marketing automation software is automation. It allows to nurture leads, engage existing customers and welcome or thank the customers. For implementing this, software vendors apply autoresponders which save tons of time and money for their customers.
# Segmentation
Segmentation is another essential tool each email marketing automation software commonly includes. It allows managing email campaigns with better targeting. This function enables users to segregate subscribers into groups based on different criteria such as purchase history, geolocation, click-through, subscription message data, autoresponder feedback and other.
# Reports & analytics
Analytics and reports are another important features that allow to understand the audience better and measure campaign effectiveness. Basically, reports include such key metrics as monitoring click-through, response rates, readers' length of stay on email, trending content and other.
As a result, it becomes easier to make data-driven decisions instead of relying on bare hunches.
# Cart Recovery
As eCommerce industry loses a lot of potential revenue because of abandoned carts, email marketing automation systems are proved to be a perfect solution to recapture lost sales. Flexible email templates and fully customized reminder messages allow to follow up on customers who haven't finished their online purchase via email.  
In order to provide this functionality, email marketing automation software need to retrieve the data of abandoned orders. With API2Cart's order.abandonment.list method, it becomes easier to get lists of abandoned orders from stores along with info about users who hadn't completed a purchase.
# Integrations
Email marketing automation can provide robust functionality only if it is closely integrated with other systems online retailers use. This results in ease of use, better automation and systems coherence.
For instance, integrations with other cloud-based software enable data sharing between applications. As to eCommerce industry, integrations with shopping carts is also of great importance to work with rich customer data.  
However, getting connected with different systems involves tons of tech work, and so does integration maintenance. It is much more reasonable to entrust shopping cart integration to professionals.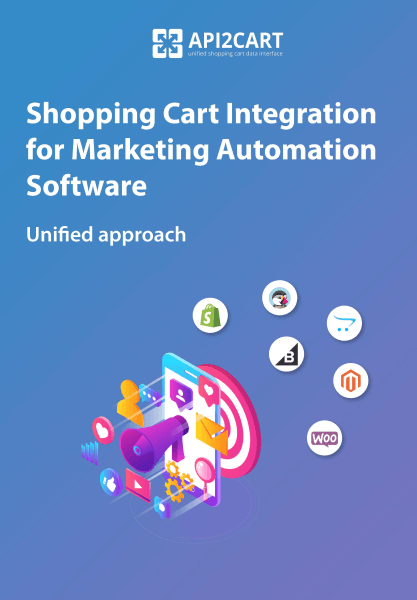 Shopping Platform Integration for Marketing Automation Systems
Explore how to develop the integration with multiple shopping solutions easily.
DOWNLOAD
A Simple Way to Integrate with Multiple Shopping Carts
API2Cart is a solution which takes over all the hardest work related to integrations, allowing you to focus on other core tasks. It makes it possible to get connected with more than 40+ shopping carts and marketplaces such as Prestashop, BigCommerce, Hybris, Squarespace, Ecwid, Etsy, etc at once via just one API.
API2Cart has a detailed documentation and a set of methods for email marketing automation system:
for sending emails featuring new items, discounts and special prices:
product.list
order.list
customer.list
for notifying on order statuses:
order.list
order shipment.list
order.update webhook
for importing contacts from stores and building segmented lists:
customer.list
customer.info
for spotting cart abandoned orders and cart recovery and uncompleted purchases:
order.abandonment.list method
Find all supported methods here or in our documentation. If you want to get know more on how API2Cart would work for your business, just schedule a call with our representative or make a trial account.