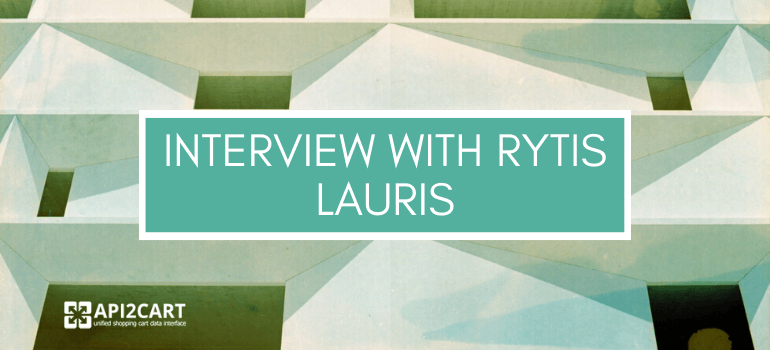 It's a pleasure for us to present you an interview with Rytis Lauris, Co-Founder and CEO of Omnisend, a comprehensive email marketing service for e-Commerce sites. He is a well-known person in the world of e-Commerce who has proved that failures can make us stronger and smarter. With an unsuccessful attempt with his first business, he has found the courage to try again and built a prosperous service.
So, get ready to learn about his e-Commerce solution and the importance of integration with different shopping platforms via API, a few pieces of advice from Rytis, and much more below.
Rytis, it has been 5 years since you founded Omnisend. When did you realize you wanted to found your own business? Did you know what kind of business you would start right from the very beginning?
Back in school, I wanted to be a politician. While studying politics at university, I understood that business was my real passion and my political ambitions were put on hold.
Omnisend is not the first of my businesses. The first one was founded while I was still at school and it wasn't even related to IT. To be honest, my first try at running a startup was not successful. By then I followed the rule "if you fail, fail fast".
After this lesson, Omnisend was established as a digital marketing agency. The information technology field seemed to be one of the most dynamic, so I didn't need to look any further. Though, the agency was successful, it was "traditional" as well as local and we wanted to grow globally. That is how Omnisend became an email marketing tool for e-commerce.
It is interesting that Omnisend was a digital marketing agency till 2013, and then you narrowed your focus to e-Commerce. What was your decision influenced by? Why did you choose such a business direction?
Currently, only 7% of world trade is online. E-commerce platforms grow significantly each year; for example, Shopify increased its number of online stores from 80,000 to 140,000 in 2014 alone, and the number has grown exponentially this year. Therefore, the e-commerce niche seems promising.
Moreover, as a digital marketing agency we had many different projects and saw various cases. What we found was that generic email marketing could be improved and tailored especially to e-commerce. Let me explain why. The big players such as Amazon.com or Argos.co.uk have automated, highly targeted, and personalized email marketing from which they benefit greatly. However, small online stores lack skills and resources to implement data-driven automated solutions, and there were no alternatives out there.
So, two years ago we came up with an idea to offer the market an easy-to-use, data-driven email marketing tool that caters to the special needs of e-commerce businesses.
So what does your solution do? Why is it different from generic email marketing tools?
Omnisend is an email marketing toolkit for small and medium-sized online stores. Covering the entire email marketing chain, it helps build subscriber databases, creates professional-looking newsletters, tracks sales as well as boosts to non-openers, sends welcome emails, and retains customers after they abandon a shopping cart. Moreover, our team works a lot on the extra features that make emails more interactive and increase click rates. Our most recent feature - a unique Scratch Card - has received lots of positive feedback.
To sum up, Omnisend saves you time and reduces your risk because you don't have to wander around looking for separate tools to do all the things mentioned above.
You have achieved impressive results in just one year as an email marketing solution. What is the secret of your success? What do you think helps your solution stand out from other providers in this field?
During 2015, Omnisend has grown even more. Now we have over 10,000 customers who send millions of emails every day.
Recently we have conducted intensive research on our client reviews. The most frequent words found were "easy", "newsletter", and "support". I would say that these are the strengths that our competitors find difficult to beat:
Omnisend is focused exclusively on e-commerce. The needs of small and medium-sized online retailers were our priority when developing the app. Combining a strong e-commerce focus with the need for a simple to use solution, we have introduced unique features such as "Product Picker", a "Scratch Card", automated forms for building a subscriber database, and automated emails that help retain customers. This toolkit helps our customers increase sales and revenue by up to 180%.
Our tool is very easy to use. Small e-retailers rarely have IT departments that can help implement and understand IT solutions. Our credo is "to keep Omnisend as simple to use as possible". We can see that our clients appreciate our efforts.
Our customer support. You might say that if everything were so easy, you wouldn't need any customer support. That is not actually true. Our clients have a lot of questions re. email marketing itself, they ask for advice, and express feedback constantly. We are trying to respond to them every day, and customers are happy being heard.
Your system is integrated with a few popular eCommerce platforms. How important is it for an e-mail marketing business to be connected to shopping cart software? What part do APIs have here?
To help e-retailers sell more, we have to be connected to their e-commerce platform. This is where API integration helps us a lot. Integration with platforms via API allows us to simplify the entire process of email marketing actions - building a newsletter with a unique Product Picker that lets you select products for the newsletter while browsing your online store; recovering abandoned shopping carts and sending other automated emails. We can monitor email campaign performance not only by opens and clicks but by tracking sales in terms of quantity and revenue.
Currently, we are live on Shopify, Bigcommerce, and Tictail. Customers that use Magento, Prestashop, and Open Cart also can use Omnisend with few extra touches from our support.
What would be your parting words for those who have just started their online business or are planning to do so in the near future?
My few pieces of advice are:
Just do it. It may turn into something big. But if it happens that your first business fails, take it as a lesson, it will definitely be useful in the future.
Consider starting an online business. Your audience will be much bigger than you could ever hope to reach with a "traditional" one.
Set up the signup forms at your website and start growing your contact list from the very beginning. Don't waste your website's traffic - make it convert with welcome emails.
Don't forget to keep in touch with your customers. Use all of the channels possible: social media, direct contact as well as email!
We want to thank Rytis Lauris for finding time to share his memories, experience, thoughts and great parting words with our readers.