The Year 2015 in Review: Achievements & Milestones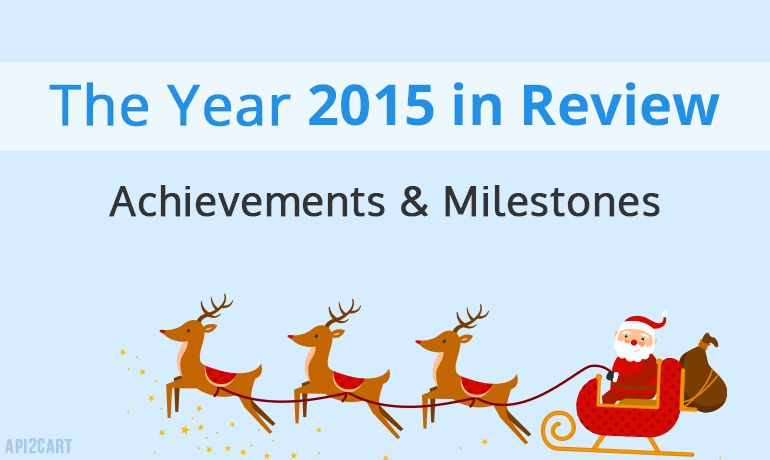 The sound of the bells on Santa's reindeer's necks are echoing behind, which means that the holiday season 2015 has become history. We decided that it would be interesting to take a look back at the API2Cart advancements over the past year.
The year 2015 brought us changes and enhancements in not only the functionality of the service but also our team. With the fresh and talented professional blood now a part of our family, we manage to extend considerably the range of supported platforms and API methods. Let's take a closer look at the API2Cart major achievements of 2015.
API2Cart Enhancements
The list of supported platforms was enriched with 4 new carts, Gambio, Oxid, WP e-Commerce, and X-Cart 5 store data is now available for you to retrieve and use with API2Cart. The shopping carts mentioned are just the beginning, and in the next year, we're going to keep moving forward with adding new platforms.
Thousands of hours were spent by our dedicated developer team to add a range of new API methods. Their effort resulted in API2Cart allowing to work with shipments including the possibility to specify tracking number. A number of new methods were made available for Magento, Bigcommerce, Shopify, WooCommerce, OpenCart, CS-Cart, Ubercart, and many other supported platforms. Therefore, all processes concerning retrieval, adding, deleting, syncing are now expanded with numerous new API methods.
We've been burning the candle at both ends trying to get new features that would create new opportunities for B2B services of the e-Commerce sector. One of the updates worth being mentioned is the possibility of multi-store data retrieval for Magento platform. It can be used by companies to expand the functional range of their software and offer more to a lot of new clients.
Another excellent achievement is that the order.abandoned.list API method is now supported by the service. In order to get more information related to this topic, you can visit the press release page. This method currently works for Magento only, but the company is going to work hard to make it work for 30+ other popular shopping carts in the 2016.
Top 5 API2Cart Most Wanted Articles of 2015
Here are the 5 most useful and worthwhile to read blog posts in the past year. Make sure you didn't miss out on any of them.
API Provider for API Consumer: What to Have on Your Documentation Page. Documentation page is very important to API providers. If to build it in the right way and make it clear to users, it can help to get a ton of new API consumers. If to did it wrong, it can scare developers off. Explore how to build an excellent documentation page in this article.
What REST API Services Can Expect from HTTP/2? One of the hottest topics for discussion last year was the new HTTP/2 that is the most substantial protocol update since 1999, the year when the HTTP/1.1 version was released.
Choosing an OAuth Type for Your API. This article clearly describes what Open Authentication (OAuth) is and why to choose it for your API.
Interview with Arnaud Lauret (API Handyman). You might know him as API Handyman, the API believer we all love. In this interview, he reveals who he would like to be, what his homework dipsy doodles were, and what cardinal virtues every API should follow.
The Whats and Hows of Hypermedia APIs and The Whats and Hows of Hypermedia APIs (Part 2): Hypermedia Types. Two brilliant articles that provide you with the information on Hypermedia APIs, why to work with them and give you a basic knowledge about Hypermedia types.
The year 2015 was significant for API2Cart, and we want to thank our partners and readers! Without you, we would not be able to achieve such impressive results. We are grateful for the inspiration to reach new heights, as all we're doing is directed to satisfy you. We wish you, your families, and your companies a wonderful year ahead. Happy New Year!