API Digest: Your Weekly Enjoyable Runaway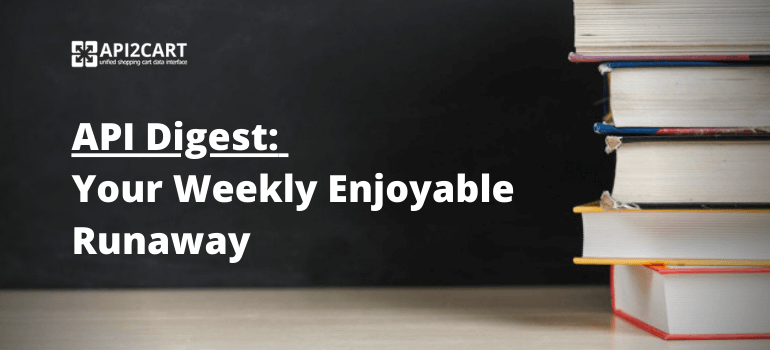 In spite of heavy rain and cold wind, we are here to pamper you with a new portion of fresh news and articles. This week API digest continues to review posts worth your attention. Sit back and enjoy!
In the article In a REST World, There's Room for Non-REST APIs a Chilean author Patricio Robles expresses his point of view and provides real-world examples to prove it. He gives reasons for why REST APIs are preferred and so does he show that other choices work no less great.
Last week, Mitch Colleran wrote a guest post for Catchy. Working on building an API program for Eventbrite, he shares some of his company experience and talks on the difference between Utility APIs and Ecosystem APIs.
API-Enabled marketing is what Jennifer Riggins tells about in her API: Part of the Creative Palette. In the article, she explains the importance of Application Programming Interface and provides examples of how it can be wisely applied.
Wendell Santos, the editor at ProgrammableWeb.com, wrote a short article that will help you decide how many HTTP status codes your API needs. Read and find out more.
Nordic APIs continue their API Lifecycle series. Two new parts have been released in the last two weeks. Click on API Lifecycle Development Stage: Deploying Your API or API Lifecycle Operations Stage: Marketing Your API to read either the third or the fourth article. To find the previous posts dedicated to the topic, click here and here.
Think you know everything about Application Programming Interface trends? API leaders have met to debunk it all. Read the blog post by Ashley Waxman and be aware of the most notable insights.
George Psistakis, a co-founder of Apirise, began his API Management tools: How to find the one for you with a true statement, "Launching an API is hard." Read to find some more truth and learn how to make sure your service is reliable, secure and well-documented.
Come rain or shine, we are here to keep API digest tradition alive. If you have some articles or posts to share, do not hesitate to do so. We are always glad to hear from you. :)