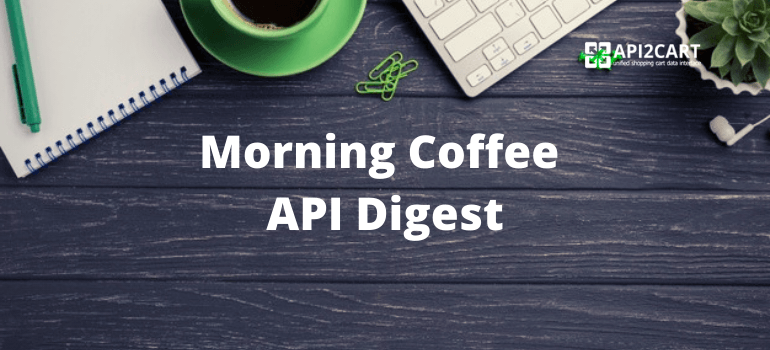 Monday. Morning. That's it, another working week has begun. What do you associate Monday morning with? Your apartment is like the land of nod and sleepy figure scrapes feet along the floor to switch the electric kettle on. Then, the smell of hot and aromatic coffee wakes you little up and there is a strong wish something happens to the key you up completely.
And API2Cart is here to help with fresh API digest that will surely shake you up on this winter morning. So, if you are an API professional, tech specialist, developer or another thought leader , then get ready to read interesting API related articles with your crunchy toast and tasty morning coffee.
It's considered to be a kind of challenge to find the proper API among over 12K Public APIs and a much larger number of Private ones (accordant with ProgrammableWeb). The list of tools and their short descriptions, to find APIs, is smartly described at the  8 API Discovery Tools That Will Make You Want More posted on the Apirise blog.
People, in its human nature, are inquisitive and the desire to know what will happen in the future has them on toast. API community isn't an exception. Discover The API Planet Driving the API Economy, written by Roberto Medrano, to be in touch with the latest news.
Strategy is crucial to achieving a long term goal - sounds like an axiom from some business lesson. And it's difficult to quarrel with this statement. But is it so important when talking about API creation? Is it necessary to have an API game plan? Find the answer in an  API Strategy and API Tactic, written by Manfred Bortenschlager.
Laptops, mobile phones, various gadgets, etc. - it's probably hard to imagine our present lives without all that technical innovations that help us to communicate with each other. But perhaps only a few really understand what stands behind.  APIs: How the Internet Works Behind the Scenes, written by Michael Bock, will give you all the answers
Despite the everlasting struggles between REST and SOAP, you should find out the golden mean. One more point of view on this subject is presented in The basics of good API design, written by Claus T Jensen.
"Today, a firm without application program interfaces (APIs) that allow software programs to interact with each other is like the internet without the World Wide Web" - is claimed in The Strategic Value of APIs. Explore the article to find out how data assets can be leveraged in a lot more ways and more efficiently with API.
Hope, that these articles have brought you an advantage and you find them useful and informative. Don't hesitate to comment and suggest more posts. And in case you have some questions concerning shopping platform API integration, we are always ready to provide qualified advice. Schedule a Call with our representative to strike out all dizzying issues.