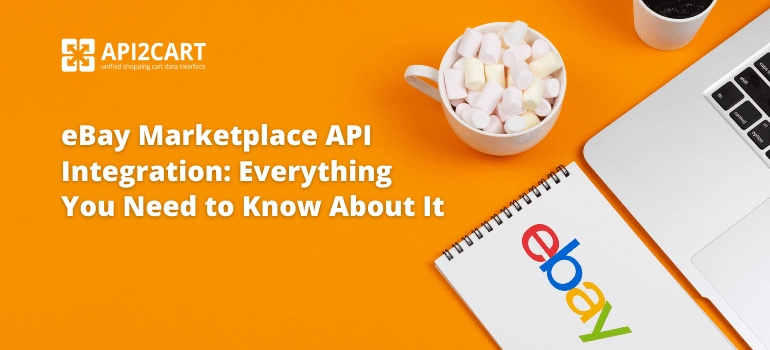 In our modern world, eCommerce has grown to become the main communication channel between sellers and customers. Most of the people out there prefer to make purchases online from the comfort of their homes. This trend has increased even more during the COVID-19 pandemic, driving hundreds of thousands of new shop owners online and boosting sales. This can only mean one thing for you as a SaaS provider – the competition in your field has gotten even fiercer.
Suppose you are part of those SaaS providers willing to innovate and go above and beyond to meet the growing demands of today's online sellers. In that case, you should consider performing an eBay marketplace API integration.
eBay is undoubtedly one of the top eCommerce marketplaces you should focus on when choosing to get new clients. Below, we're going to explore the ins and outs of an eBay marketplace API integration, and we'll show you how to save time and money when integrating your software with this marketplace.
What is an eBay Marketplace API Integration?
eBay has become a top marketplace in recent years, with over 190 million shoppers every month and more than 1 billion listings. According to merchants, this platform was considered one of the top 3 most trustworthy marketplaces today. There is no doubt that eBay might soon overtake Amazon in some areas of the globe and become number one.
Because of its exponential growth, integrating your software with eBay is indeed a smart decision. The integration process involves connecting your software with the backend of eBay to gain access to data related to your clients' orders, products, taxes, shipping statuses, warehouse stocks, prices, etc.
While eBay stands as a top marketplace that offers its sellers top-notch solutions and features, you can also stand as a reliable SaaS provider that can help eBay sellers to automate their business processes. To do that, you need to provide high-end features, and it's mandatory to integrate your system with eBay.
Whether you run a repricing, multichannel, order management, or shipping automation software, video commerce platforms, or AR solutions, you can leverage an eBay marketplace API integration to offer higher-quality services to your target niche and expand your customer base on eBay. So let's get deeper into this subject and discover how you can efficiently perform a successful eBay marketplace API integration.
How Can You Develop a Successful eBay Integration?
You can develop eBay marketplace API integration by hiring a team of developers who can do it for you or choosing a third-party service. Let's take a deeper look at both of these methods so that you can make a well-informed decision.
1. Working with Developers
Pros:
More control over the entire project
You have the freedom to choose your integrations and perform them in your desired time interval
Cons:
This process is extremely tedious and can take weeks, if not months. Consider finding the right people for the job, signing contracts, and setting up deadlines, and you might have to wait over three months for the integration to be over
The costs for this process are pretty high: expect to pay around $10 for integration with eBay
eBay API usually is tough to work with: since it uses sandbox, it's quite tricky to set up and requires the hand of developers who can quickly solve bugs and overcome obstacles
You also need to consider working with developers who can offer you continual support for your integration
2. Using a Third-Party Integration Service
Pros:
You can quickly integrate your software with not just eBay but with other platforms such as Amazon, Etsy, WooCommerce, ZenCart, and the list goes on
The costs associated with such a service are way lower than what you would pay for a manual integration with multiple platforms
The maintenance and connection improvement are part of the process and included in the package, so you don't have to worry about finding the right team or paying extra money for this
Cons:
You lack the control you would otherwise enjoy with a manual integration
As you can notice, choosing a third-party integration service to connect your software with eBay is a better choice than trying to put together a team for this task. Going with a third-party solution enables your business to capitalize on two of the most important benefits you can get: set up a secure integration quickly and affordably.
One of the best services you can use to perform an eBay marketplace integration is API2Cart. With API2Cart unified API, you can quickly connect your software to 40+ shopping platforms and marketplaces. Moreover, you will access all the precious data from e-retailers' stores. It includes the data on orders, shipping details, prices, products, e-store customers' info, etc.
Conclusion
Integrating your software with eBay is a wise choice for your business in 2022. You can now ramp up your business and gain access to millions of eBay sellers by using API2Cart API integration service.
If you want to learn more about how API2Cart can help you skyrocket your business and reach new heights of success, do not hesitate to contact one of our managers.
Also, you can try to test the integration with eBay via API2Cart by registering your free trial account.