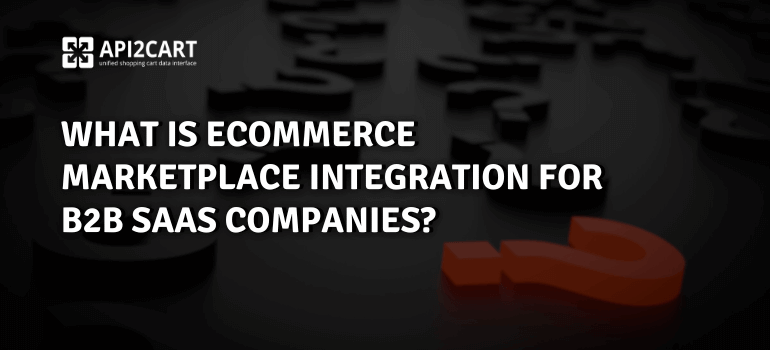 What is eCommerce Marketplace Integration?
The number of eCommerce software providers is growing. More and more companies are starting to offer their inventory management, pricing software, shipping solutions, etc. All of this means that, as a software provider, it's mandatory to explore the importance of eCommerce marketplace integration development in 2023.
eCommerce marketplace integration means the process of connecting your software with the APIs of marketplaces such as Amazon, Etsy, or eBay. Once the integration is completed, you'll be able to gain unrestricted access to your customers' data on each one of these marketplaces. For instance, you'll be able to work with all the orders or product-related data.
In this article, we'll dive deeper into how the process of integration with eCommerce marketplaces actually works, and we'll reveal to you the main benefits of connecting your business with the main marketplaces today.
How Does the Process of Marketplace Integration Development Work?
Tying your software with various shopping platforms involves performing a certain number of tasks. The integration is certainly not an easy procedure, but a complex one that requires specific skills and a lot of time and financial investment.
To be more specific, there are four main stages in the process of marketplace integration:
Stage #1: This first stage involves exploring the peculiarities and specifics of each marketplace. At this point, you need to understand that each marketplace has its unique API and bespoke documentation. As a result, integrating your software with each of them is a unique process that requires specific skills. To ensure that you'll do a fine job, you need to look at the specifics of each marketplace and explore its API documentation.
Stage #2: This is when you're ready to develop an integration between your software and the marketplace. You have two options here: either hire a team of developers or use your in-house developers to manually set up a connection, or utilize a third-party integration service that does the job in your place and connects your system with multiple marketplaces at once.
Stage #3: The third stage involves transferring data between the marketplace and your software. This data includes order info, product info, shipping details, taxes, prices, and the list goes on.
Stage #4: The last stage involves ongoing support and maintenance of the integration.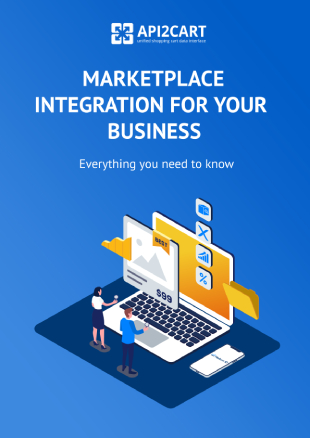 Marketplace Software Integration Development
Explore how marketplace integration can help your eCommerce software become more successful.
DOWNLOAD
What are the Main Benefits of Connecting with Marketplaces?
So why should you connect with marketplaces in 2023 and beyond? Below are five main reasons to invest today in a secure integration with the most popular marketplaces out there:
Access all the required data related to your clients' orders, products, categories, inventory, customers, taxes, or shipping statuses. All of this data is extremely important for you, especially if you depend on it to run your business and provide your services.
Benefit from real-time updates of orders, inventory, or product details: one of the perks of eCommerce integration is that you'll always be on top of any change in your clients' inventory information. In addition, once you integrate your software with any of the marketplaces, you'll benefit from real-time communication with the connected system. This allows you to offer precise services to your clients and never mix up orders.
Be able to work with all the sellers who use the marketplaces: the more marketplaces you integrate your software with, the more customers you'll gain access to, and the larger your business will grow.
Gain the ability to expand your market share. Once you're offering more stable services and you can reach a wider audience, you'll consequently be able to expand into new markets and boost your presence in your niche.
Enjoy a significant increase in your profits: that's the ultimate benefit you will get to enjoy.
How to Develop Integration with Various Marketplaces Easily?
There is no doubt at this point that you're eager to find out how to develop an eCommerce marketplace integration easily. The simple truth is that you can either do it that hard way or the easy way. The hard way involves hiring a team of developers with enough expertise to overcome the pitfalls of each marketplaces' logic and architecture and provide you with working integrations within months. You'll have to invest tens of thousands of dollars for these integrations, plus more in maintenance costs.
The easy way is to work with an integration service such as API2Cart. Using it, you can avoid all the drawbacks associated with manual integration and get your software connected with multiple marketplaces. The list includes eBay, Amazon, Etsy, and Walmart.
With API2Cart, you can easily leverage all the benefits of eCommerce marketplace integration, and you can expand your business into new markets with minimal effort and financial investment. In addition, data integration becomes a hassle-free process with API2Cart managing all the operations and keeping your software safe.
Conclusion
Gaining access to the data offered by marketplaces is highly relevant today, especially for software companies that want to boost their profits and provide more high-end services to their target niches. The easiest way to develop an eCommerce marketplace integration is to leverage the power of the API2Cart integration system.
If you want to learn more about how API2Cart can help you gain an unfair advantage in your niche, you can contact us now.