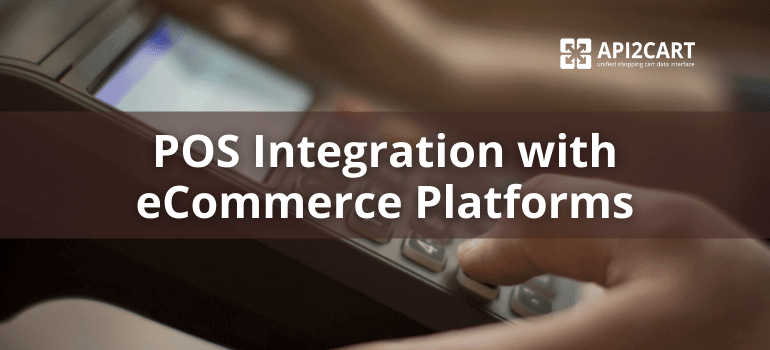 Today, POS software providers need to develop the integration with eCommerce platforms to properly run their solutions and provide higher-quality services to their target niche.
POS systems are composed of hardware and software that work together to enable payment processing and inventory tracking, among other useful functions. POS software can be customized to meet the specific needs of a business. POS hardware includes the POS terminal, receipt printer, barcode scanner, and cash drawer. POS systems can be used in various businesses, including retail and online stores. For example, POS systems can ring up sales in a retail setting, track inventory, and process returns.
As a POS software provider, you have to stay ahead of the curve and be there for your customers. Your solution represents a central component for any e-retailer that wants to easily place all of its processes in one place, including payment processing, inventory management, sales, and customer management. In this article, we'll teach you how to leverage the power of POS integration with eCommerce platforms to take your business to a whole new level.
Main Functions of POS Software
A POS, or point-of-sale software, is vital for today's online retailers. This service allows e-store owners to simplify their daily operations and deliver high-end, personalized shopping experiences to their final customers. POS software offers native applications, enabling retailers to grow their sales, sell everywhere from just one platform, run daily activities smoother, and tailor shopping experiences to their unique shoppers' needs.
A POS software offers the following functionalities to retailers:
Real-time data synchronization: it allows retailers to gain access to real-time data on their orders, customers, inventory and products. As a result, they can sell more and stop wasting precious customers due to "not-in-stock" wrong messages.
Allow e-retails to offer various payment methods to their customers, including cash, cards, PayPal, or even cryptocurrencies. This brings up sales and improves purchase functionalities.
Convenient checkout process. It makes it easy for every customer to complete their purchases.
Multi-store management: this functionality enables e-retailers to improve the functionality of their business by allocating inventory into separate outlets.
Automated order fulfillment: this stage involves automating the entire sales process, from receiving the order to the delivery stage.
Advanced customer management options. A POS software allows retailers to utilize certain customer management features, such as group pricing, loyalty programs, gift cards, store credits, and discounts.
How eCommerce Integration Helps POS Systems to Perform Their Functionality
Today, POS software providers should aim to seamlessly integrate their systems with shopping platforms like Wix, Magento, WooCommerce, or Shopify. The reason for that is to gain unrestricted access to information about the prices, orders, products, shipping, taxes, etc., from online stores.
For you, as a POS software provider, an POS eCommerce integration with a platform such as Magento, for instance, gives you access to all the data of your clients running their shops on this platform. This access helps you automate your operations, import orders seamlessly, sync inventory across various platforms, add or update product data, import customer lists, and easily organize the data into reports that you can send over to your clients.
In the end, the quality of the POS service you offer to your target audience will depend quite a lot on the level of integration with shopping platforms. So let's dive deeper into this concept and look at the main integration difficulties you should expect when choosing a manual integration process. Additionally, we'll look at some proven ways to avoid these difficulties so you can integrate your platform with as many platforms as possible.
What are the Main eCommerce Integration Difficulties?
Performing a manual eCommerce POS integration with a shopping platform means hiring a team of developers or using a team of experienced in-house devs that can tie your software to the back-office of the chosen platform.
Nevertheless, this process is a tedious one and has countless drawbacks. First off, a manual integration only allows you to connect with one platform at once. You'll need to hire developers for each particular task, and that's both time-consuming and expensive.
Second, a manual integration comes with certain security risks. API abuse, such as data losses or breaches, is quite common nowadays. You certainly don't want cybercriminals to store your precious data and affect your reputation on the market.
Third, the maintenance of a manual connection is a highly unpleasant and expensive task. After the connection with a platform is established, you need to continue investing resources to ensure the connection runs smoothly and the entire data manipulation process works perfectly. This takes time and requires an additional financial investment.
How to Develop POS Integration with eCommerce Platforms Easily
Fortunately, in 2021, you don't have to experience all of these eCommerce integration difficulties for your company. A much better alternative is to utilize a service called API2Cart. This unified shopping cart data interface allows you to easily connect your POS software with 40+ other shopping platforms simultaneously, without a very high financial investment.
API2Cart offers you more than 100 API methods to manage data. So, your POS software will get access to all the info from the e-retailers stores based on various shopping platforms. As a result, you'll be able to work with countless types of data, including prices, shipments, taxes, or categories. In addition, you'll be able to update data quickly and seamlessly, ensuring your clients would not lose any potential buyers.
Using API2Cart instead of developing manual integrations offers you a plethora of benefits, such as:
Get the option to extend your software's functionalities by gaining access to a huge database of stores built on various eCommerce platforms
Gain new business opportunities by offering better services to your target niche
Expand your customer database by gaining access to millions of online stores listed on 40+ platforms
Reduce expenses and time to market by using a third-party solution for integrations and maintenance
API2Cart offers you flexible pricing and gives you a full 30-day free trial. So try our service now and see how it can provide you with exquisite POS integration benefits.