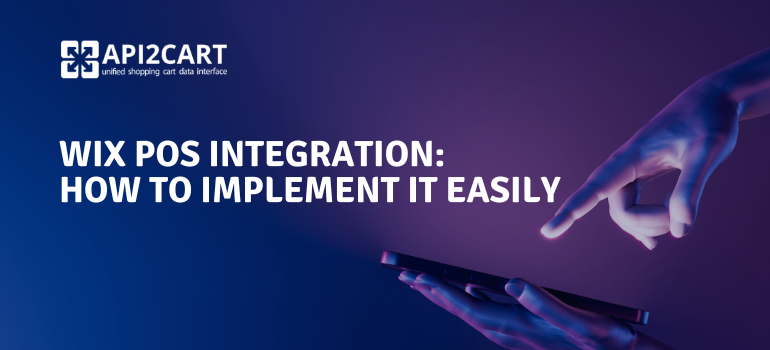 Today, at the time of the most significant rise in eCommerce, it is not enough to sell offline. Instead, customers usually buy online, because it is more convenient and, in some cases, safer. Therefore, retailers are trying to provide an uninterrupted buying experience through different sales channels. As a software provider for POS, you must stay ahead of the curve and be close to your customers. Your solution is a central component for any e-reseller who wants to hold all of its processes in one place easily.
POS, or point-of-sale systems, are increasingly becoming a staple for retail businesses as they provide a seamless buying experience for customers across different sales channels. Online merchants can use POS systems to track inventory, manage customer data, and process payments - all of which are essential for any retailer who wants to succeed in today's eCommerce-driven market.
One of the important things your POS system should have today is WiX POS integration. It allows you to attract owners of online shops built on WiX to your software. With Wix POS integration, they can streamline their operations, better manage their inventory, and provide a better shopping experience for their customers who have a store on this platform - all of which can help boost their bottom line. So if you're a POS software provider looking to take your business to the next level, then Wix POS integration is definitely worth considering.
In this article, you'll get to know about some important features your POS software should have and why you need to consider the Wix POS integration if you want to succeed in the market.
Key Features of POS Software
POS systems have evolved from being hardware-based systems to cloud-based software that can be accessed over the Internet. These systems allow merchants to access customer data and process their orders and transactions from anywhere using an internet connection. In addition, some POS systems include additional features such as loyalty programs and gift cards.
Before we discuss the Wix POS integration, let's look at some of the critical features of POS systems for online store owners.
Track sales in real-time
It was the main function of POS systems, but as technology developed, it became the main functionality. POS software allows sellers to process orders and transactions of their clients via an Internet connection.
Support for multiple operating systems
Retailers are not limited to one software or operating system for their business. They are always in search of cost-effective solutions. Therefore, POS software must be independent of the operating system and must support all operating systems, including Android, Windows, Linux, IOS for desktops, laptops and tablets.
Synchronization of inventory in real-time mode on different sales channels
An effective POS system should be able to update and synchronize inventory in all eCommerce channels in real-time. Unfortunately, manual inventory synchronization in an eCommerce economy is almost impossible while working with multichannel inventory. Thus, the POS system can automate inventory synchronization, providing real-time updates across all channels.
Support of several payment methods
The POS system must support all common payment methods that online buyers can use to make payments online. Each eCommerce platform has its own payment system for buyers, which optimizes the payment process. For example, if you develop Wix POS integration, the software must support the platform payment methods. It can be anything from gifts to bonus points and chip cards.
Analysis of customer database and reporting
Managing the customer database and getting information from it not only gives a good impression on customers, but also helps retailers to improve their interaction with clients. Therefore, a POS system that can create and manage a single customer database for all channels with all available customer information is in demand. In addition, an ideal POS system should be able to generate comprehensive sales reports, tax reports and other important information from available customer data.
Wix POS Integration Benefits
As a software provider, it's important always to be looking for new ways to reach potential customers and increase profits. One excellent strategy to do this is by Wix POS integration.
Wix is one of the best shopping platforms, and Wix POS integration feature in your POS can offer several advantages for both your business and your customers.
POS software providers integrating with Wix can take advantage of the platform's large and growing client base. eCommerce providers that integrate with Wix can offer their customers a wide range of features and benefits that are not available on other POS solutions:
You will have the opportunity to contact such a large Wix customer base. It can be your future clients! According to Builtwith, it has built more than 8 million e-stores.

By developing a strong integration with Wix, you can significantly boost revenue and earnings for your business. Increasing customers means increasing profits.

With access to store data, you can even add a new feature what will extend the capabilities of software.

Wix is a popular website builder that is represented in 190 countries. Integration with Wix can help POS software enter new markets and attract new customers there.
So if you're looking for a method to take your business to the next level, consider implementing Wix POS integration.
How to Easily Develop Wix POS Integration?
API2Cart is one of these cost-effective solutions for integrating POS software with Wix. It is a unified API that allows POS to integrate with Wix and more than 40 other eCommerce platforms and marketplaces, such as Magento, Shopify, OpenCart, Amazon, and others at once.
You do not need to build a road infrastructure, hire experienced developers, or invest in upgrades and maintenance. API2Cart will take care of everything. All you need to do is integrate POS software with API2Cart and add your customers' stores. API2Cart has excellent API documentation, over 100 data methods, 24-hour customer support.
In addition, API2Cart performs all service tasks in accordance with individual subscription packages offered. As a POS software provider, you can:
Get a list of orders from multiple sales channels

Sync inventory on different platforms

Get, add, and update product lists

Import customer lists and organize data in detailed reports
If you are looking for a non-stop Wix POS integration solution, try API2Cart for
30 days free
and see the results.