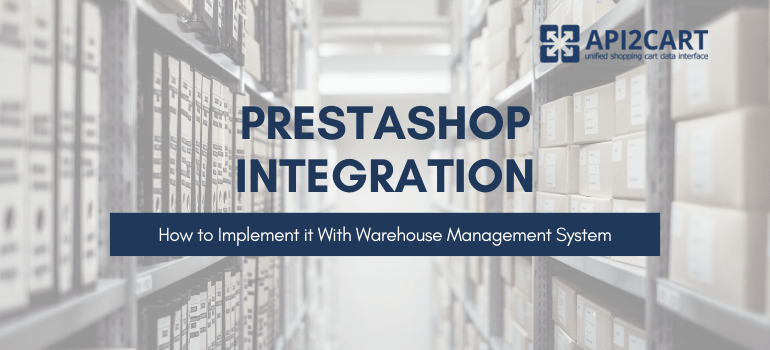 The intense rivalry in the current eCommerce market dictates its conditions of how to be profitable. That is why integration with different shopping carts turns to be the crucial step ahead of that and might open the new horizons for shop owners that provide online services.
For online merchants, precise and effective order fulfillment is crucial. To ensure that they need to have a solid integration between their online shop and some kind of WMS which will manage their inventory and orders. That's why you as the Warehouse Management System solution provider must consider the option of integrating your WMS system with some kind of eCommerce platform because there is a lot of benefits for you and for your clients with that kind of integration.
In this article, we will show you why it is important for you as a Warehouse Management System provider to integrate your system with the Prestashop eCommerce platform, one of the widely used shopping platform by many online retailers.
Why Integration with Prestashop is a Must-Have for Your Warehouse Management System?
As you may know, Prestashop is an eCommerce platform that can help online retailers to build comprehensive eCommerce shopping websites coupled with amazing functionality. PrestaShop is one of the biggest website builder platforms for eCommerce and has a remarkably intuitive interface to handle online stores extremely well. It provides over three hundred designed-in features that allow merchants to manage their payment methods, shipments, product listing, suppliers and customers. At the moment, 270 000 online shops are running on PrestaShop, while the number of its members in the open-source community is 1 000 000 + people worldwide.
With the integration of your WMS solution with Prestashop eCommerce platform, you will provide your clients with the opportunity to easily allocate the inventory to the orders, picking instructions and simply generate their shipping labels. The original order on their Prestashop eCommerce platform will be automatically updated with all of the tracking information inside WMS software you provide them. Also, inventory levels will be synced to the Prestashop eCommerce platform of your clients frequently, so shop owners will have an accurate representation of product availability. With so much of process automated, merchants can turn their time and resources to other important aspects of their business.
If you provide them easy WMS integration with Prestashop eCommerce platforms you will also increase their capacity for handling new clients, allowing them to expand operations through efficient order processing and fulfillment. The integration of the WMS system with PrestaShop will give them access to a great variety of new customers as well as a lot of advantages to achieve an important place in the eCommerce market. This is also good for you because you will be able to attract a lot of new clients for your WMS solution. But you also need to be aware that there are several significant integration challenges, as we will see below.
How to Connect Your Software with PrestaShop Easily?
You must also be aware that Prestashop integration with a Warehouse Management System is quite difficult. Because each system has its specific logic, each integration has some unique challenges. Here are the main reasons why this kind of integration is so demanding:
Developing an integration module that works properly implies a qualified expert and a lot of hard work and time.
If you need it to work properly your developers need to refine the integration module thoroughly. Many shop owners rely on this integration, and a poorly functioning API can cause significant many problems and losses for them, and as a result, for you, as a WMS provider as well.
Once the integration is complete, further upgrades and maintenance are needed which will take time and resources constantly due to the need for IT personnel to support the integration.
API2Cart is an integrated API that makes marketplace and shopping cart integration with your Warehouse Management System much easier. It is a special online interface platform that offers a single API that can integrate with more than 40 shopping platforms such as PrestaShop, Shopify, Magento, WooCommerce, OpenCart, BigCommerce, and many others. API2Cart provides an optimized and flexible environment that allows you to add an increasing number of online shops.
API2Cart provides more than 100 methods for managing data from online stores. Their usage allows your system to do such operations:
Track the products and organize all the necessary warehouse operations
Increase order fulfillment accuracy and speed
Update inventory on all online stores to show accurate items quantity
Make up-to-date reports and provide your customers with detailed statistic data

The main advantage of PrestaShop integration with warehouse management system via API2Cart is the fact that you will not need to develop separate connections or take care to develop support for new shopping cart versions when they appear. This will save money, time, and developer resources for you. What is even better is that API2Cart has flexible pricing and allows you to test the service for 30-days absolutely for free. For more information concerning API2Cart and integration with PrestaShop, feel free to contact us.