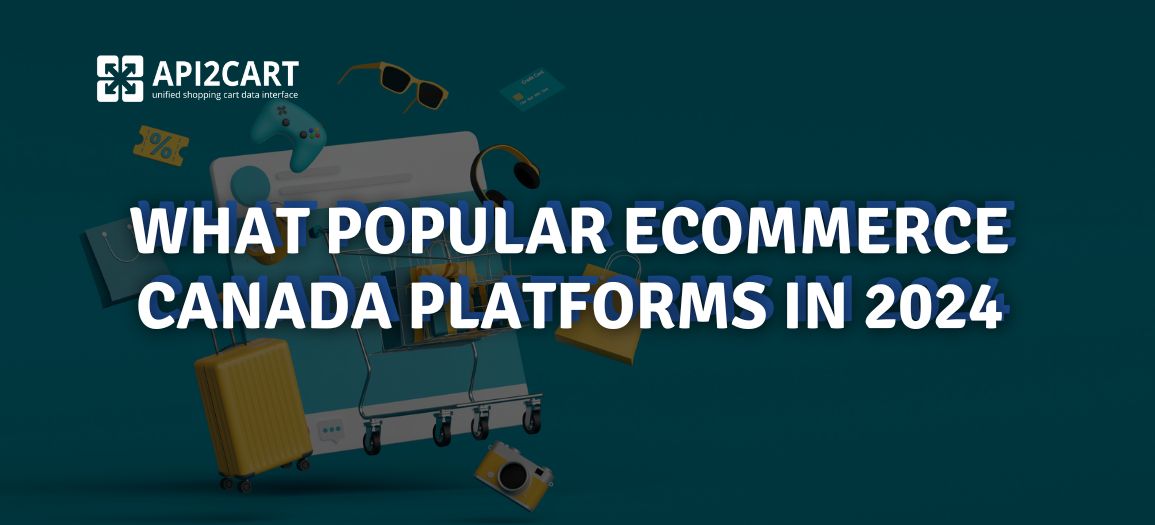 If you want to be competent in the market of SaaS solutions you, as SaaS software provider, need to connect your software with various eCommerce platforms to gain an edge over the competition. Shopping cart integration provides you with an opportunity to grow your business in numbers and to have better chances to meet the needs of a larger number of online store owners. In order to start providing services for online vendors that are based in Canada, your first decision must be to choose what shopping carts you want to work with. Some of them are also widely used worldwide, and some are popular only in Canada. In this article we will list the most popular shopping carts in Canada, to help you in choosing your targeted shopping platform there.
Canada E-Market Facts and Numbers
As shown by Statista
, eCommerce online sales in Canada contributed to nearly $1.6 billion as of 2018, and profits generated in the retail eCommerce industry are expected to reach $55 billion by 2023. By 2022, online consumers are expected to rise to 28.3 million, which translates to 76.36 percent of people. Here's a list of the most commonly used online shopping carts in Canada,
as shown by BuiltWith
:
Shopify 30,113

WooCommerce 18,441

Squarespace 17,270

Wix Stores 12,690

Weebly 4,371

Zen Cart 4,026

Ecwid 2,686

OpenCart 2,610

Magento 2,570

osCommerce 2,566
OsCommerce Integration via API2Cart
Explore how OsCommerce integration can help your business become more competitive DOWNLOAD
By integrating your SaaS software with most of these shopping carts, you will increase your odds of success, as you will also link with Canadian shop owners and make them your customers. You will also be able to provide your service worldwide and reach almost every online vendor interested in your software, as the relation with the shopping systems will enable your SaaS software to collect, add, update and delete various store information and provide functionalities that will aid online retailers.
eCommerce Integration Challenges?
If you decide to integrate with shopping carts, it's time to think about how best to accomplish this. Integration is a quite complicated process that requires a great deal of commitment, as well as money and time. Thus integrating with each system individually is probably the most difficult and longest way of connecting with various platforms. Below are the key reasons why:
Designing a properly functioning integration interface implies a skilled specialist and a lot of determination and time.
If you want it to function properly your programmers need to deeply modify the integration interface. Most store owners depend on this integration, and a poorly developed API can cause them considerable issues and losses.
When the integration is finished, more improvements and maintenance are required which will take time and money continuously due to the need for IT staff to support the implementation.
So if your programmer team has ever developed an integration with any shopping system because of customer requirements or otherwise, you can understand the frustration associated. For this purpose, the wisest thing you can do is use prepared-made shopping cart integration alternatives such as API2Cart, as this API module has already established integration with more than 40 shopping platforms.
All-in-One Solution for integration
As outlined above, integrating with various shopping carts requires a considerable amount of time, cash and investment. You can conquer all the problems associated with the integration of shopping carts and platforms with API2Cart. API2Cart provides a unified API to connect to more than 40 shopping platforms like Shopify, Magento, Etsy, WooCommerce, OpenCart, BigCommerce, and many others. Because it offers a detailed integration process, you can connect your SaaS App solution and deliver your clients some unique opportunity to be linked with the SaaS software that is integrated into as many shopping sites as they need. When the integration of your SaaS software with API2Cart is done, you will connect and use shop-based data from any of the platforms listed above. This will save money, time and development resources for you. If you have some questions, please feel free to contact us or
register FREE 30-days trial right now
.