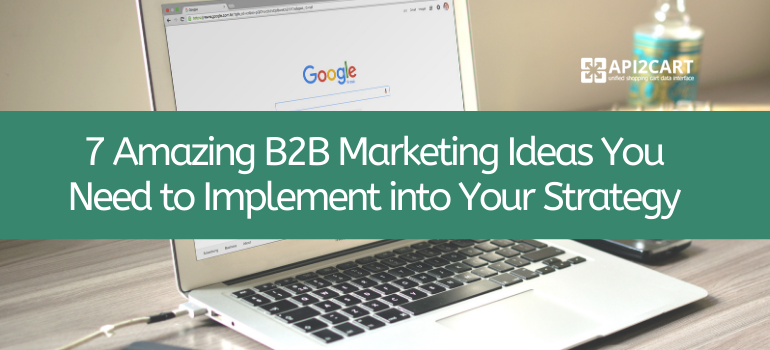 When it comes to the B2B marketing space here in 2019, there are lots of different angles you can take. You could opt for tried-and-tested routes that have proven to work over and over again but may not be so popular as they once were; nor yield a higher return, or you could try something a little bit more innovative to try and stand out from the crowd.
The choice is yours.
However, if you're stuck for ideas on how to present yourself in the eyes of other businesses, you're in luck. Today, we're going to explore seven incredibly amazing B2B marketing ideas that are going to help you change the game in 2019.
#1 - Implement Video Content
If you're not already, it's important to make sure you start implementing video content in your marketing strategy. Video is hot content, implementable onto every platform you care to name and is a great way to engage with your potential business customers and get them to connect with your business.
#2 - Start an Email Marketing Campaign
Email marketing may seem like a tried-and-tested marketing tactic, but it's still one of the most effective B2B marketing tactics because you can connect on a one-on-one basis with your potential customers.
"Starting an automated email marketing campaign can be a great way to build influence in your industry, as well as giving you the opportunity to connect with clients and promote yourself, your products and your services" shares Benjamin Turner, a project manager for 1Day2Write and Brit Student.
#3 - Redefine Your Target Market
Not getting the return on your advertising and your marketing that you thought you would, but not sure how you can improve what you're doing? Perhaps you're targeting the wrong customer bases. One of the marketing ideas to boost your company success is to rethink your target market or to simply add a new branch or audience to your existing targets.
This way, you can expand the number of people you're connecting with, maximizing the number of chances you'll connect with someone and make a sale. Use the data you've collected during your time in operation to make sure you get this move as accurate as possible.
#4 - Start Using an Influencer
Social media influencers are everywhere, and even in the B2B markets, there's the potential to implement an influencer into your own strategy to get your customers onboard. At the moment, this is a relatively new thing since many influencers operate within B2C markets, but that doesn't mean there hasn't been some success in the past already.
With social proof and a close partnership with relevant influencers, this can be one of the best ways to market your product and business in the modern day.
#5 - Update and Refresh Content
"If you've got content you've used in the past which is a bit outdated, old, or even irrelevant, it may be time to repurpose that content into fresher content that resonates with your audiences. It's a great idea to reuse and repurpose old content because it saves you time and money, and you can work on content that has proven to be a hit already" explain Matthew Myers, a B2B marketer for Next Coursework and Australia2Write.
#6 - Work on Your Community
Nowadays, even businesses and companies like to be involved in a community and part of a group. It's all about collaboration and working together to achieve something great. If you want to combine this marketing your business, why not start a community surrounding your business to get people interested?
This, of course, will depend on the niche you're operating in, but having a group of businesses working together and basically sharing audiences can be a great way to spread your reach and ultimately get your business in front of more pairs of eyes.
#7 - Experiment with Calls to Action
There's no denying that the calls to action you use on your website and your marketing material is one of the most important aspects of your entire strategy. It doesn't matter how good your content is, if your call to action is not clear and concise, you could be missing out on so many opportunities.
Instead, try to experiment with lots of different types of CTA to see what works best for you and your audience. Don't go all in hard, but instead use brief variations and A/B test them to see which one is the most effective and most promising.
AUTHOR BIO:
Katrina Hatchett is a B2B marketing blogger at Academic Brits. She has been involved in various advertising strategies and projects, where her main aim is to define project problems and propose solutions, as well as improving overall communication effectiveness. Also, she writes for PhDKingdom and Origin Writings, academic service.
In case you are B2B eCommerce service provider, then you know how valuable integrations with shopping carts are. API2Cart is a service that can help you avoid the challenges related to the process of integration with shopping platforms. It provides a unified API that works for 40+ shopping carts including Magento, Shopify, BigCommerce, WooCommerce, X-Cart, Ubercart, and others.
Schedule a call with our representative to get know more how API2Cart will work for your business.