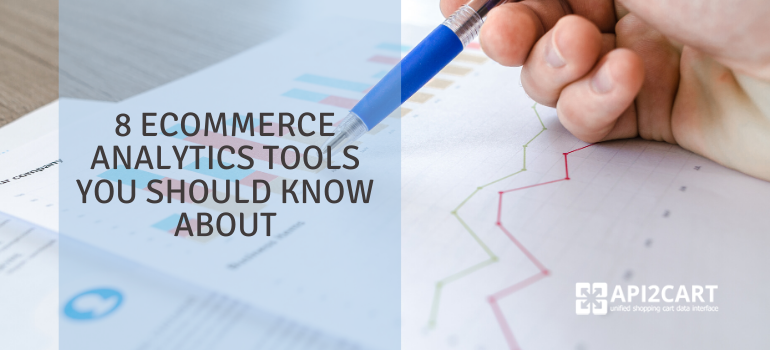 If you own an e-store, but don't use any decent eCommerce analytics tools, then your business is like a ship floating in the sea with no direction and no destination. It's hard to overestimate the huge part web analytics plays for a website that is created with a certain goal in mind, especially commercial site. While several years ago website analytics system gathered rather statistical data like the number of site visitors, now it's doing a much more serious job.
Analytics system has become an indispensable tool for a marketer, CEO, SEO pro etc. It not only provides the data on how many views a specific page or site got but can help measure how successful are certain marketing campaigns (from social media to sale newsletter), track visitors' behavior on specific pages and even signal about problems on most crucial pages that should be solved immediately. However, don't be deceived if you think that the system provides the aforementioned data in plain language. In fact, it gathers the necessary data that should be interpreted to get the idea of how things are going with your e-store.
If you are looking for such a tool to improve your e-retail business, this article is for you. Below you'll find 8 popular and trusted eCommerce analytics tools.
The Best eCommerce Analytics Tools of 2022
1. Piwik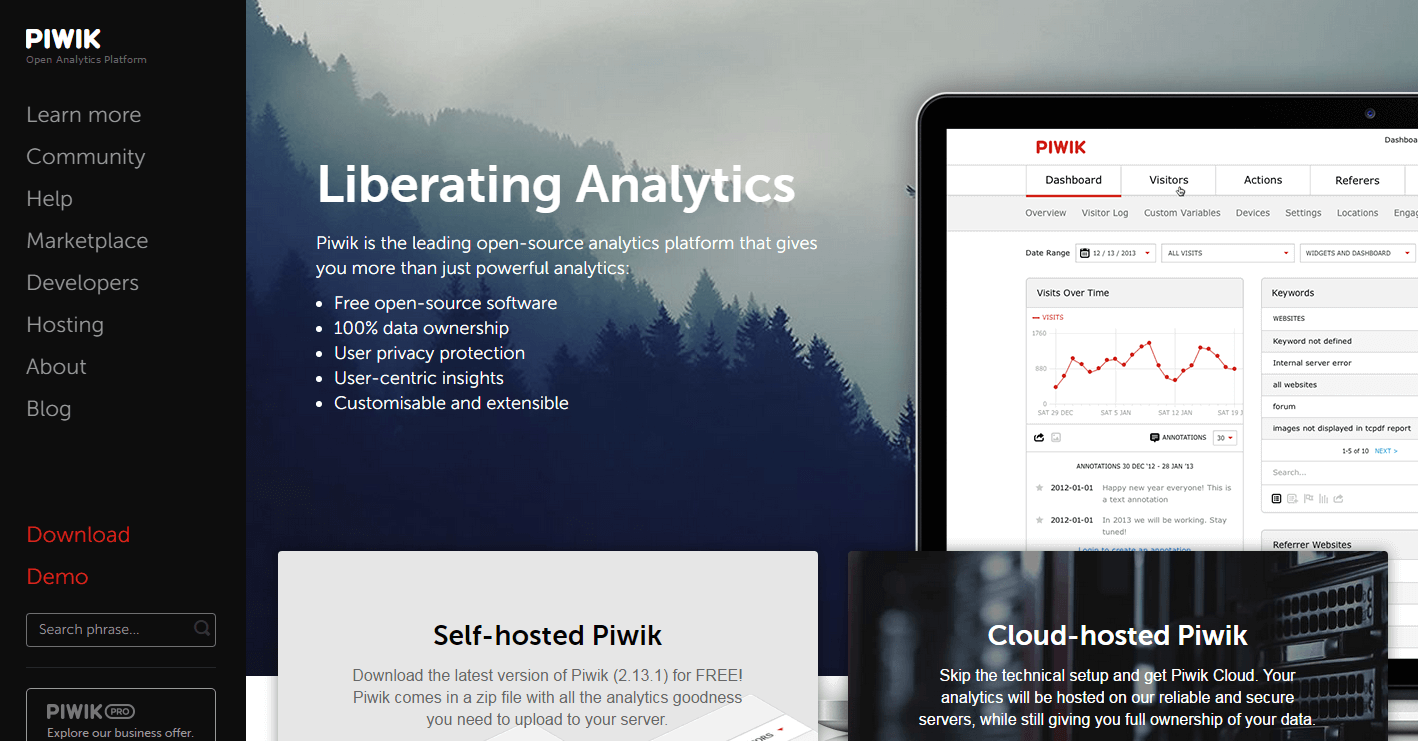 Piwik is an open-source alternative to Google Analytics with a practically identical feature set. With clients like Forbes, Sharp, T-Mobile etc., it makes a serious competitor to the paid products. Piwik provides all the functionality you might need to gain an insight into your site performance and measure goals. It is available in free and paid versions - downloadable and hosted correspondingly.
Benefits
eCommerce tracking (products, orders, cart update, product and category page views)
integration plugins for Magento, Prestashop, Zen Cart, VirtueMart and osCommerce
advanced eCommerce reports, including eCommerce activity log (visits that lead to conversion and abandoned shopping carts etc.)
easy to use
fast operation
Cons
lacks advanced reporting capabilities
Piwik is an excellent choice for users who search for a quick, intuitive and free analytics tool that possesses functionality needed for eCommerce analysis and reporting.
2. Kissmetrics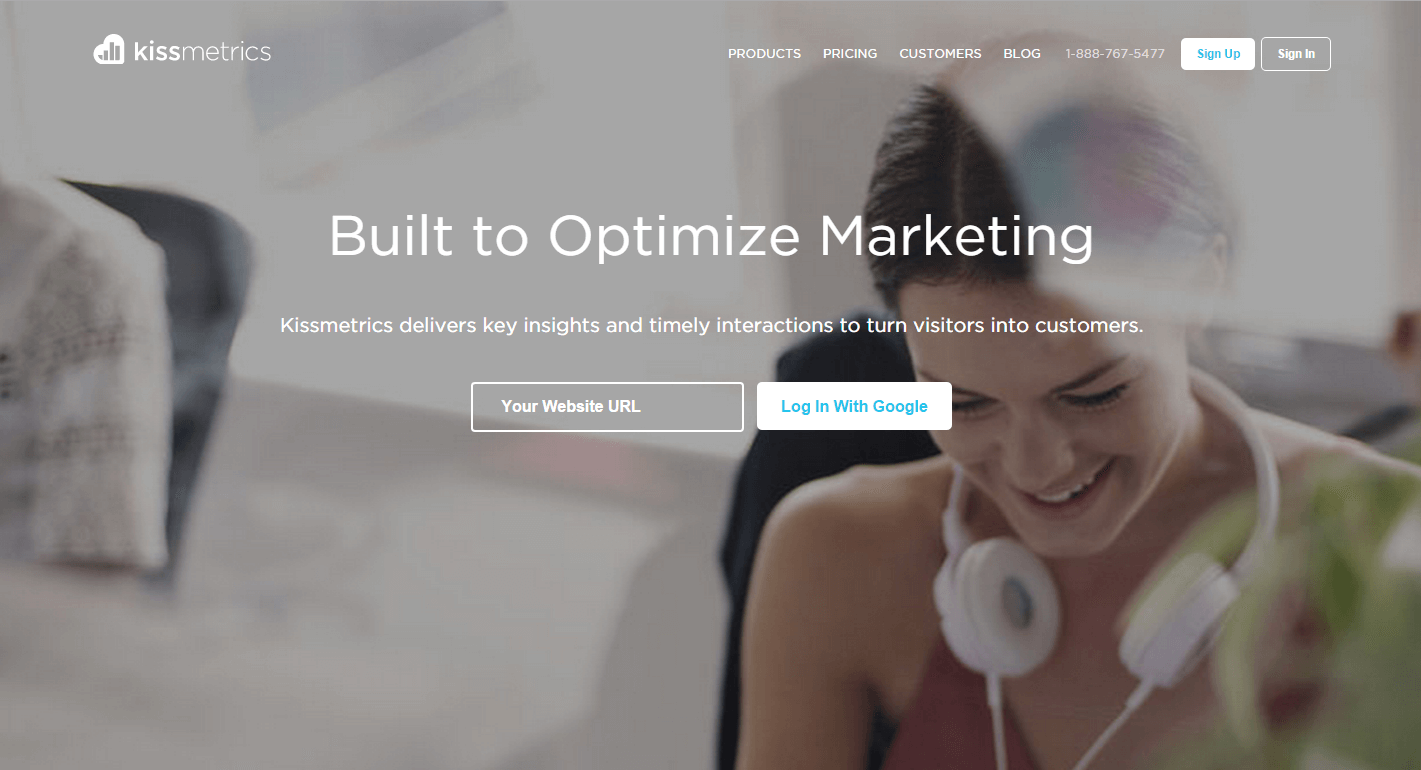 Kissmetrics is one of the most popular and widely used eCommerce analytics tools. It is known for being particularly good with building funnels that are easy to interpret. One of the uniques features by Kissmetrics is path report, singling out the most common steps between the first visit and a conversion, so you may get a funnel you never knew about. Although real time tracking is limited to live view, Kissmetrics provides valuable insights into customer behaviour over time with Cohorts, which can reveal trends and tendencies.
Benefits
inumerous integrations with third party tools, including Shopify, Magento and WooCommerce
ability to create path reports
tracking visitors or events by adding a URL parameter to a link
user search function, showing a complete user profile and action history
Cons
Kissmetrics is a great choice for companies with the need to track people and enough budget for that. It also does a great job with finding the leaks in the funnels, so if your customers for some reasons don't convert into buyers, this tool may help find out the reason. 3. 
RJMetrics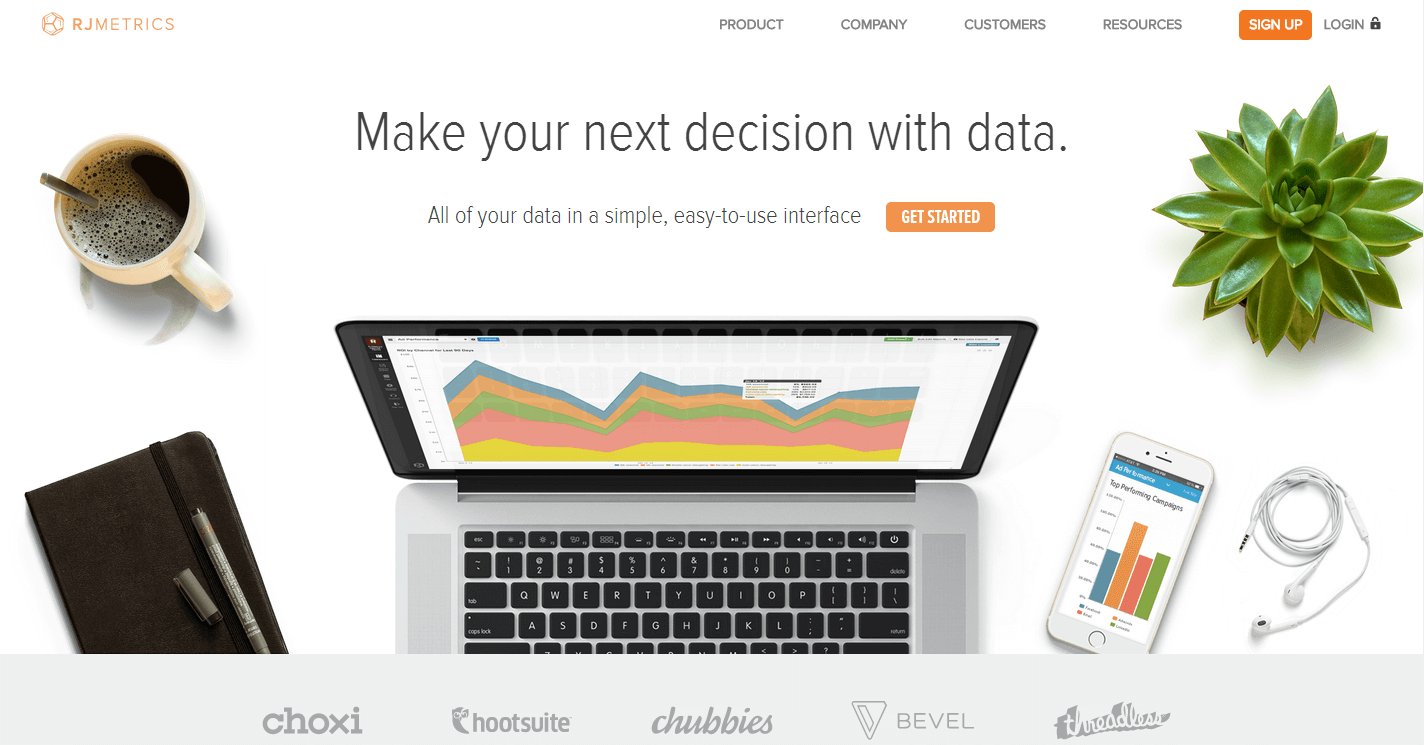 RJMetrics is a SaaS business intelligence and analytics solution with an emphasis on eСommerce. It attempts to stand out by easily integrating a number of marketing and analytics tools under one "roof" to facilitate the process of gathering data and making conclusions. You will see what channels bring you maximum ROI, better understand customer behaviour, find out what the least and most profitable segments are.
Benefits
integration with Magento and Shopify shopping carts
customizable dashboard
intuitive interface
MySQL, MSSQL and Postgres databases support
real-time data visualization updates
pre-built analytics packages for specific tasks
Cons
If you're unsure whether RJMetrics is what you need, there's a free trial available to try it out.
Woopra looks like a decent customer oriented solution which is both easy to use and powerful, so give it a try if you want to really know your clients.
4. Clicky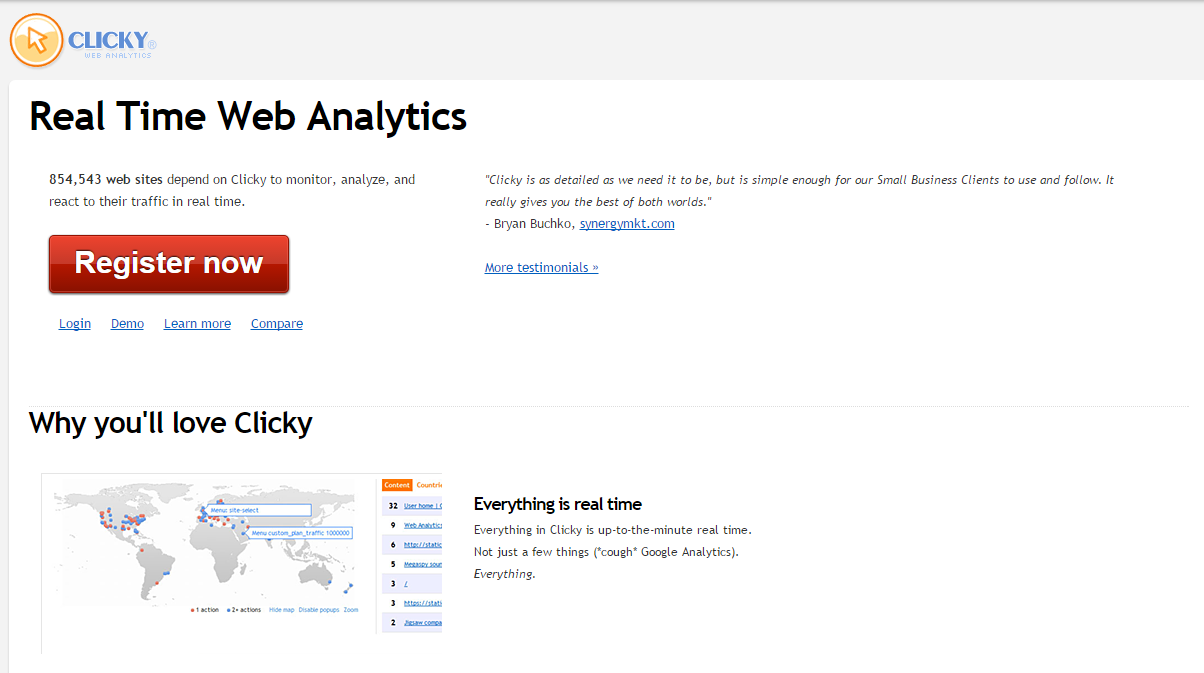 Clicky is a very popular analytics system created to serve small and mid-size businesses. It presents a rich set of features, ease of use and -- its major pride -- real time monitoring. Clicky provides all the data immediately, so you can react to any changes much faster.
Benefits
Ajax and Flash events tracking
Real time goal tracking
Advanced funnel analysis
Integration plugins for a number of CMSs, forums and shopping carts like PrestaShop and Magento.
Drawbacks
can't collect data on the time spent on page, pageviews per visitor etc
poor event tracking capabilities
All in all, Clicky would be a good choice for companies on a shoestring budget, and for those monitoring Ajax or Flash websites as well as e-businesses using Magento and/or PrestaShop platforms.
5. Woopra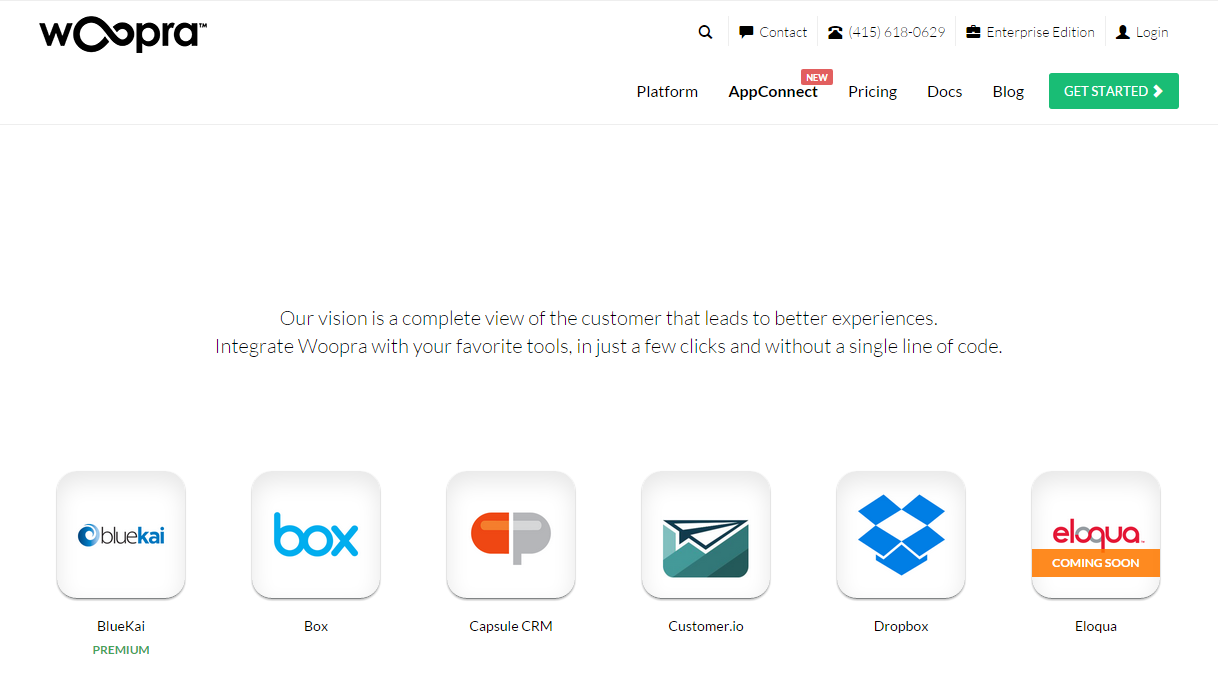 Woopra, once a regular analytics tool, now claims to be a customer analytics system, aggregating data about each of your site visitors and displaying it in a compact and very convenient way. This is done thanks to the AppConnect feature that syncs data from all points your clients deal with in the store - from site to live chat and email.
Benefits
integration with Magento, WooCommerce, Zendesk, Google Docs etc.
customer data sync from all sources
notifications on certain actions on the website, letting you react immediately
advanced funnel and customer retention reports
ability to trigger actions in third party apps by setting rules and segments (like, showing the live chat invitation to a client based on the pages viewed)
real-time tracking
Drawbacks
the cost grows together with your site
6. Adobe Analytics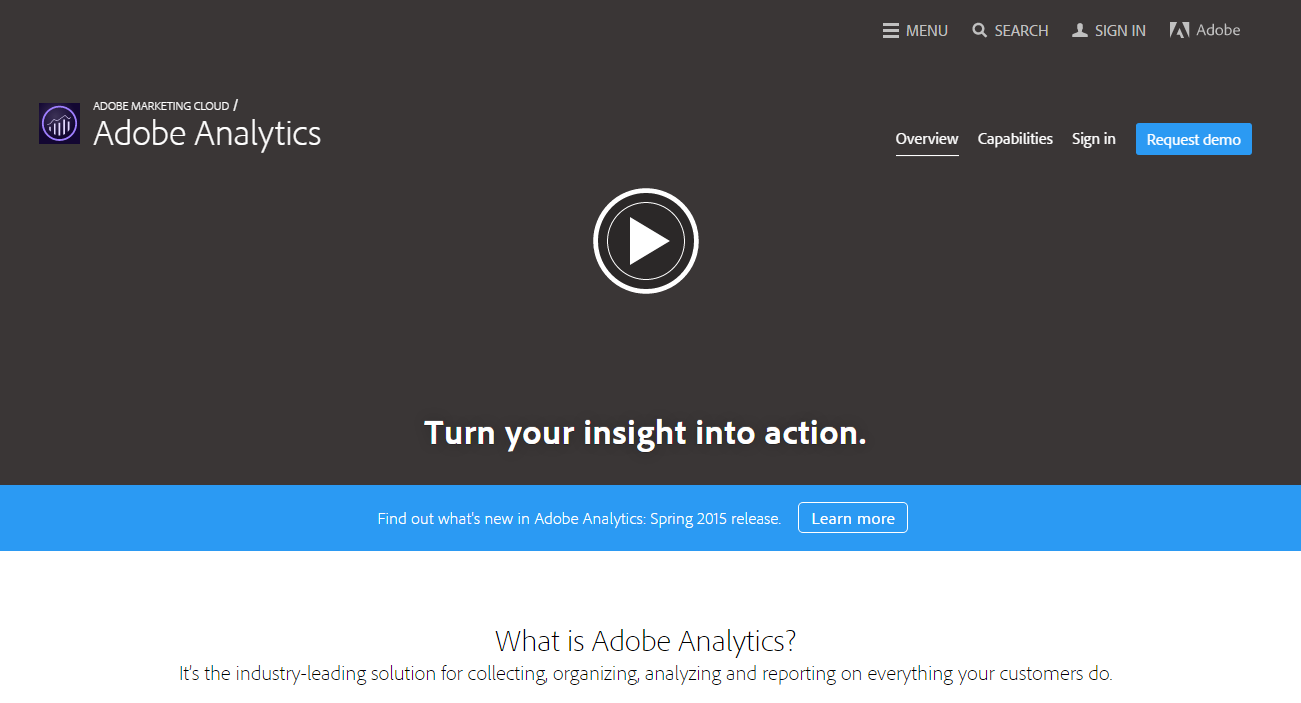 Let's start from this giant by Adobe, presenting one of the fullest feature sets for monitoring website visitors, pleasantly combined with an intuitive interface and really easy to use.
Adobe Analytics frequently rivals Google Analytics when it comes to choosing an analytics system for a big company. Being an enterprise level software and part of Adobe Marketing Cloud, it is easily expandable to meet all your demands in measurement and reporting.
Benefits
real time data and reports
mobile app analytics included
advanced segmentation capabilities
easy to expand with the needed functionality (video, social media analytics, etc.)
Drawbacks
Adobe Analytics is pricey
The cost grows together with your site
So, if you're just starting up, you might want to look at other solutions, but for big businesses with sophisticated demands Adobe Analytics can make a great asset.
7. Webtrends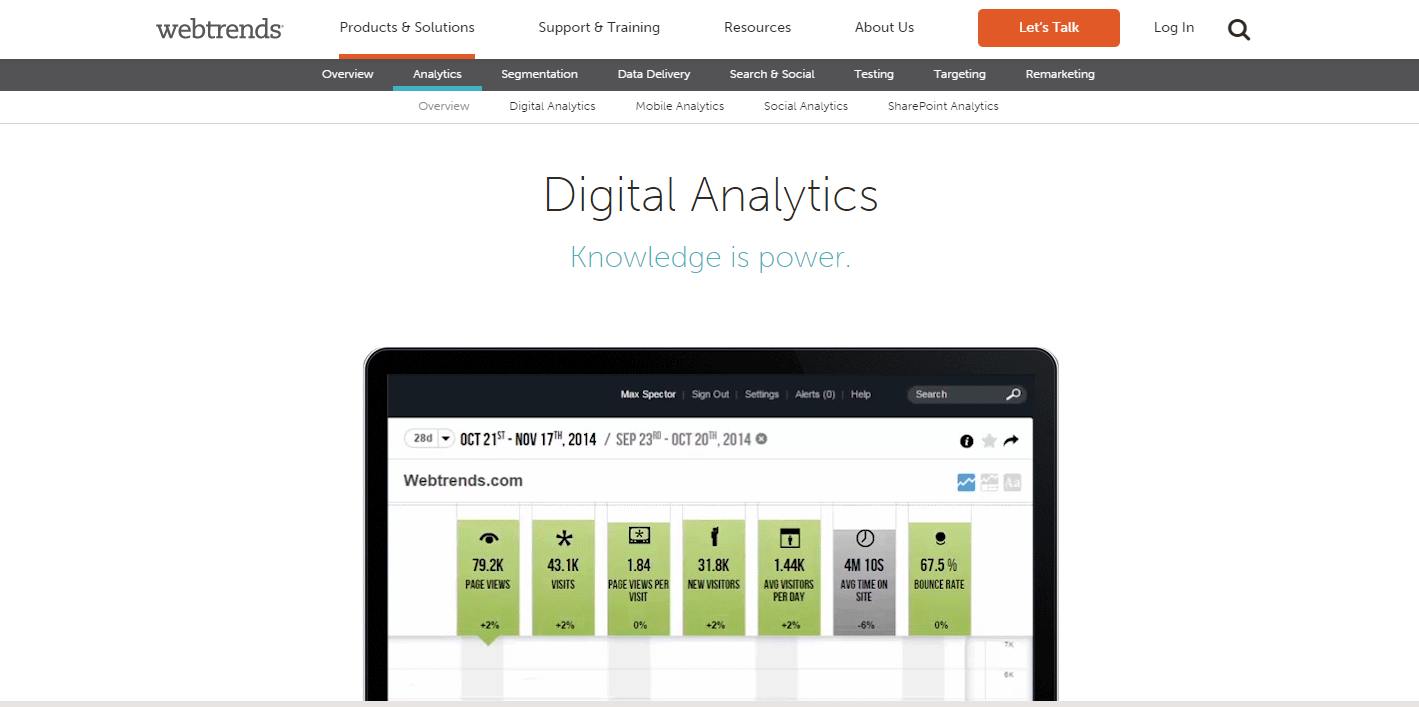 The pioneer of the industry, Webtrends, was started in the far 1993. In spite of its age, which is ancient in Internet terms, this tool has been steadily growing and developing the capabilities and is now one of the most used analytics systems out there. Thanks to the tier model, Webtrends is suitable for all types of businesses - from small to enterprise, as you can configure the set of options needed and not pay for the rest.
Benefits
storyboard mode provides data in the easily translatable form
powerful in mobile and social data tracking
available in SaaS and on-premise versions
Cons
quite high price
no free version available
data export capabilities are poorer than competitors'
So, if your business is quickly growing and you need a decent analytics tool, but not willing to pay for the bells and whistles you're not gonna use right now, Webtrends might be what you're looking for.
8. Mint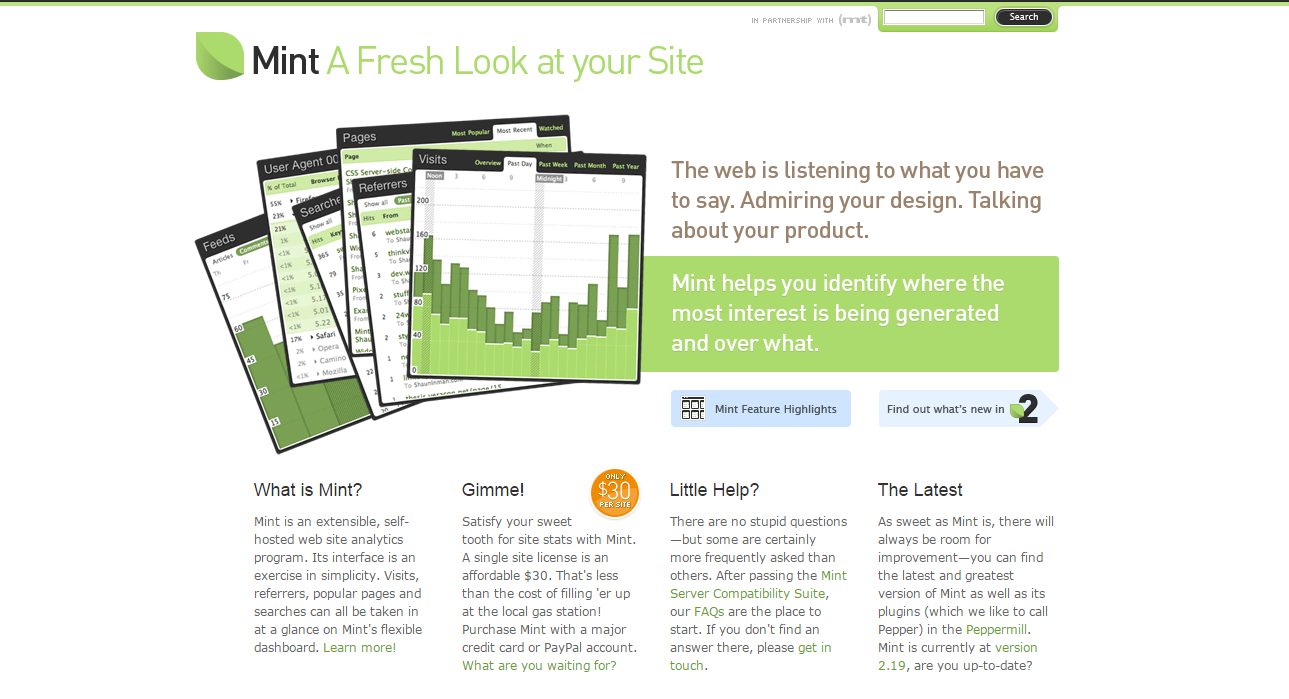 The freshness of this tool comes not only from the name and beautiful interface. You will also be pleasantly surprised by the pricing model they use. In fact, you only have to pay a quite small fee ($30) per site at the start and not be bothered by any monthly payments later on.
Benefits
reasonable price
self-hosted (downloadable) software - your data is yours only
highly customizable dashboard
extensible with plugins ("peppers")
counts the traffic from image search
Drawbacks
moderate reporting capabilities
no tracking for many popular metrics (time on site, conversions)
If you value simplicity and don't expect deep insights from your web analytics system plus don't wanna pay much, Mint can make a good candidate.
We have provided a decent list of analytics systems for your eCommerce business, though it is far from being exhaustive. There's one thing highly recommended to do before you set off.
Define the tasks your perfect solution should perform and what data you would like to be analyzed. This will help to find exactly the tool you're looking for, the one that will make your business move forward at the fast pace.
If you run one of eCommerce analytics tools and would like to win more clients by obtaining access to the database of 40+ shopping carts including Magento, WooCommerce, Shopify, Bigcommerce, 3dcart, VierueMart, etc., do not delay to schedule a FREE call with our representative. Have your questions answered and doubts dispelled.