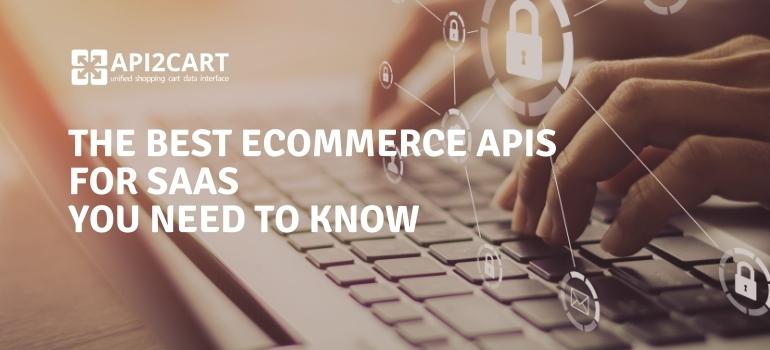 With the constant technological changes and the introduction of innovative ways of transforming the digital world, we are all developing daily.
As a result of large competition, many companies are trying to rethink themselves, adapt new business models and keep up with their competitors. Success in an ever-changing industry depends on constant adaptation and innovation. There is no time for different technologies and old systems.
For SaaS software vendors, integration with shopping platforms is mandatory. It allows them to provide many important functions for online store owners. They include inventory management, order fulfillment, shipping label creation, warehouse management, and more. In addition, support for multiple integrations can bring many benefits to software vendors.
Moving ahead, we will talk about the best eCommerce APIs you must know that are dominating the eCommerce industry.
What is eCommerce API?
But first of all, what is an API? The Application Programming Interface (API) is a set of definitions and protocols that allow different services and technology products to communicate with each other. For example, the API allows different applications to interact with external services using a simple set of commands, calling the API of another solution to access its data or functions.
Integration with eCommerce API is the process of building a connection between software solutions, such as delivery management, order management and shopping platforms.
APIs provide a new level of data exchange and application connectivity, regardless of their internal data structures and technology platforms. It turned out that API is essential for SaaS software, promoting their flexibility, efficiency, innovation and growth, potentially affecting their profits.
Today, you need to integrate with shopping platforms to offer better services to your customers and enable them to get the most out of your software.
5 best eCommerce APIs available in the market
A hotly debated question is what is the best eCommerce API for a SaaS system. The excellent news is that you have many options.
Because there are too many choices, it can be extremely difficult to determine the best eCommerce API for your SaaS software. Therefore, we have simplified the process for you of searching for the best eCommerce API, having collected some in the list. And be sure, that all our examples are reliable eCommerce APIs.
Let's find out about the best eCommerce API available on the market and their main aspects.
eBay API
When it comes to eСommerce, how can you forget about eBay? More than 159 million active users use it who are localized in more than 30 countries.
eBay API is an eCommerce API that allows software vendors to access a variety of data, including orders, products, payments, and others related to eCommerce. For example, with the eBay API, developers can create software to display product lists, categories, and more.
eBay offers RESTful and traditional APIs. Its RESTful eCommerce API supports several formats, including HTML, JSON, XML, and plain text. It also uses less bandwidth.
Shopify API
With a huge client base, the Shopify API is the best eCommerce API for many software vendors.
The Shopify eCommerce API has earned its reputation on the ease of use of the platform and a variety of tools provided to online store owners. It contains the administrator API, the storefront API, etc. It supports XML and JSON and can handle multiple HTTP requests, including POST, GET, PUT, and DELETE.
Shopify is constantly updating the API. eCommerce B2B software suppliers who want to work with Shopify store data should pay attention to this. They should keep an eye on the current version.
Amazon API
It is no wonder that Amazon, as an eCommerce world leader, is also on the list of the best eCommerce API. Its API gives developers access to Amazon's data and functionality through its server services. Implementation of such integration can provide you and your clients with an exceptional experience.
Amazon API allows you to exchange data related to lists of products, orders, and more. It even allows you to get product reviews, seller profiles, seller feedback and other important information. However, it supports only CSV files or XML for communication and requires a certain ability to interact and exchange information.
WooCommerce API
More than two million active users trust WooCommerce, and it's not without reason – it's known as one of the most secure eCommerce platforms that allows to create powerful online stores.
WooCommerce REST API supports JSON format, but can be easily changed to XML. It works with four basic HTTP methods: GET, POST, PUT, and DELETE. But there is another - HEAD. It is used to return only HTTP header information. Thanks to these methods, you can operate information about products, orders, inventory, clients, and addresses.
However, if you want to work with WooCommerce, you should be ready to deal with its growing versions of APIs, complex PHP modules, and lack of native documentation.
Walmart API
Walmart is a new eCommerce giant with more than 23K active and popular stores in 26 countries.
In addiction, Walmart eCommerce API is the simplest API built on the REST structure that a developer can work with. API helps build applications that easily manage products, orders, inventory, pricing, and reports. It has two groups - Item API and Transaction API.
Walmart API can be useful for your software for several reasons. First, it can help your business increase profits and customers. By integrating with it, you will be able to provide online merchants with the functionality to manage products, stocks, prices, inventory, orders and reports.
To attract Walmart customers, you need a reliable connection with this marketplace and access to its data. Therefore, this eCommerce API is mandatory to succeed in the eCommerce industry.
Conclusion
Being a SaaS software vendor is difficult, but integration with the best eCommerce API can raise your business to the next level. Whether your eCommerce business is long-established or just starting, these integrations will successfully enable you to reach new heights on the business owner's path.
API integration can be difficult if you do not follow the correct path. Considering the importance of integration and its role in the development of your SaaS business, it is important to choose the right way of development of integration with eCommerce platforms.
API2Cart is a third-party integration solution that allows connecting B2B software to more than 40 shopping platforms. You can use its unified API to integrate your software with a host of shopping carts.
API methods provided by API2Cart allow you to retrieve, update and delete store data related to orders, products, customers, etc. In addition, you can view the full list of supported API methods in our API docs.
Test the service absolutely free and see how it will improve your business by simply registering your free account.