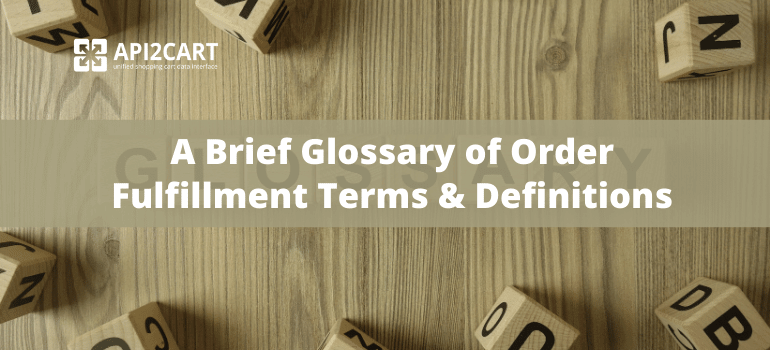 When dealing with order fulfilment, you will run into some specific terms, acronyms, and abbreviations. To save you the time you would spend looking for the definitions, we have picked out basic and advanced order fulfilment terms and gathered them here for you.
3PL (Third-Party Logistics) is a provider of outsourced functions of a supply chain.
Allocated Stock is an inventory item reserved for a specific order, customer or other special need and therefore unavailable for other purposes, like for fulfilling new orders.
Accessorial Charge is an extra charge, such as a destination charge or a fee for handling hazardous materials, that may apply to certain shipments that require extra services beyond normal order-processing and shipping services.
Bar Code is a scannable UPC (Universal Product Code) affixed to retail store items, identification cards, and postal mail to identify a particular product number, person, or location.
Cross-Docking is a practice of unloading materials from incoming transport and loading directly onto outbound transport with little or no storage in between. This term is also used to describe grouping products from different origins onto transport vehicles (or into containers) with the same or similar destination.
Dunnage is a packing material such as boards, blocks, planks, or air pillows, used for securing packages for shipping and handling.
Distribution Center (DC) is a warehouse located strategically near transportation lines, used for receipt, temporary storage, and redistribution of goods according to the customer orders as they are received.
EDI (Electronic Data Interchange) is the computerized exchange of ordering information between companies that eliminated the need for human intervention.
FIFO (First In, First Out) is an accounting practice in which the assets produced or acquired earlier than others are sold, used or disposed first of.
Freight Bills is an invoice for transportation charges generated when an order is delivered.
Handling Charge is a fee for transporting, storing, or packaging goods.
Intermodal shipping incorporates using multiple modes of transportation, e.g. truck and rail.
Kittingis the process of grouping, packaging, and supplying individually separate but related items together as one unit.
LIFO (Last In, First Out) is an inventory management practice in which the newest (latest) items in inventory are selected first to fulfill an order.
Lot means a product grouping that shares the same manufacturing run or date. Items in a lot are of a single class, composition, model, size, type, or version, and are produced under essentially the same conditions.
Lot Number Traceability is the ability to locate items according to their lot numbers.
Master Carton is a shipping carton that contains multiple smaller inner packs of the same item.
Pick and Pack is location and (if required) assembly of product(s) packaged for shipping.
POS (Point of sale) is the time and place where a retail transaction is completed.
RFID (Radio-frequency identification) is the wireless use of radio-frequency electromagnetic fields to automatically identify and track tags attached to inventory.
Shipment Release means that the package has been processed and released by customs officials in the recipient's country.
SKU(Stock Keeping Unit) is a unique code that identifies a particular inventory item.
SLA (Service Level Agreements) is an agreement between the service provider and the service user that defines the aspects of the service, such as scope, quality, and responsibilities.
WMS (Warehouse Management System) is a software application, designed to support warehouse or distribution center management and staff.
Order fulfilment systemis software designed to streamline and automate various order fulfilment operations, such as picking, packing, and shipping.
To run its functions, such software needs access to the order, product, customer and other actionable data from e-stores. To get this access and set up an ongoing data interchange, the application needs to integrate with the shopping cart the e-store is built on.
Shopping Cart Integration Difficulties for Order Fulfilment System
The problem here is that online vendors build their e-stores on different shopping platforms, so order fulfilment services need to be integrated with many of them. But integration is quite a long and arduous process. Each system has its unique logic that requires time and expertise to learn. Just to establish the connection will take about a month and at least a few thousands of dollars. Plus, each integration entails further upgrading and maintenance, which also takes time and money resources. Due to all these difficulties, many Order Fulfilment software vendors choose to integrate with only a couple of shopping carts and hence narrow their business opportunities.
A Shortcut to Multiple Integrations
There is a way to integrate with shopping carts much faster and easier than you might expect. API2Cart provides a unified API that enables to interact with 40+ shopping carts. All you need to integrate with all leading platforms is to connect to its API. If you are running an order fulfilment system or other B2B eCommerce service and are interested in integrating with multiple shopping carts, contact us or try out how API2Cart will work for your business.