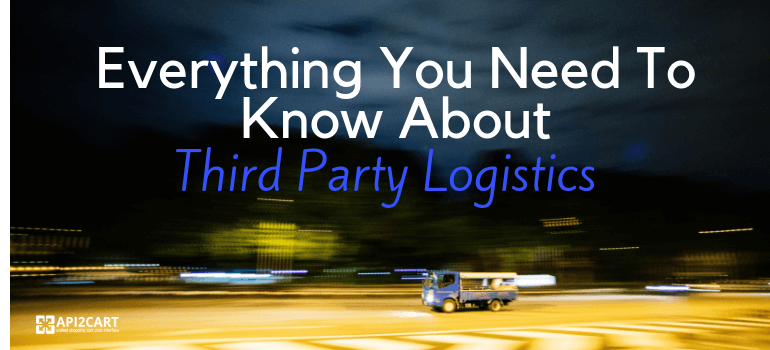 The rise of eCommerce has been meteoric, and it's led to a massive increase in the need of third party logistics. There are estimated to be at least 1.3 million e-commerce companies in North America, and because the online shopping world is so dog-eat-dog, merchants are doing all that they can to stay one step ahead of the competition.
For many savvy merchants struggling with logistics and order fulfillment, this means working with third party logistics as soon as possible. Third party logistics (also known as 3PLs) free up small businesses time, allow them to scale logistics up and down as needed, help them optimize their supply chain and ultimately provide the merchant with the opportunity to focus on other core aspects of their business.
More than that, they can save you a major headache and prevent overwhelm.
But how does it all work? What are third party logistics exactly and what can they do for you?
Let's take a look at everything you need to know.
What is a Third Party Logistics Provider?
In simple terms, third party logistics services provide order fulfillment, logistics capabilities and warehousing. They receive the orders from your manufacturer and deliver them to the customer at their door.
They have been defined  by the Bridgefield Group as:
"A 3PL is an outsourced provider that manages all or a significant part of an organization's logistics requirements and performs transportation, locating and sometimes product consolidation activities".
In other words, a third party logistics company takes care of a business's distribution and fulfillment services. Sometimes they take care of all of it, and sometimes they take care of a small portion depending on how many orders the business receives on a daily basis.
Third party logistics don't claim ownership of your inventory when they're in possession of it, but they are responsible (and legally bound) for fulfilling your orders. This makes them super attractive to merchants whose businesses are starting to grow.
Where Have 3PLs Come From?
Anyone with a head for retail history will know that third party logistics haven't always been around. In fact, they've only existed for the last four decades or so, and it's only now that they're in huge demand.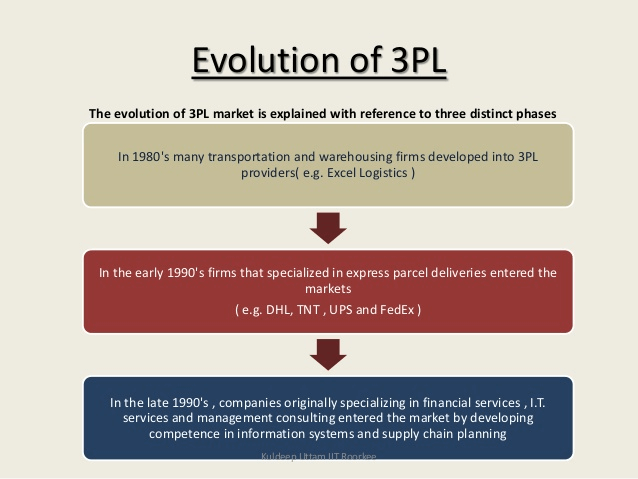 Back in 1970, third party logistics didn't exist at all because there was no real need for them. In those days, there were just two parties involved in transportation contracts:
1) The shipper
2) The shipping carrier
As the economy grew, the market became flooded with more sellers. The problem they faced was that they weren't competent with logistics. As such, third party logistics rose to prominence in their role as intermediaries.
This led to 3PLs generating revenue to the value of 273.8 billion U.S. dollars worldwide in 2016 and they are expected to generate 392.2  billion in 2018.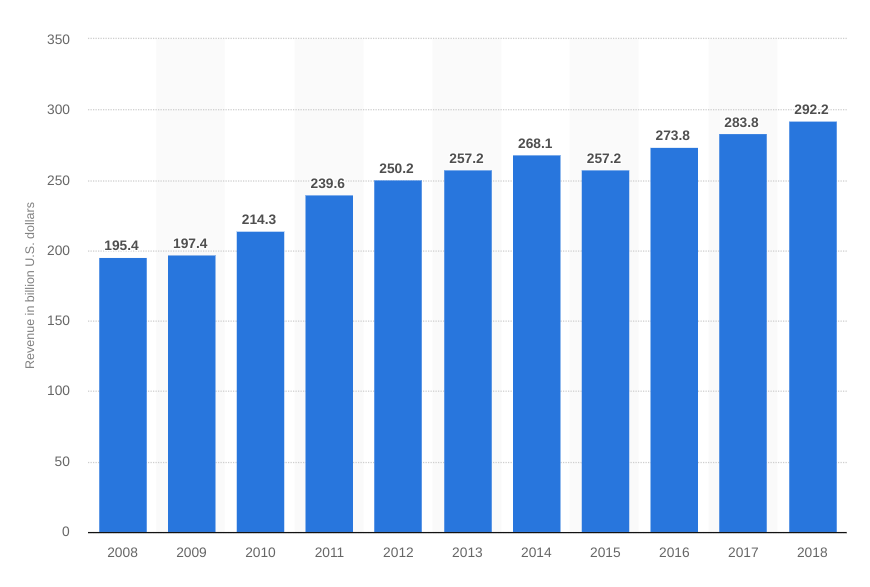 Do I Need a Third Party Logistics Provider?
3PLs can be vital. Third party logistics is key because many merchants, once their company starts to grow, just don't have the network, expertise or resources to sustain a cost-effective and seamless logistics by themselves.
Things like storage and distribution require specialized skills for them to be effective and free from error.
If you run an eCommerce store, you might now be thinking that you for sure need a 3PL. There are some cases when you definitely should outsource to a third party logistics provider - but also some cases when you don't need to.
Below are a few known users of 3PL's.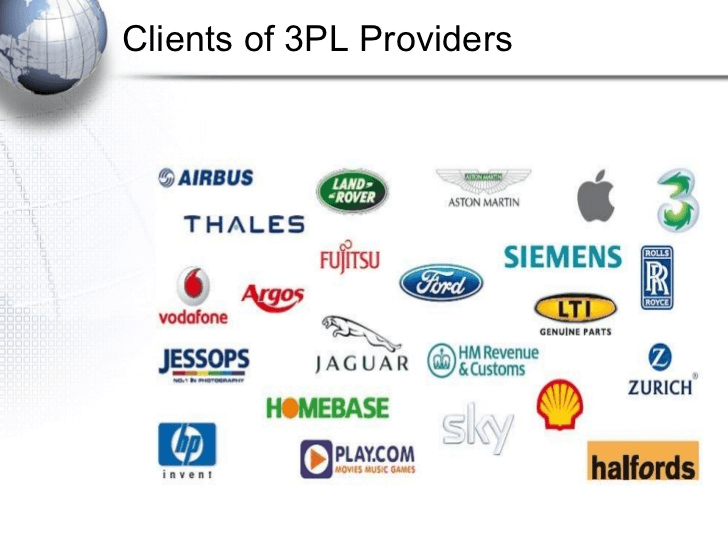 Knowing when to work with 3PL's is key to your success. If you call too late, you might already be overwhelmed with late orders and unhappy customers.
Here are some things to consider:
Amount of orders you're fulfilling
If you're fulfilling less than 10 orders per day, there's as yet no need to work with a 3PL. For one thing, it probably wouldn't be very cost-effective.
On the other hand, if your volume is regularly over 10 but under 20, you should start to consider working with a 3PL.
It's all about your margins. Working with a third party logistics provider will top up your shipping expenses with a premium, so you need to make sure you can afford it.
To help you on your search, below you can see a list of FinancesOnline 20 best order fulfillment services of 2018.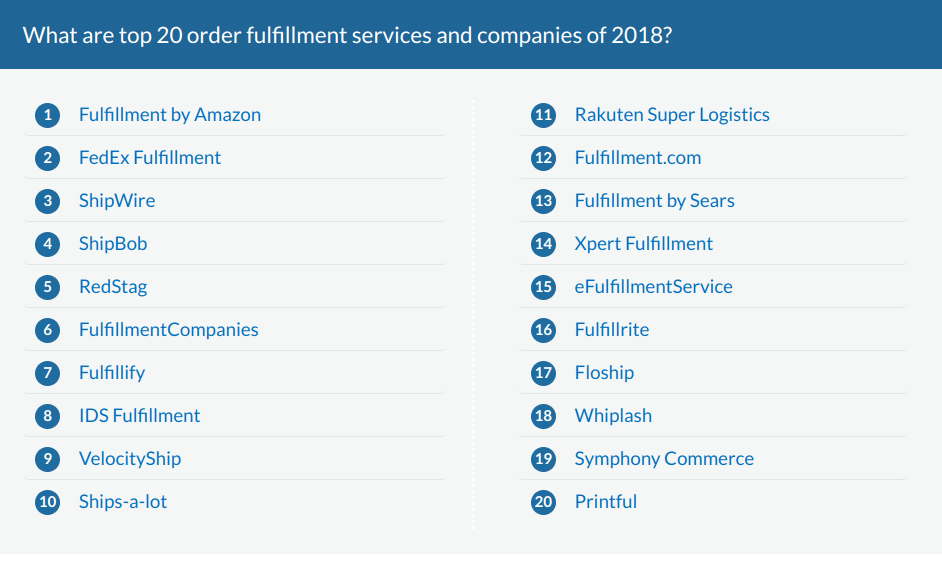 Inventory storage
Storage is one of those costs that can really bite us in the butt when we aren't expecting it.
When considering your fulfillment expenses, do you include storage?
If a storage facility is costing you a fair amount of cash, you might want to see if a third party logistics provider will work out cheaper.
Sales spikes
Picture it: It's four months until Christmas and you're expecting sales to spike. In such an instance, it's common sense to contact a third party logistics provider as soon as possible. Otherwise, your resources may not be enough to deliver your customers purchases to them on time.
How Many Types of 3PL's Are There?

Smaller third party logistics providers tend to focus on one specialized area each. As such, there are typically five main types of third party logistics providers:
1) Transportation of Goods
2) Warehouse, Distribution
3) Shipping
4) Freight Forwarder
5) Financial and Information
For now, you might decide for that you only need a 3PL that focuses on transportation. As you grow, you might need a 3PL that covers everything.
Let's take a look at each one individually:
1) Transportation of Goods
This type of third party logistics provider handles the inventory shipment between locations - for example, between seller and buyer.
FedEx is an example of a 3PL that specializes in transportation.
When choosing a provider, you need to take into account location (both origin and destination), time frames, servicing levels and shipping methods.
2) Warehousing, Distribution
In the earlier stages of your business, you can get away with working with a transportation provider while taking care of your storage yourself.
However, as you grow, you'll need to work with a 3PL that handles warehousing, distribution, shipping and receiving.
If you're looking to work with a warehousing 3PL, here are some things to take into consideration:
Location
If your customers expect - and demand - speedy delivery, you'll need a warehouse that's located as close to the customer as possible.
Price
When it comes to pricing, what you want from your 3PL is predictability and transparency.
Moreover, you need to find out all the fees upfront, and whether or not the pricing model will change as you grow.
Insurance
How do you want to ensure your packages? Will they be insured while in storage and during both delivery and return?
3) Shipping and Receiving
Shipping and receiving is key in logistics as it focuses on the shipping processes from the beginning to the end. Establishing carrier relations is extremely important.
4) Freight Forwarders
A freight forwarder 3PL is the go-between from the manufacturer to the retailer. They don't tend to own any kit but complete the business of transportation from beginning to end.
Moreover, due to their network of connections, freight forwarder 3PL's can ensure that products imported from abroad is able to get to where it needs to go without any hassle.
5) Financial and Information
It's highly unlikely that you'll be working with a financial and information based 3PL for a while, but once you start to hit seven or eight figures in revenue, this type of 3PL might be something you begin to consider.
Financial and Information third party logistics optimize your whole logistics network, and this includes everything from freight auditing to managing your inventory.
Benefits of Working with a Third Party Logistics Provider
There are a number of benefits that come with working with a 3PL. Here are some of the best ones: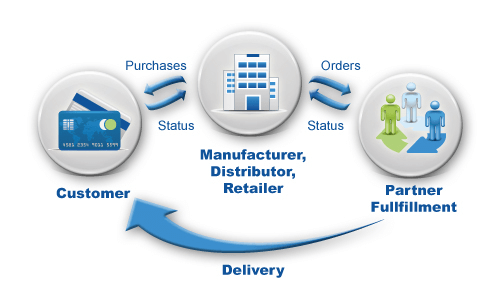 Access to Supply Chain Expertise
A third party logistics provider should have intimate knowledge of industry-best practises. These companies stay up to date with any change in manufacturing process, logistics technology and logistics in general. For example, knowledge of the latest inventory management software ensures that your business will always be moving forward with pace and efficiency.
More Free Time and Capital
If your own head is deep in your company's logistics, you'll lose time and capital. Outsourcing this aspect of your business frees up both time and money.
As well as freeing up money that would otherwise be spent on technology, warehouse space and so on, working with a 3PL will also reduce your mistakes. And when it comes to logistics, mistakes can mount up - and they can cost you money.
Makes Selling Abroad Easier
If you plan to start selling abroad soon, it's a good idea to work with a third party logistics provider.
Why?
They take care of all the awkward stuff for you, which includes dealing with duties, customs, documentation and so on.
This is a big responsibility, and by letting experienced professionals shoulder it, you're taking a load off.
Disadvantages of Working with a Third Party Logistics Provider
As well as benefits, there are also three disadvantages to working with a 3PL:
It's Not Always in your Hands
If you don't work with a local 3PL - and sometimes this might happen - your products won't always be to hand. This can cause an issue, especially if your factory runs into quality control problems.
Another one of the problems with outsourcing logistics is that you and your provider might lose track of your inventory if you haven't installed an inventory management system that syncs up with a warehouse management solution and an order management system - and which both you and your provider have access to.
Each time a new order comes in, your inventory management system will update automatically so that you stay on track. Synchronicity between all your software will ensure that a product is shipped at the right time and to the right place.
For example below you can see the back-end of Skubanas inventory management software. For orders to be shipped out, they must be assigned a provider.
If a business is using a 3PL and an order is made, they will be placed in "Awaiting 3PL Export".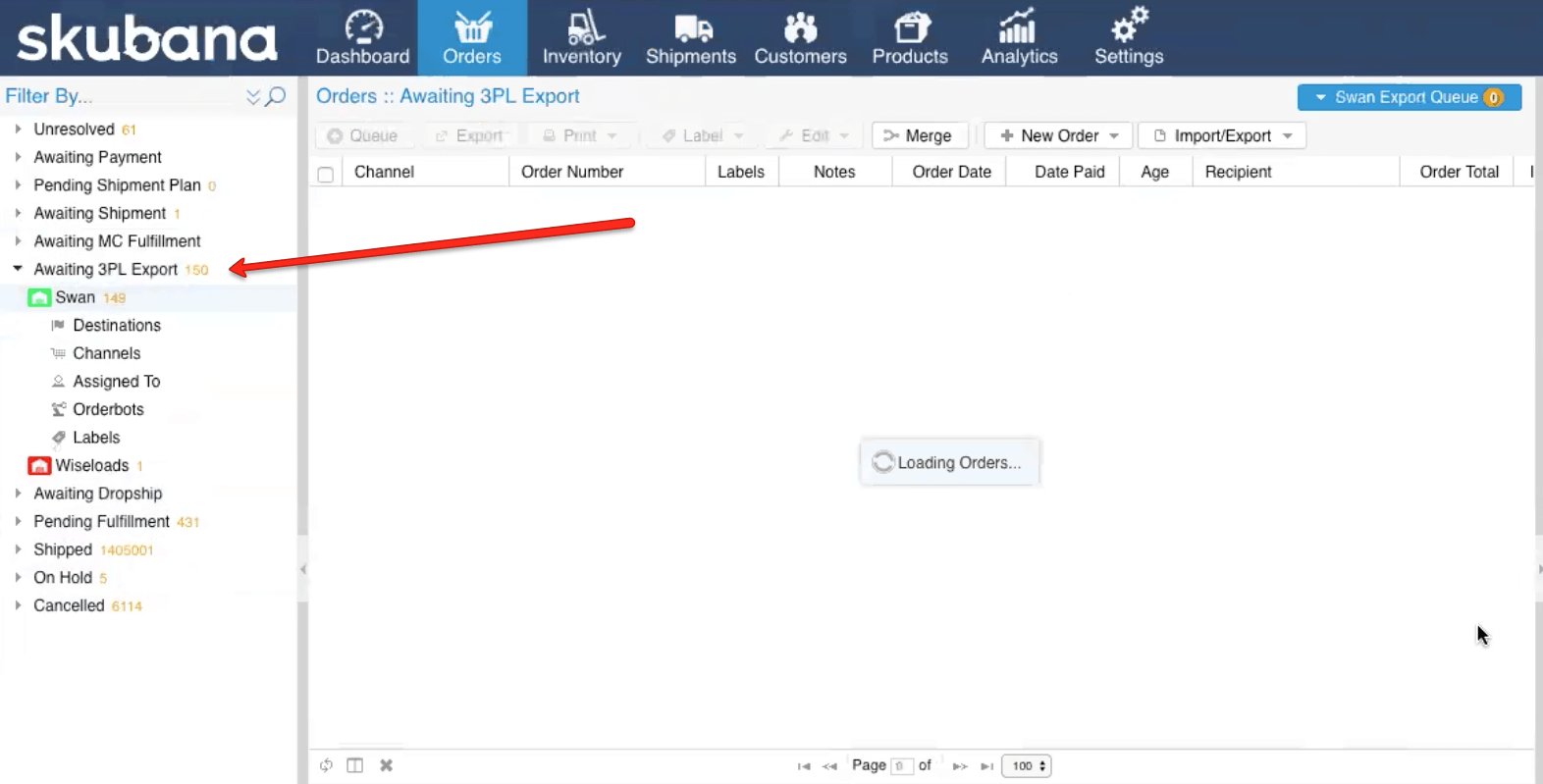 Once a 3PL picks them up, they will be moved to "Pending Fulfillment" status.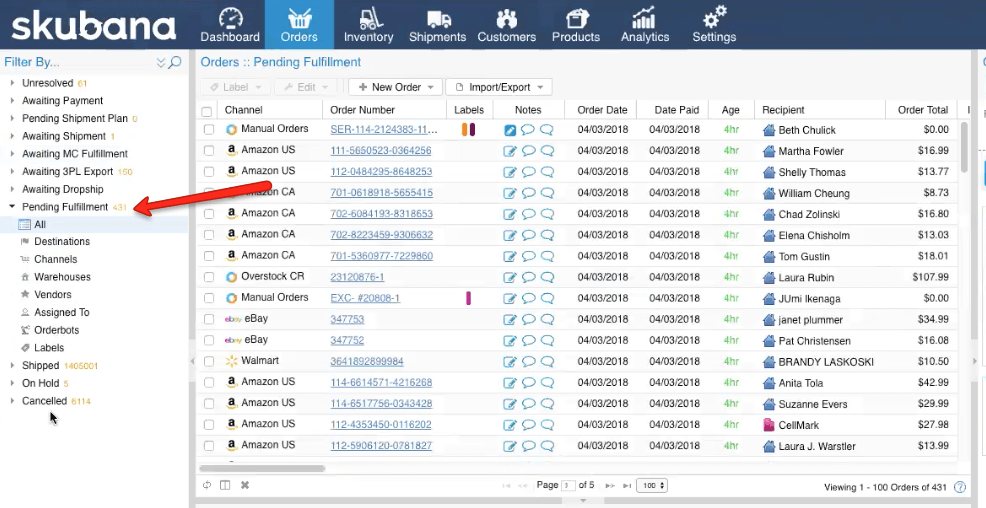 And when the 3PL sends Skubana tracking, they move them to shipped and update the sales channel.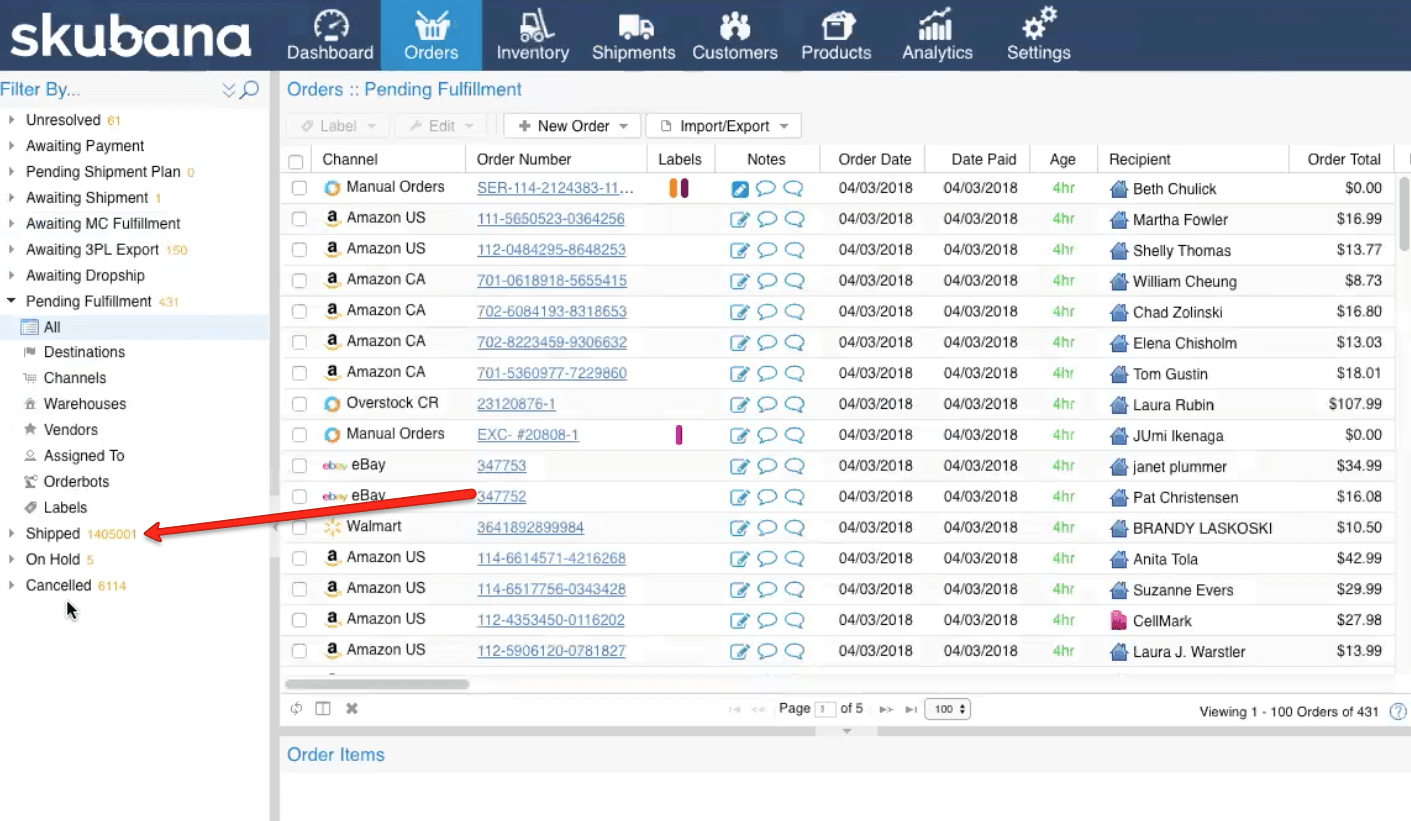 It's easy to why having an inventory management system that integrates and syncs with 3PLs is essential in today's competitive eCommerce world.
Hidden Responsibility
If a 3PL delivers a product late, they won't bear the customers frustration - you will.
Any time a delay happens, you will be tasked with resolving it.
Big Set-up Fees
It's rare to come across a third party logistics provider that doesn't charge an upfront fee, as they need to cover the likes of integration of their software and tools with your business.
The set-up fee is often large and can be a real obstacle to eCommerce merchants operating on a small budget.
What are the Costs of a 3PL?
Typically, costs are broken down into seven categories:
Transportation - The cost to get your goods from the factory to the warehouse
Receiving - The costs for offloading products into your warehouse
Warehouse costs - This cost is determined by the amount of space you use and is often paid monthly
Pick-and-pack costs - This covers picking a product from storage and packing it
Shipping - The cost to get you product from the warehouse to the customer
Account setup - This covers integration of their software with your company
Minimums - When your company experiences a slow month, you will owe a minimum monthly amount to your 3PL
Questions to Ask Before Hiring a Third Party Logistics Provider
Benefits of Working with a Third Party Logistics ProviderLastly, before you decide which 3PL to work with, it's important that you do your due diligence before entering outsourcing agreements.
After all, the number one reason for failed 3PL partnerships is "failed expectations".
Here are some questions you need to ask before you work with a third party logistics provider:
Is this 3PL in a good location?
Will my customers' needs be met by this 3PLs core competencies?
If my company scales, will this 3PL be able to adapt to my new needs?
Does the 3PL have multiple warehousing and transportation options?
What is the 3PLs background? Do they have solid referees? Do they have a good track record?
Do they have any other long term clients?
Can they give me a list of previous partners?
Is this 3PL going to improve our logistics? Or can we do it better?
Is this 3PL financially stable?
Do they use modern tech and software? Or are they behind the times?
How many warehouses do they own/operate?
What is their maximum capacity?
Have they worked with businesses in your niche before?
What happens when they experience delays? How do they compensate for them?
If you experienced a sudden spike in order volume, how would the 3PL deal with that? What's their strategy?
Will they integrate their software directly with your business?
Conclusion
As you grow, outside help often becomes a necessity. If there are professionals with highly specialized skills who can do something better than you can, it's often worth working with them.
This is especially true when it comes to logistics. Many small businesses lack the time, capital and indeed space to operate a successful distribution network that ensures our customers' needs are met.
Hopefully, this article has made the nature - and the role and vitalness - of 3PLs clearer to you so that you know when to work with them in order to keep growing your company.
If you are running an eCommerce B2B service and you need integration with multiple shopping carts, consider API2Cart. It provides a unified API that works for 40+ top eCommerce platforms including Magento, Shopify, BigCommerce, WooCommerce, PrestaShop, Demandware, Amazon and others.
If you have any questions, feel free to schedule a call with our expert or try how API2Cart would work for your business.
About the Author:
This is a guest post by the Skubana team. Skubana is an all-in-one ERP system and operations platform designed for high-volume sellers to run and automate their business. By unifying point solutions in one place, sellers can diagnose what used to take weeks in seconds. Skubana integrates with most e-commerce marketplaces, 3PLs, and warehouses, provides profitability and multi-channel inventory management and compile all of your marketplaces on a single convenient dashboard.