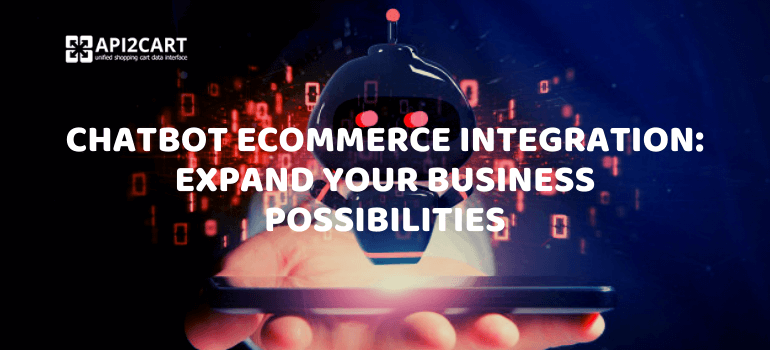 As a chatbot software provider, you definitely want to grow as much as possible in your niche and increase the number of potential customers. You need to be able to offer superior service to eCommerce store owners that will help them to automate their business processes and enhance their customers' service.
In 2020, the size of the chatbot market has reached 20 billion US dollars, and it's predicted to grow to over $118 billion by 2025. That's a 500% increase over 5 years, which is simply huge. This growth is not only connected to B2B providers because chatbots are not just used by large corporations, medical institutions, or governments. Instead, a growing number of eCommerce store owners will need to integrate chatbots in their daily life.
Chatbots can dramatically improve the shopping experience of users and have the potential of boosting a company's sales and customer acquisition. Chatbots can be used to streamline processes, reduce cart abandonment rate, track payments & orders, guide customers through the sales process, and even make the payment.
To offer all of these features, the chatbot needs to become integrated with the specific shopping platforms and marketplaces. For example, eCommerce store owners who run their businesses on Magento or Shopify will need a chatbot system in place to provide their customers with the possibility to create the orders, track the shipping numbers, etc.
As a chatbot software, you need to find a way to integrate your service with multiple eCommerce platforms and marketplaces so that you can offer your solution to all the e-store owners present on the market.
Main Advantages of Chatbot eCommerce Integration
As a chatbot service provider, you want to build a chatbot that can be used by as many of your customers as possible. To accomplish this, you need to ensure that your bot is integrated with all major eCommerce platforms so that it can access product catalogs, track numbers, get lists of abandoned orders, etc.
The integration of your chatbot software with shopping platforms and marketplaces allows you to perform your main functions that include:
Enable your customers to qualify their leads better

Most retailers want to stay away from people who have no intention to purchase from them. In order to sift through their site visitors, store owners can use chatbots to qualify the leads they receive.

Better analyze online store customers' needs

With chatbots, retailers, as your customers, can better analyze the needs of their customers. They can leverage the power of chatbots to gain valuable information about their audience so that they can offer superior services.

Create orders

More and more customers of online stores are willing to make immediate orders by using chatbots. That is why your software needs to have access to all the necessary stores' data to be able to fulfill the orders correctly and quickly.
Moreover, chatbot eCommerce integration allows you to gain access to millions of new customers. In other words, you need to have a powerful service that you can offer to millions of potential eCommerce stores. By integrating your service with marketplaces and shopping platforms like Amazon, eBay, Walmart, Etsy, 3dCart, Shopify, WooCommerce or ZenCart, you'll gain access to a huge database of customers willing to work with you.
By integrating your solution with the main eCommerce platforms, you'll be able to get two steps ahead of your competition. Most of your competitors are either offering no more than one integration. So, that is why your chatbot eCommerce integration is so important for succeeding on the market.
How eCommerce Integration Helps Chatbots to Perform Their Functions?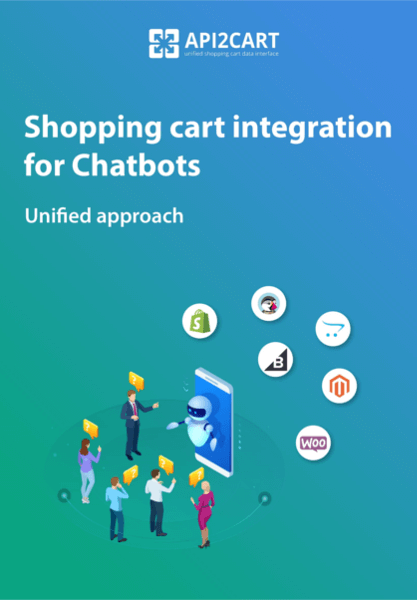 Shopping Platform Integration for Chatbot Software
Explore how to develop the integration between your chatbot and multiple shopping cart solutions easily.
DOWNLOAD
Since online retailers are always more than eager, even enthusiastic, of using modern technology that would give them an unfair advantage over their competitors, chatbots represent just the right option for them.
Thanks to chatbots, they can provide 24/7 support, offer custom product recommendations to their site visitors, reduce shopping cart abandonment, and boost customer engagement.
Because each marketplace and shopping platform has its structure and API issues, integrating with them might be quite a difficult task. This tedious process takes time and usually involves a considerable monetary investment.
The great news is that you don't have to do each integration manually. API2Cart can help you chatbot solution to perform all the integrations at once.
At API2Cart, we offer rich capabilities for chatbots, providing the entire scope of functionality to allow your chatbot to provide your customers with everything they need. Basically, with our shopping platform integration service, your chatbot software will be able to do the following:
Gain access to product catalogs. So that your chatbot can make personalized product suggestions for visitors looking for specific products
Allow users of online stores to find specific products
Create orders
Get and provide tracking info
The detailed examples of using API2Cart by chatbot software you can find in our USE CASES.
Conclusion
If you want to gain access to data from your clients' e-stores easily, save your money and time, API2Cart is your best bet. We can help your business integrate with 40+ shopping platforms seamlessly so that you can offer superior chatbot services to millions of eCommerce store owners.
API2Cart offers detailed API Docs, more than 100 API methods for working with products, customers, orders, shipments, and taxes, 30-days free trial period, and 24/7 customer support.
Want to learn more about how we can help your chatbot software with eCommerce integration? Get in touch with us by pressing the button below.