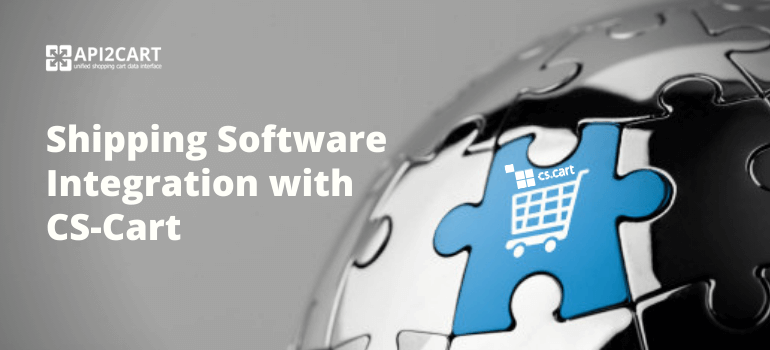 For a shipping management software performing its essential functions is impossible without integration with shopping platforms. Connection to multiple eCommerce platforms allows shipping management solutions to retrieve information from various e-stores based on them.
Shipping software requires order, product, customer, shipment, and other information for their proper functioning. That is why for you, as the shipping software vendor, shopping platform integration should be the priority.
In this article, we are going to explore CS-Cart shipping integration aspects and discover how it can take your business to the next level.
Why Shipping Software Need Shopping Platform Integration
Shipping management is indeed an indispensable but challenging phase of every eCommerce business. There are plenty of tasks associated with shipping, like picking, packing, transportation, fulfillment, tracking orders, managing stock levels and a lot more.
Integration with shopping platforms such as CS-Cart allows the shipping software to streamline these operations and provide their services to online retailers.
API integration with CS-Cart provides your shipping solution with access to all the information from online stores built on it. With the help of this data, your software can create shipping labels, update order statuses, synchronize inventory levels, etc.
Moreover, shipping software works at its best when it can automate all the retail functions connected with the shipping process. Every online store owner wishes to simplify its operations and minimize their efforts using a high-quality shipping solution. Therefore, being a shipping management software provider, it becomes necessary for you to propose such facilities to your clients.
Advantages and Difficulties of CS-Cart Integration for Shipping Solutions
CS-Cart integration is the best available option to grow your shipping software, gain an edge in the competition and increase your customer base. If you wish to provide compelling service with your shipping management software, a connection with CS-Cart can allow you to make a significant step.
Let's explore the advantages of integrating your shipping solution with CS-Cart. First of all, more than 40,000 online sellers use this shopping cart software to promote their products around the globe. These figures indicate the large pool of prospective clients you will be exposed to in case of connecting your system with CS-Cart. Also, a significant number of new customers can bring a considerable sum of money for your business.
Secondly, CS-Cart integration with your shipping software means the possibility to retrieve, add, delete, update, and synchronize the data from e-stores that use this shopping cart software. It includes info on products, orders, customers, categories, prices, etc.
However, despite all the benefits associated with CS-Cart shipping integration, specific pain points come along. Developing integration is not so easy. You'll need skilled and qualified technical specialists to do the task. It means thousands of dollars to be spent on their salaries. Moreover, finding the right people is a tedious task.
Additionally, integration with CS-Cart can take more than 4-12 weeks to complete. Plus, don't forget about its ongoing support and further maintenance.
How to Start With CS-Cart Integration?
API2Cart is the answer to all your questions related to CS-Cart shipping integration.

API2Cart has more than 100+ API methods for managing the data from CS-Cart e-stores. Also, it allows you to integrate your shipping solution with 40+ other eCommerce platforms and marketplaces via a unified API.
Usage of our service makes it possible for you to eliminate the issues connected with developing separate integrations and additional expenses. Moreover, with API2Cart API methods you can easily:
gather info on orders, customers, products, tracking numbers and shipping addresses
update tracking info and order statuses
API2Cart has a detailed API Documentation, full tech 24/7 support for customers and flexible pricing plans that depend on your business needs.
You can try API2Cart for 30 days free. To know more about how our service works, schedule a call with one of our consultants or register your account and test the service on your own now.