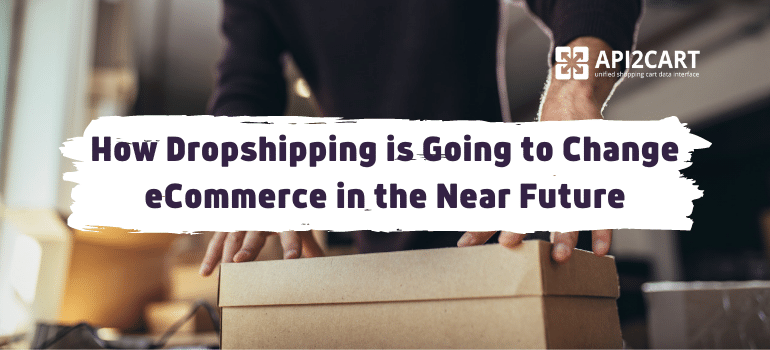 Dropshipping is the hottest eCommerce trend that the vendors are chasing today. It remains the same method of selling products to customers online, but the merchandise travels directly from the wholesalers' stores to consumers' houses. It means that using the dropshipping model, retailers do not need to keep the products in their stocks. The dropshippers stay in profit by working as mediators purchasing products from wholesalers and shipping them directly to the customers.
Dropshipping eCommerce business model is the most convenient way of selling products online for those retailers who have not so much capital to start their companies. According to E-DSS.org, around 27% of online retailers have already switched to dropshipping.
That is why we are likely to see a lot more of dropshipping in the future.
How Dropshipping is Going to Transform eCommerce?
Eliminating inventory control and the need for spending the money on warehouses, dropshipping is setting up new business goals for retailers. Dropshipping doesn't require any significant investment to start a business. Retailers just need to select the items they wish to sell, get images on their websites, and all set.
The future of dropshipping is going to experience a broader market reach. Retailers would be able to save significant time and effort. It would streamline the business flow and reduce the burden on merchants.
eCommerce itself is expecting the growth. For example, according to Statista, eCommerce sales amounted to more than 3$ trillion dollars in 2019 and online retailers' profits are expected to rise to 6.54 trillion dollars in 2022.
With the rising demand for online shopping, more and more retailers choose to adopt dropshipping model and try to find high-quality dropshipping software to simplify their business processes.
Some of the top dropshipping eCommerce software providers include:
One of the most popular dropshipping software is Oberlo. It allows posting thousands of product listings on retailer's stores without bothering about the delivery of products to customers. It is a perfect solution for those retailers who based their stores on Shopify. Oberlo provides the opportunity to reach suppliers globally.

Orderlytics is the dropshipping solution that proposes automated ordering and fulfillment, tracking the orders, sending notifications and alerts to the customers and the other functions. It is available for such eCommerce platforms like Shopify and WooCommerce.

Multiorders allows retailers to eliminate all time-consuming tasks and avoid a lot of errors. The main functionality of this solution includes auto-synchronizing the data, adding a great number of suppliers, automation of purchase orders and invoices, etc. It is suitable for Shopify, Etsy, PrestaShop, OpenCart, Magento, WooCommerce and the other shopping platforms and marketplaces.
Why is it Essential to Use Dropshipping Software?
Dropshipping software is infused with automation technology that frees the merchant from performing repetitive routine tasks, saves time and improves efficiency.
eCommerce dropshipping software providers face tough competition in the market while selling robust software at a reasonable price. If dropshipping solutions want to achieve success and win more customers, it is vital for them to support all the needed functions like:
Price and stock automation

Dropshipping eCommerce software must be able to optimize the price of products and calculate the share automatically. It eliminates the manual work of retailers.

Inventory management

Although there is no need to store products and handle inventory, retailers are required to maintain vendor inventory levels to withstand "sold-out" stock problems.

Support of many suppliers

Dropshipping allows retailers to find suppliers from various parts of the world. A dropshipping software helps retailers to spot the best suppliers for their store and manage them all at a single place.

Competitors' monitoring

Dropshipping software must provide the possibility for merchants to keep an eye on their competitors' store products and prices.

Integration with multiple eCommerce platforms

The integration with a significant number of shopping platforms and marketplaces like Magento, Etsy, OpenCart, Shopify, Amazon, eBay, WooCommerce, etc. allows to satisfy more customers and increase revenues dramatically.
Being a dropshipping automation software provider, you must know how important it is to integrate your software with dozens of eCommerce platforms and marketplaces. Without that, you won't be able to get access to the online stores' databases of your prospective clients. But, eCommerce integration associates with lots of pitfalls ranging from building separate connections to keeping up with updates.
API2Cart makes it easy for you. We provide a unified API for your integration needs, which supports more than 40 shopping carts and marketplaces like Magento, Shopify, WooCommerce, eBay, Amazon, BigCommerce, 3dcart, Ecwid, Etsy, Neto, PrestaShop, Volusion, Walmart, VirtueMart, etc.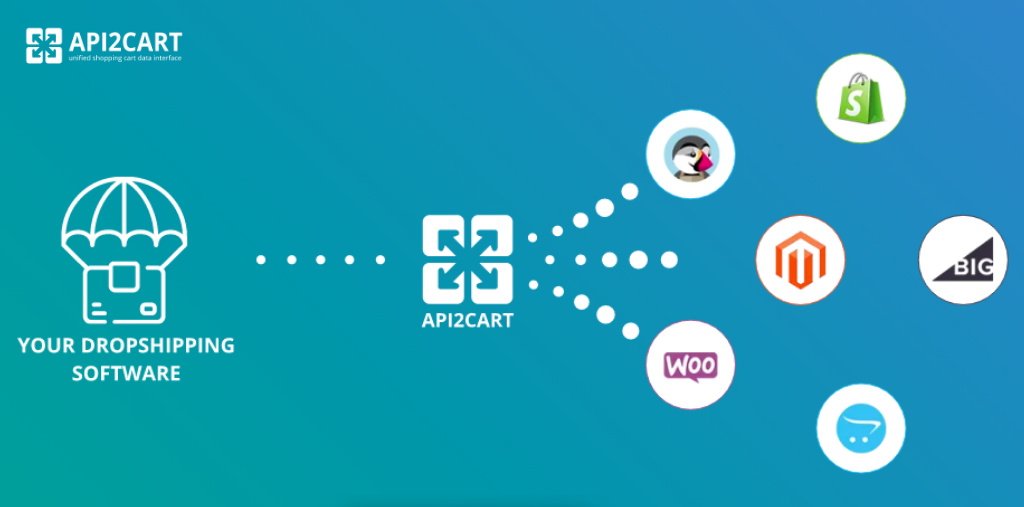 With API2Cart, you can easily retrieve and synchronize product data, prices, categories and customers, import orders from various sales channels, update information connected with order statuses and sync inventory levels across different shopping platforms.
Want to try API2Cart for free now and see how it can help your dropshipping solution to become the #1 on the market? Schedule a quick call with our manager and get more information.