Europe has been setting new trends in the eCommerce world. The shopping platforms like Magento, OpenCart, PrestaShop, and others are gaining popularity in Western Europe.
Being a SaaS application provider, you need to have access to those platforms and the data from e-stores built on them. The integration with shopping platforms allows you to expand your customer base and increase your revenues dramatically.
Since a significant part of the eCommerce market belongs to the United Kingdom, Germany, and France, you can expect a substantial demand for your software from these regions.
So, let's take a look at the most popular and widespread eCommerce platforms among the online sellers in Western Europe.
Top 6 eCommerce platforms in Western Europe
An open-source and PHP-built software, Magento is among the top European eCommerce platforms. Since its establishment in 2007, it has been helping a plethora of businesses to create incredible shopping experiences for their customers for 13 years in the market.
With its mobility, sustainability, community, and functional coverage, Magento is providing a robust platform to 7,609 online shops in Germany, 8,799 in the United Kingdom and 3,457 in France. Globally, it owns 23.7% of the eCommerce market.
With over 270,000 online shops, PrestaShop leads the eCommerce world. It is an open-source and free platform that allows starting an online store and managing it efficiently. Irrespective of the business size, PrestaShop helps businesses with successful shop management. It has a fantastic history of 13 years in the eCommerce market, with a bright future ahead.
When it comes to the best European eCommerce platforms, PrestaShop proves it with a record of 2,502 e-stores in Germany, 14,893 in France, 14,893 in the UK and 1,834 in the Netherlands.
OpenCart also makes its place among the top open-source eCommerce platforms in Europe. With its powerful store management and a wide array of extensions and themes, it has been standing in the eCommerce space for ten years. It offers 13000+ modules for businesses to expand their services in any sector you can think of.
Making a sound presence in the eCommerce world, OpenCart has a significant contribution to Western Europe. It powers 1,780 online shops in Germany, 1,534 in France, and 5,500 in the United Kingdom, 2,288 in the Netherlands.
Zen Cart is a popular eCommerce platform that branched from osCommerce a few years ago. The designers, programmers, and consultants behind Zen Cart made it function differently from other shopping platforms keeping in mind merchants and store owners. It has been serving the eCommerce industry for about 17 years.
Considering the performance in the European market, Zen Cart powers 6,743 websites in Germany and 5,647 in France. The market share reaches 17% in the United Kingdom, 9% in Germany, and 28% in Spain.
For success-seeking professionals, Gambio works as the right eCommerce platform. It is an open-source platform that offers functionality ranging from integrations to no-code skills while operating the software.
Among other European eCommerce platforms, Gambio is used by 6,412 websites in Germany and is the 9th most popular in the eCommerce category in this country. Being a local shopping cart solution, it has made a significant position in the market.
OsCommerce platform helps businesses to create self-hosted online stores free of cost. It ensures complete security to their clients while selling products and services to the customers. The official stable version of OsCommerce was released in 2017.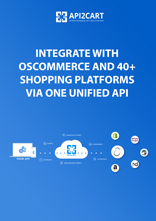 OsCommerce Integration via API2Cart
Explore how OsCommerce integration can help your business become more competitive
DOWNLOAD
Contributing to the European eCommerce market, 3,091 online stores in Germany and 4,062 websites in France are built on OsCommerce. It holds 4% of the market share in the United Kingdom and 6% in Germany.
Why is it important for B2B SaaS solutions to have the integration with eCommerce platforms?
The ever-increasing eCommerce European market won't stop providing possibilities for SaaS app providers. The integration with multiple shopping platforms that are popular in Europe allows software vendors to gain an edge in the competition for the sellers that are located there.
All the online store owners need to use order, shipping, inventory, and warehouse management, email marketing, and pricing software to streamline their functionality. But software vendors cannot work with the data from their e-stores without the integration with shopping platforms. They won't be able to access crucial details about orders, products, and customers on their own.
The benefits from the integrations entirely depend on the types of shopping platforms and their popularity. But the development of connection with top European eCommerce platforms is undoubtedly the best bet. When you integrate with these platforms, you'll indirectly introduce your services to the sellers that use them for their online businesses. As a result, you will be able to increase your profits and the number of prospective clients in time.
How to implement integration with eCommerce platforms easily?
Having said about the importance of integrating your B2B SaaS app with European eCommerce platforms, cannot deny the fact that developing the connections with them is not an easy task. Apart from being technically complex, it is a time-consuming and expensive process. It requires expert developers with advanced skills, future updates, and further maintenance.
We, at API2Cart, are here to simplify the process of integration for you providing our unified API. Eliminating the need for developing separate connections, our API aims to provide integration with 40+ eCommerce platforms at one go.
We have 100+ methods for managing the data from e-stores based on Magento, OpenCart, PrestaShop, Zen Cart, OsCommerce, Gambio and other supported platforms.
Schedule an appointment with our experts today and try API2Cart for 30-days for free.