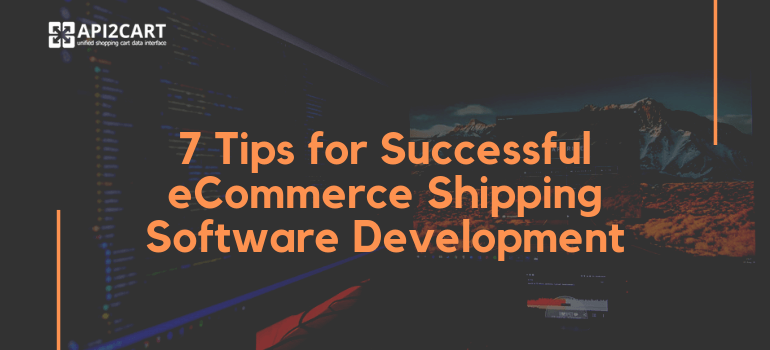 eCommerce shipping software is an essential tool for those businesses that want to streamline their shipping and delivery management and become more profitable. However, developing the software is a quite demanding and challenging task.
Certain factors affect the seamless development of shipping software and help to meet all the needs of eCommerce retailers. So, if you want to achieve success on the shipping system market, follow the useful recommendations mentioned below.
How to develop a successful eCommerce shipping software
Define your software features

The development process will be easier if you know what to offer your potential clients. Before developing eCommerce shipping software, you should be aware of the functionality of your product that the clients are going to benefit from.

Basically, retailers look for software that can manage orders and discounts, track and establish customer communication, automate repetitive tasks, label orders, generate reports, manage inventory, etc. Therefore, your shipping software must be able to accomplish these tasks efficiently. The development process will be easier if you know what to offer your potential clients.

Create a detailed business plan

The next step towards the development of a successful eCommerce shipping software is to write a detailed business plan that outlines all your goals. A business plan must include the tasks you wish to complete, associated costs, customer acquisition expenses, revenue, expenditure, etc. You should be clear while deciding the exact figures for these requirements.

Apart from the sales forecast, cash flows, balance sheets, profit/losses, the scheme should precisely cover four basic sections: market, competition, your industry, and finance. Make it look authentic and professional to your investors, loan officers and bank managers. It will prevent you from wasting your time and money.

Conduct market research

Instead of directly jumping into software development, you must conduct market research to gain deeper insights into your target market. Before starting development, it is crucial to get more information about your target market. You need to determine its size and explore all issues connected with the leading competitors. Specify the unique value proposition of your software.

The market research also will help you to define your advertising and promotions strategies.

Select the appropriate development team

Starting with the development process, an essential matter of concern is choosing the right team of developers. In-House development is beneficial if you want your requirements to be understood clearly. The own staff of developers will be dedicated to your company. On the other hand, an outsourced team allows you to concentrate on other important issues connected with your company product.

In the first stages of your software development, it is recommended to use third-party services. For example, if your aim is to be presented in the eCommerce market as quickly as possible, you can use API2Cart.

API2Cart allows you to integrate your eCommerce shipping software with more than 40 shopping platforms at once. Usage of unified API integration provided by API2Cart allows you to get access to more than one million merchants as your highly potential clients. It also can save your valuable time and reduce costs on your developers' salaries.

Prototyping, UI us and implementation

While prototyping it is important to decide all issues connected with the interface design and all features of your software. It allows you to test the working of your software while examining the flow of buttons and processes in it.

Moving to the interactive part of eCommerce shipping software development, the next stage is UI/UX design. The user interface (UI) of your software must be able to resonate with the clients' needs and be appealing in terms of visuals and guidance. An attractive UI leads to robust user experience (UX).

After defining your software as accessible and understandable to the users you can start launching MVP (Minimum Viable Product).

Integration with multiple shopping platforms

For your eCommerce shipping software, it is crucial managing the orders, customer information, delivery details, product details, and inventory information. It is important to establish a connection between various shopping platforms and your software. As you know, integration is not easy to process and requires a lot of time and effort.

API2Cart can connect your software with dozens of eCommerce platforms like Magento, WooCommerce, BigCommerce, Amazon, eBay, etc. You will be able to use more than a hundred methods to work with all the needed data from your clients' stores.

Continuous upgrades and improvements in the software

Fixing the bugs and continuous upgrades are also essential during the development of eCommerce shipping software. Working with errors and providing all the necessary improvements will help you to stay ahead of your competitors. Keeping up with all the changes and reactions can increase the value of your software several times.
Conclusion
eCommerce shipping software is a useful tool for retailers who wish to improve their delivery processes, manage orders, product information, and improve communication with their clients. Therefore, being a B2B software company, it is your solemn responsibility to stand by the needs of your clients.
With API2Cart, you can take your software to the next level by connecting it with multiple shopping platforms. Schedule a call with our experts and get more useful information.