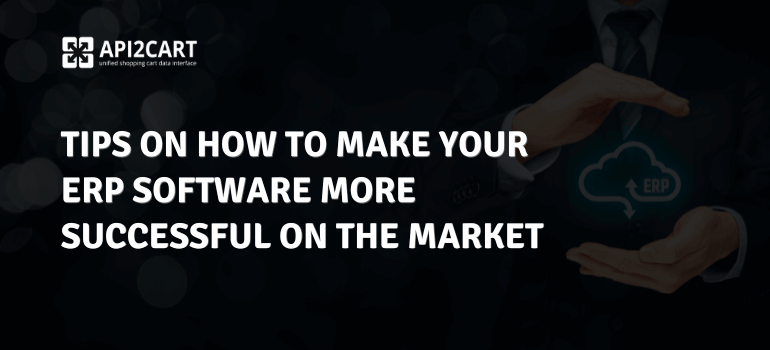 Enterprise Resource Planning (ERP) software is utilized to manage essential business operations. eCommerce businesses benefit from enterprise resource planning software for accounting and inventory management, and customer experience management. For maximum effectiveness, ERP software requires complete and accurate data from various sources.
The effectiveness of this software can be significantly improved by following certain tips and best practices. In this article, we will discuss some ways to make your ERP software more successful on the market.
What are The Main Features of High-Quality eCommerce ERP Software?
High-quality eCommerce ERP software should have several features in order to be successful on the market. The main features of successful eCommerce ERP software include:
Automated Order Processing: Automated order processing is a key feature of high-quality eCommerce ERP software. It enables orders to be taken and processed quickly and accurately, eliminating manual errors that can cause delays or customer dissatisfaction.
Inventory Management: High-quality eCommerce ERP software should offer comprehensive inventory management capabilities, enabling online businesses to track their products and stock levels easily. This also allows for better planning and forecasting, improving overall efficiency and process flow.
Comprehensive Customer Information Management: The ability to manage e-store customer information is an essential feature of any successful eCommerce ERP solution.
Financial Management: Financial management capabilities enable businesses to track their financial performance and make informed decisions based on accurate data. High-quality ERP software should offer features related to accounting and provide detailed financial reports to e-merchants.
Real-time Data Analysis: Real-time data analysis is an important feature of successful ERP software. It allows businesses to monitor trends in their industry, identify potential areas of improvement, and quickly respond to changes in the market or customer needs.
What are the Difficulties ERP Software Businesses May Face With?
ERP software businesses may face a number of difficulties in the competitive market. These include the need to increase the customer base rapidly, stand out among competitors, and the technical complexity, the time-consuming and expensive process of developing integration with different eCommerce platforms and marketplaces. Let's explore these issues in detail.
The need to increase the customer base

As the ERP software market becomes increasingly competitive, it is important to focus on strategies that help you to increase your customer base and grow your business. One of the most effective ways to do this is by ensuring that your ERP software is designed in a way that meets the needs of both current and potential customers and provides a lot of useful features.

The need to stand out among the leading competitors

As an ERP software provider, it is essential to stand out among the main competitors in order to be successful in the market. With the ever-increasing competition, companies need to develop strategies that will enable them to differentiate their products from those of their rivals.

The need to develop the integration with different eCommerce software and marketplaces

With the increasing demand for eCommerce platforms and marketplaces, it has become essential for ERP software developers to focus on integration with them. Integrating your ERP software into these platforms can open new opportunities to reach more potential customers and gain a larger market share.

Integration with different eCommerce platforms is crucial in helping your ERP software remain competitive and successful on the market. This integration allows your customers to access various software features such as inventory management, order processing, customer service, and more.

Hovewer, the development of the connection with different eCommerce platforms and marketplaces is a technically complex, time-consuming, and very expensive process.
What is ERP Software Integration with eCommerce Platforms?
In the eCommerce sphere, ERP software integration means developing the connection between ERP solutions and shopping platforms and marketplaces like Magento, Wix, Shopify, WooCommerce, Amazon, etc.
Integrating an ERP system with eCommerce solutions is a great way to streamline operations and increase efficiency while reducing costs. This integration helps ERP software to provide features to e-merchants that allow them to manage better their inventory, orders, shipping, and more. However, due to the complexity of the technology involved in setting up the integration, it can be challenging for businesses to ensure they have implemented the integration correctly and efficiently.
The integration with different eCommerce platforms allows ERP systems to access and manage the data from their online stores. It includes product names, product images, descriptions, categories, prices, variants, stock levels, customers, taxes, etc.
How to Develop eCommerce Integration Easily and Make Your ERP Software Successful?
To build the integration between your ERP solution and multiple eCommerce platforms and marketplaces, you can use API2Cart unified API.
To ensure success in the market for your ERP software, it is essential to maximize its reach and expand its presence in multiple eCommerce platforms. In order to do that, you need to integrate your ERP with various web stores and marketplaces.
API2Cart can be a great tool for this purpose. It provides a unified API that can easily and efficiently build integration between your ERP software and multiple shopping platforms, such as Magento, Shopify, BigCommerce, Volusion, WooCommerce, PrestaShop, Amazon, eBay, and others.
API2Cart provides API methods for importing, updating, and adding e-store product images, descriptions, categories, prices, customers' info, taxes, etc.
API2Cart provides a 30-day free trial period, 24/7 customer support, and detailed API guides. To test the service, all you have to do is to register your account and add your clients' stores. After that, you will be able to work with all the e-store data needed.
The usage of API2Cart allows your ERP software company to expand its features and the number of potential customers.
To get more detailed info, please contact our managers by chat, email, or phone.