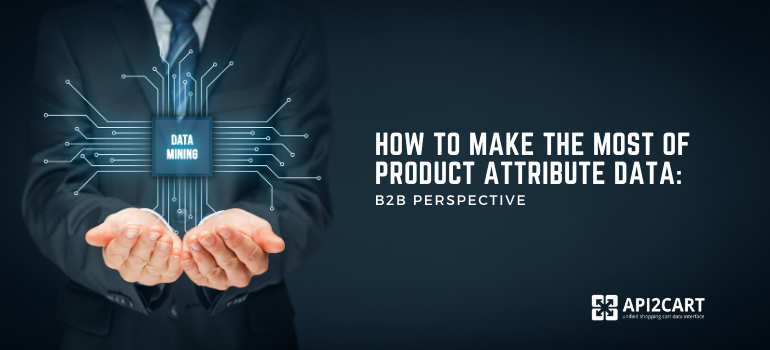 It seems like product data has deeply entwined with every possible aspect of the retail business. It is what buyers consider when deciding whether to buy this or that item or not, what sellers treasure as a primary customer attraction, and what B2B vendors cannot do without delivering services to retailers. The great news is, there is still space where product data has not yet been actively used. This potential is what we are going to cover in this article.
As a provider of any kind of service aimed at facilitating online retail routine, you know it won't work without data from customers' stores. For instance, your price optimization system can't suggest better prices without knowing those of the client, and so can't it automatically modify them without accessing the user's store. Similarly, data feed management software can't build product feeds without information about the item.
Out of types of product data vendors usually work with (e.g. features, variants, categories, and characteristics), attributes are what they don't use to the max. Because they miss out on building exclusive features that merchants would appreciate, this kind of data is what we are going to focus on below.
Defining Product Attributes and Their Importance
Unlike features, attributes don't just generally describe a product. They give additional values for comparison like size or colour so that a customer can buy an item as they like it. Besides, together with features, attributes define a competitive set and affect a buyer's purchase decision.
Attributes can only be of help to online merchants that want to keep on top of important trends and identify growth opportunities. For instance, to see if the item has ranked up or down within the category, a seller can filter the segment by different product aspects and thus find things to take into account when making changes to product assortment.
Applying Theory to Practice
From a seller's perspective, their items for sale should be browsable, findable, and comparable. Attributes make them such and serve as criteria buyers search and compare products based on. When selling multichannel and internationally, merchants also want their goods to be described in details, the details laid out in the same order on each marketplace, and maybe with the prices smartly adjusted so that their sales grow faster.
If your software is intended to help online retailers do so, no way it will work without product data retrieved from the primary online point of sale, and the latter is in most cases a web store. When integrating with shopping platforms and marketplaces, you will develop the integrations around basic product information like name, price, and description, images, categories, and discount details. In fact, that is not all you can use.
In addition to retrieving such attribute data as size or colour, you could utilize specific information like the following:
storefront visibility (e.g. sort order in a particular attribute group)
attribute format / type (e.g. dropdown, textbox, or checkbox)
quick / advanced search visibility
required / unique status
comparability
Please note that these values are not universal as each platform's data structure differs.
To give an example, standard and custom attribute groups and values can be of use in running analysis and comparison features, and storefront visibility details — is the attribute fifth in a textbox? second in a dropdown list? — can apply to software that helps to grow sales (e.g. cross-border sales and data feed management solutions).
What It Boils Down to
You can make use of what others yet don't. At API2Cart, we have learned that yet only a few B2B vendors utilize storefront visibility data. If you manage a business that processes product information from e-stores to provide the service, consider using specific attribute data too. It will specifically work for solutions like comparison shopping engines, data feed management software, and cross-border trade solutions because the capability to retrieve more detailed and structured product data as compared to what they get by default, can not only not hurt but also make more effective.
If you haven't made your way to product attribute data yet, let's collaborate. We offer a unified API that will enable you to retrieve not only attributes but also tons of other data from more than 40 shopping carts. For details, contact us or schedule a quick call by clicking the button below.