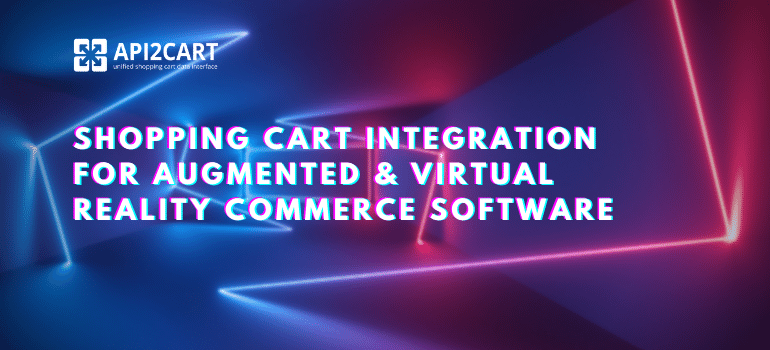 Virtual & Augmented reality (VR & AR) technologies are picking up speed rapidly. They spread over many areas of life from video games to charity and therapy. Only recently VR & AR found its use in commerce. This technology holds a great opportunity to improve distance shopping experience.
Virtual and augmented reality commerce combines the advantages of online and in-store shopping. It is aimed to provide shoppers with close to in-store buying experience and make distance shopping more interactive.
It enables shoppers with virtual fitting, seeing items in real size and form, immersive 360° looks, ability to project virtual items into customer's room and it is only the beginning. Both e-commerce and traditional retail giants like e-Bay, IKEA, Alibaba, Myer have already successfully launched virtual reality shopping experience. There emerged various VR shopping systems like LIVEb4buy, vrcommerce, zugara, sixence, Cappasity, marxent, Kentar Retail,  which enable brands to integrate this new immersive technology into their business. This resulted in the increasing number of retail companies embracing virtual reality.
Data access challenge for VR & AR Commerce Software
Building a platform for virtual reality commerce is not easy at all, as it requires establishing multiple connections. VR stores provide customers with product attributes, availability, and other data needed to make a purchase. And among the main challenges for VR commerce software is retrieving that data from the web stores. One difficulty is that stores' databases with all product, order, and inventory information are stored on shopping carts. Thus, to establish an ongoing data interchange with the web store, you need to integrate with the shopping cart. Merchants choose to build their stores on different platforms, which means that to reach every potential client, you have to integrate with all shopping platforms. But the thing is, integration is a very difficult process.
Integration Difficulties
API integration with one system is complicated. When we talk about integration with many platforms, it is arduous. That is the reason why many B2B software services choose to support only a few shopping carts, thus missing out on potential clients and revenue. Typical integration pitfalls for software vendors are:
Every integration bring unique complications, as each shopping cart has different logic and architecture that require time and expertise to learn.
Integration needs to be thoroughly elaborated. Otherwise, problems like data loss or distortion may occur.
Elaborating flawless integration module requires a qualified expert. And not only it is difficult to find a professional, but you also will pay at least a few thousands of dollars per each integration, when you finally find him/her. 
Integration is costly. The reason is mentioned right above.
Integration is long. Establishing just one connection takes at least a few weeks. Multiply this time by the number of platforms you want to integrate with.
Integration requires further integration maintenance. Thus you will need to have an IT staff to support the integration and ensure it is working properly.
How to Avoid Integration Pains?
Though shopping cart integration is hard, it is necessary for most of the B2B eCommerce software services and virtual and augmented reality apps are no exceptions. Luckily, there is a way to integrate with multiple shopping carts without having to deal with all these traditional integrational difficulties, mentioned in the paragraph above. API2Cart provides a unified API that enables your system to interact with multiple eСommerce platforms. In other words, you need to integrate only with API2Cart to get connected with over 40 shopping platforms simultaneously. Among them are all industry leaders such as Magento, WooCommerce, BigCommerce, Shopify, PrestaShop, and other platforms.
If you run a virtual reality or/and augmented reality application for retailers and are interested in integrating your solution with shopping carts, you can either schedule a consultation with our representative or try how API2Cart would work for your business.