Sky is the Limit with X-Cart Integration [Prezi]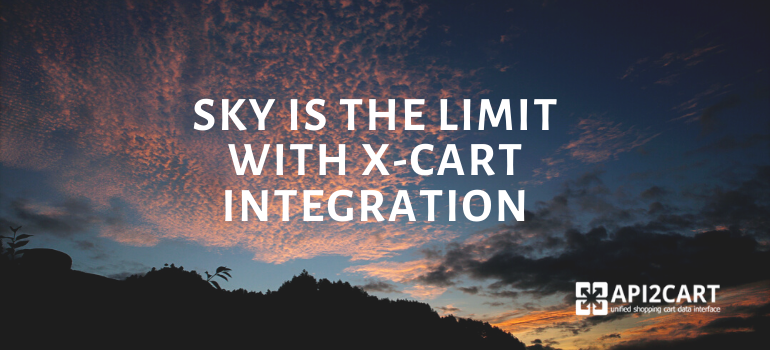 The list of popular B2B solutions includes data feed, mobile app builder, inventory, dropshipping, order management or other types of services. If you provide one of such services, then, undoubtedly, your aim is to compete on equal footing with the rivals and gain high profits. However, nowadays, it's getting harder to stay afloat, as the eCommerce revolution has changed the way we do business. API is considered to be the fundamental pillar for innovative solution and rapid business growth.
So, if you don't want to pale into insignificance in the niche, the usage of API is crucial. Probably, one question springs to your mind, how this technology could help in profit-making? Application Programming Interface enables you to leverage the existing business infrastructure by integrating your soft with various platforms in no time. Easily gather all needed data from the client's stores on different shopping carts and process it within your system.
The procedure of choosing the shopping cart for integration depends on the market's segment and business requirements. However, concerning X-Cart, it's worth mentioning that integration with this platform will reap all the rewards for your trade. Improve the soft's functionality to receive pleasant customers' feedback as well as enhance the pool of potential customers with 30 000+ stores' owners. You can get a huge competitive advantage with X-Cart integration.
However, performing access to X-Cart isn't as simple as it may seem to be requiring technical knowledge in the specific way of data storage. Robust and cost-effective solution that helps to establish data interaction will surely solve the problem.
API2Cart appears to be such unified way to access various shopping carts simultaneously. Using the service receive connection to such leaders like Magento, WooCommerce, Bigcommerce, Shopify, PrestaShop, Volusion and many others. X-Cart with all versions is in the list of supported platforms. Moreover, integrate with API2Cart only, and get access to all carts that are in the service's list with no extra payments and efforts. Retrieve, add, update, delete and sync all needed data, including products, orders, customers and other related info easily.
Go through this prezi to explore more about X-Cart integration and API2Cart as a way to perform it.
If you have some questions to ask or discuss, don't hesitate to schedule a FREE Consultation with our representative. Make your e-Business grow with X-Cart integration and API2Cart.